The Statement
Several social media posts claim that more than 400 deaths have been caused by COVID-19 vaccines in Australia, pointing to data from the country's medicines regulator as purported proof.
A video shared on Facebook by an Australian user shows a man using the Therapeutic Goods Administration's (TGA) Database of Adverse Event Notifications (DAEN). The footage shows the narrator searching for all adverse events reported for people who received Comirnaty (Pfizer), Spikevax (Moderna), Vaxzevria (AstraZeneca) or Janssen vaccines for COVID-19 from the start of 2021 to August 12.
The search results show 48,001 adverse events reported during that period and 456 deaths reported following vaccination.
"There's been 456 deaths in less than eight months because of the vaccine … this right here is more than COVID deaths this year alone," the man says (video mark 1min 59sec).
At the time of writing, the August 26 video had been viewed more than 46,000 times and shared more than 3,300 times.
A similar claim has been circulated as a meme listing numbers of COVID-19 deaths and purported numbers of "COVID-19 vaccine deaths" and adverse events in Australia between January 1 to August 24.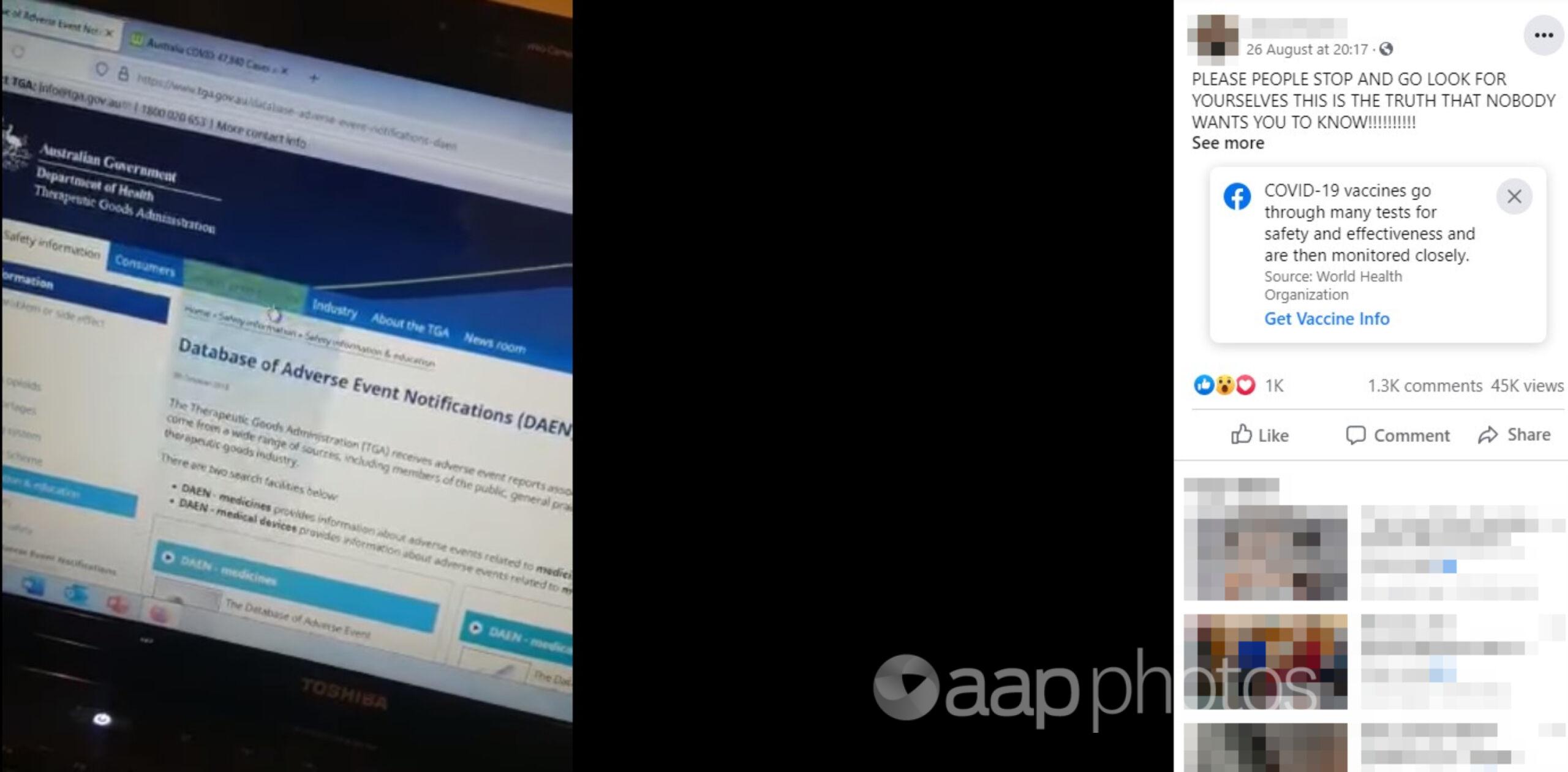 The Analysis
The figures included in the posts show deaths following vaccination reported to the TGA's vaccine adverse events database, however only a small number of the cases have been causally linked to COVID-19 vaccines, according to the medicines regulator. Naturally occurring deaths among the recently vaccinated are to be expected given the large numbers of people receiving the injections.
In addition, the TGA states that the most common adverse events reported following COVID-19 vaccination are mild and expected, such as pain at the injection site.
According to the TGA's September 2 weekly COVID-19 vaccine safety report, 495 reports of deaths following vaccination had been received and reviewed since the beginning of Australia's vaccine rollout.
Of these, the TGA found nine were linked to immunisation. All occurred following the first dose of the AstraZeneca vaccine – eight were cases of blood clots with low blood platelets, or thrombosis with thrombocytopenia syndrome (TTS), while one was a case of immune thrombocytopenia.
A spokeswoman for the TGA told AAP FactCheck the medicines regulator reviewed all reported deaths in people who had received the vaccinations.
"Reporting and publication of an adverse event report in the DAEN, including death, does not necessarily mean that it is related to the medicine or vaccine," she said in an email.
The spokeswoman added that as the number of vaccinated people increased, so did reporting of adverse events and deaths with a coincidental association with vaccination.
"This does not indicate a link between vaccination and the fatalities reported. Review of individual reports and patterns of reporting does not suggest the vaccines played a role in these deaths," she said.
More than 19 million COVID-19 vaccine doses had been administered by August 29, according to the TGA report. A spokeswoman later added that around 78 per cent of the deaths reported following vaccination had occurred in people aged 65 years and older. This figure is in line with the age makeup of deaths among the general population before the pandemic.
Professor Louisa Jorm, the director of UNSW's Centre for Big Data Research in Health, previously told AAP FactCheck that on average more than 450 people died each day in Australia before the pandemic, and it was inevitable that some deaths would occur shortly after COVID-19 vaccination given the scale of the rollout – however this did not mean vaccinations caused the deaths.
The TGA report also noted that more 55,016 reports of adverse events following vaccinations had been received. The most common of these were mild and short-lived, such as headache, muscle pain and injection-site reactions, it said.
AusVaxSafety, which monitors adverse vaccination events in conjunction with the TGA, also said adverse events following COVID-19 vaccinations were generally mild and short-lived.
Andrew McLean-Tooke, head of immunology at PathWest Laboratory Medicine, told AAP FactCheck the DAEN adverse event reports included mild adverse reactions that were well-described in clinical studies, such as arm pain, fever, chills and muscle pain, as well as more severe reactions.
"For serious diagnoses such as thrombosis with thrombocytopenia syndrome (TTS), the TGA does try to assess if the reaction was truly associated with the vaccine, but for the majority this causality is not assessed and in many cases the vaccine may not be involved," he said in an email.
Dr McLean-Took said deaths that occurred after vaccination from causes such as strokes or heart attacks were still notified to the TGA even if they were assessed as being unlikely to be associated with the vaccine.
"People should be reassured that so much data is being collected, scrutinised and is available in a transparent manner for others to view," he said.
While adverse event reporting is generally voluntary in Australia, the TGA says it is mandatory for vaccine suppliers to report all serious adverse events suspected of being related to their vaccines.
The TGA previously told AAP FactCheck that anyone could report an adverse event but around four in five cases were typically logged by health professionals or state and territory health services.
Similar false claims regarding large numbers of COVID-19 vaccination deaths have been circulated based on misinterpretations of the US VAERS database and the UK's Yellow Card scheme.
The Verdict
The posts falsely claim that COVID-19 vaccines have caused more than 400 deaths in Australia. Rather, the figures cited are for all reported deaths following vaccination, the vast majority of which had been assessed as being unconnected with the injections.
The medicines regulator and experts say some naturally occurring deaths following vaccination are expected due to the scale of the COVID-19 vaccination rollout. Most of the adverse events reported following vaccination have been mild and transient.
False – Content that has no basis in fact.
Updated November 2, 2021 14:40 AEDT: Adds further information from the TGA about the age makeup in deaths reported following vaccinations.
* AAP FactCheck is an accredited member of the International Fact-Checking Network. To keep up with our latest fact checks, follow us on Facebook, Twitter and Instagram.
All information, text and images included on the AAP Websites is for personal use only and may not be re-written, copied, re-sold or re-distributed, framed, linked, shared onto social media or otherwise used whether for compensation of any kind or not, unless you have the prior written permission of AAP. For more information, please refer to our standard terms and conditions.