The Statement
AAP FactCheck examined a Facebook post from September 6, 2016 which claims the headrest of car seats is specifically designed so that it could be used to break the glass of a car window to allow escape in an emergency.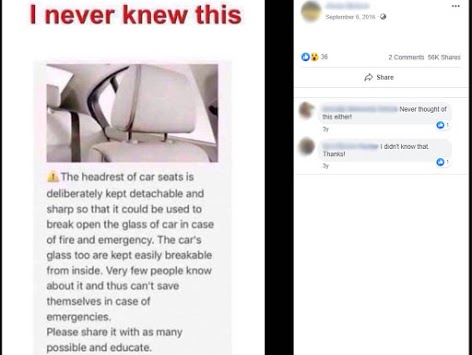 The text features a headline that reads "I never knew this", followed by a statement that reads: "The headrest of car seats is deliberately kept detachable and sharp so that it could be used to break open the glass of the car in case of fire and emergency. The car's glass too are kept easily breakable from inside. Very few people know about it and thus can't save themselves in case of emergencies. Please share it with as many possible (sic) and educate."
The post, which features a photo of a headrest inside a car, has been shared more than 56,000 times and has attracted 36 reactions and two comments.
The Analysis
Head restraints are a regulatory requirement under Australian Design Rules for vehicle standards.
The claim about headrest design being to aid glass-breaking was circulated on Facebook in April 2016, with US fact checking organisation Snopes examining it and finding that "car headrests were not designed to serve this function".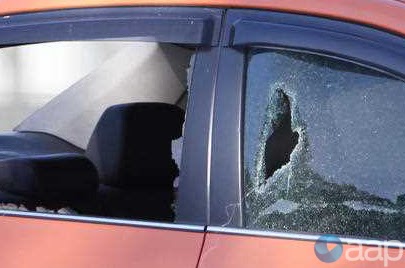 Snopes traces the claim back to a 2012 Japanese game show which features a woman using a headrest to break a driver's window from inside a car by wedging it between the glass and the window sill .
According to the Australasian New Car Assessment Program (ANCAP Safety), the purpose of the head restraint is to prevent hyper-extension of the neck in a crash, with newer designs optimised to reduce the risk of whiplash injuries in rear-end crashes.
Regarding the design of automotive glass, an ANCAP Safety spokesperson told AAP FactCheck that in the United States, it is now "effectively mandatory for vehicles to have laminated glass to prevent ejection in crashes – meaning the glass can't be broken as a means of egress".
However this standard has not yet been adopted in Australia.
A spokesperson for motoring organisation the NRMA told AAP FactCheck that headrests were not designed to be able to break the glass from inside a car.
"Car headrests are too difficult to hold onto, you'd need to get a good swing on them and a headrest is going to fall out of your hands so they're not designed for that," the spokesperson said.
"If you were going to put something in the car to break glass it wouldn't be a headrest."
The NRMA said headrests are designed to be detachable to allow for easy adjustment of the seat and to be removed for cleaning.
And according to the NRMA, glass in cars is not designed to be easily broken and, depending on whether the glass is laminated or tinted, it can be increasingly difficult to do so.
"It's really hard to break the glass in cars. They are designed to be difficult to break," the spokesperson said.
The Verdict
Based on the evidence, AAP FactCheck has found the post to be false. The post incorrectly states that the headrest of car seats is deliberately kept detachable and sharp so that it could be used to break open the glass of a car. Experts confirmed this was not the reason behind the design of a headrest. Further, the post claims the car's glass is made to be easily breakable from inside. Experts also confirmed this was false. While there has been an example of a car headrest being used to break a car window from inside – in a Japanese TV game show – there is no evidence that this is due to the specific design of the item.
False – The primary claims of the content are factually inaccurate.
First published October 31, 2019, 18:54 AEDT