The Statement
AAP FactCheck examined a Facebook post from September 26, 2019 by Enough Is Enough Australia showing what appears to be the cover of a magazine called "People with Money" featuring a photo of teenage climate activist, Greta Thunberg.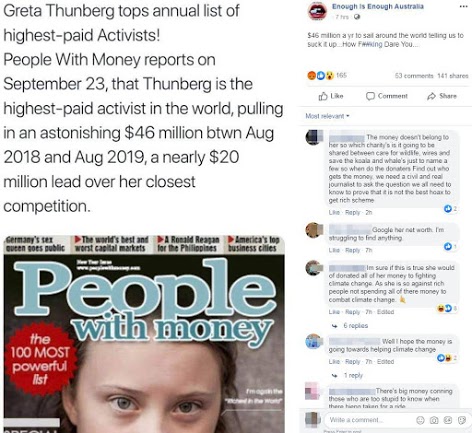 The caption in the image reads: "Greta Thunberg tops annual list of highest-paid Activists! People With Money reports on September 23, that Thunberg is the highest-paid activist in the world, pulling in an astonishing $46 million btwn Aug 2018 and Aug 2019, a nearly $20 million lead over her closest competition."
Text accompanying the image reads: "$46 million a yr to sail around the world telling us to suck it up…How F##king Dare You…".
Enough Is Enough Australia's Facebook page has few details about the group but more than 6300 likes and 6500 followers. The page was created on August 1, 2018.
The post has been shared more than 150 times and attracted more than 50 comments and 130 reactions.
The Analysis
AAP FactCheck was unable to find any evidence of a publication titled 'People with Money'. The 'People with Money' magazine cover was traced to a website called "MediaMass", where the magazine cover image appears as part of an article titled, "Greta Thunberg Highest-Paid Activist in the World".
The article claims Thunberg took "the No. 1 spot on People With Money's top 10 highest-paid activists for 2019 with an estimated $46 million in combined earnings". It also claims that "she owes her fortune to smart stock investments, substantial property holdings, lucrative endorsement deals with CoverGirl cosmetic" and that the young climate activist "owns several restaurants (the "Fat Thunberg Burger" chain) in Stockholm, a Football Team (the "Stockholm Angels"), has launched her own brand of Vodka (Pure Wonderthunberg – Sweden), and is tackling the juniors market with a top-selling perfume (With Love from Greta) and a fashion line called "Greta Thunberg Seduction".
The MediaMass website features numerous articles of high-profile individuals, all of whom appear in an image depicting the cover of the purported "People With Money" magazine.
Pakistani Nobel Peace Prize winner, Malala Yousafzai appears in one version of the cover. Celebrities including Beyonce, Lady Gaga and Ed Sheeran have also had their faces on the same 'People with Money' template, with text claiming they were named the 'Highest-Paid Singer in the World' on the same day. Another version shows United States-based alt-right figure Richard Spencer, described as a white nationalist in US media.
MediaMass says on its website that is "an international collective" based in China and describes itself as a satire page that aims to "expose with humour, exaggeration and ridicule the contemporary mass production and mass consumption that we observe".
AAP FactCheck was able to find fake articles and magazine covers by MediaMass dating back to 2013. The Chicago Tribune reported in 2014 that the MediaMass website "appears to be a coordinated effort to fool large numbers of people" and false MediaMass stories as a "hoax wrapped within a hoax". It detailed how web users could edit "the website address with the name of a random celebrity, which in most cases will generate a new story and a fake magazine front page". MediaMass also publish stories in German, French, Spanish, Italian, Portuguese and Chinese.
The Verdict
Based on the evidence, AAP FactCheck found the Facebook post to be false. The magazine cover with Greta Thunberg claiming she was the highest paid activist was published on the MediaMass website, which uses a magazine cover template to generate fake stories. 
False – The primary claim of the content is factually inaccurate.
* AAP FactCheck is an accredited member of the International Fact-Checking Network. To keep up with our latest fact checks, follow us on Facebook, Twitter and Instagram.
First published September 26, 2019, 17:49 AEST