The Statement
As a measles epidemic hits the Pacific island nation of Samoa, a Facebook post claims to show a timeline of events ending in the State of Emergency that was declared in November.
AAP FactCheck examined a post on December 8, 2019 by an anti-vaccination page called No Jab No Pay No Way – Freedom of Choice. The post contains an image of Samoa's two main islands overlaid with text. Under a headline "SAMOA – Measles Timeline", the text has bullet points stating: "*September: No measles outbreaks!" , "*October: 115,500 measles vaccines sent by UNICEF, "*November: Over 33,000 have been vaccinated for Measles." and "*Also November: State of Emergency over Outbreaks of Measles."
The post ends with text that reads "ANY QUESTIONS?" and a hashtag "#StopMandatoryVaccination".
The post has been shared more than 230 times and attracted more than 280 reactions and 10 comments while an identical post by another Australian user has garnered more than 270 shares.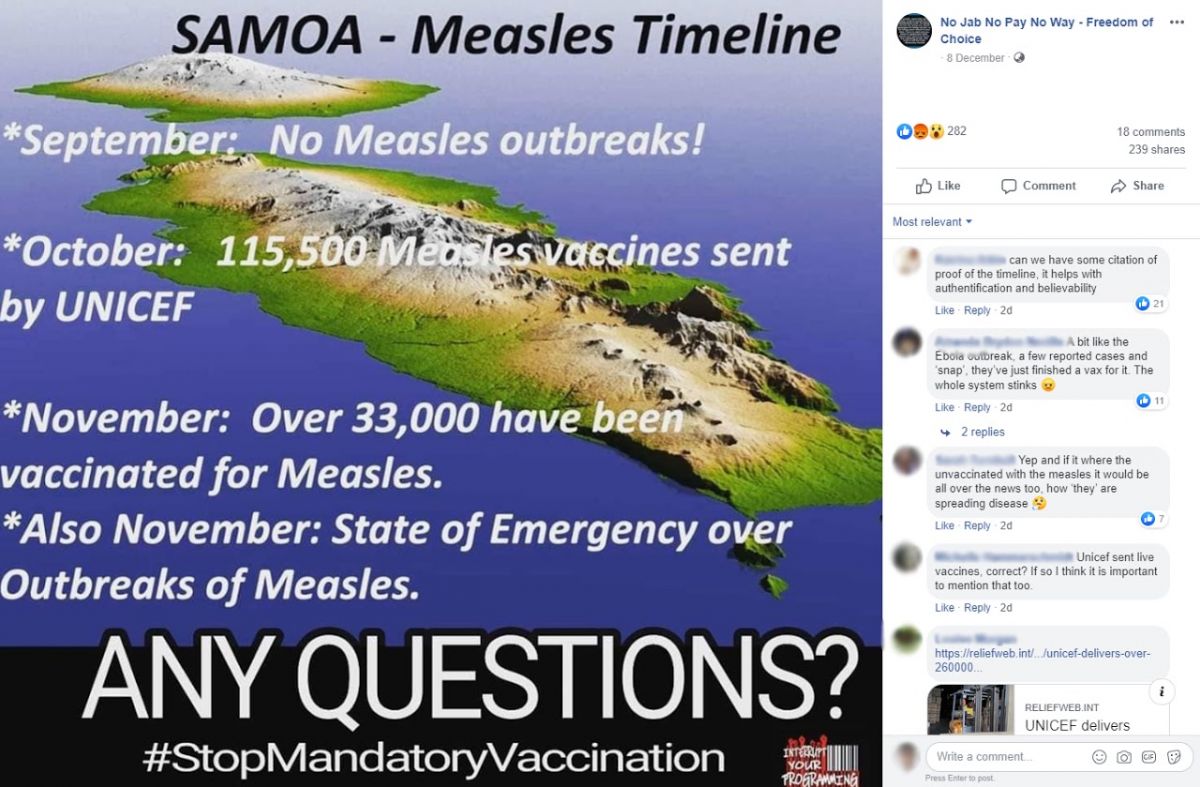 The Analysis
Samoa is in the grip of a measles epidemic which has killed at least 71 people and affected more than 4,800 people since the outbreak started.
Samoa's rate of vaccination had fallen following the death in 2018 of two babies who were given incorrectly prepared vaccines. Two nurses were charged with negligence causing manslaughter after one mixed the doses with outdated anaesthetic instead of water. The two have since been jailed.
The Samoan government suspended the national immunisation program for months after the deaths before it resumed in April 2019. During that time the nation's vaccination rate fell to around 30 per cent, according to World Health Organization and UNICEF estimates.
Contrary to the claim in the post, there were measles outbreaks in Samoa in September. Samoa's government dispatched 28 specimens of suspected measles cases to Australia for testing on September 30, 2019.
According to Australia's Department of Health measles infection happens 10 to 12 days before symptoms appear.
Samoa's Ministry of Health announced on October 9 that a suspected measles case "may be transmitted from the Auckland outbreak." New Zealand has been battling its own measles outbreak with at least 2,060 confirmed measles cases this year.
The Samoan Ministry of Health declared a measles epidemic on October 16, following the receipt of test results.
In its statement, the Ministry of Health said that of the 28 specimens sent to Melbourne on September 30, 2019 for testing, it had received 12 results with four confirmed cases of measles.
Of eight additional specimens sent on October 2, results received on October 16 showed three more confirmed cases.
"A total of seven confirmed cases have been reported to date. In anticipation, we now confirm a Measles Epidemic," the Ministry of Health said.
Humanitarian agency UNICEF announced on November 28 that it had sent 115,500 doses of measles vaccines to Samoa since October 1, 2019.
However Samoa's national Measles Vaccination Campaign did not start until November 20 – five days after the government had declared a state of emergency on November 15.
In its November 28 statement, UNICEF said that 33,500 people had been vaccinated since the campaign start on November 20.
In an update via its Twitter account on December 11, the Government of Samoa said 4,898 measles cases had been reported since the nation's outbreak began and, as of December 10, more than 91 per cent of the Samoan population have been vaccinated against measles.
The Verdict
Based on the evidence, AAP FactCheck found the post to contain inaccurate or misleading claims. Contrary to the post's claim, there were measles outbreaks in Samoa in September, with 28 suspected measles specimens sent for testing on September 30 and eight more on October 2. An epidemic of measles – a disease with a 10 to 12 day incubation period – was declared by Samoa's government on October 16.
UNICEF had sent 115,500 measles vaccine doses since October 1, as claimed in the post, however Samoa's national vaccination campaign did not begin until November 20.
The post's sequence of events for November is misleading as it lists "over 33,000 have been vaccinated for Measles" ahead of "*Also November: State of Emergency over Outbreak of Measles". The suggestion that the state of emergency declaration followed the vaccinations ignores the fact that the state of emergency was declared before 33,500 people were vaccinated in a national campaign. The state of emergency declaration also followed the measles epidemic declaration made a month earlier.
Partly False – The claim of the content is a mixture of accurate and inaccurate, or the primary claim is misleading or incomplete.
* AAP FactCheck is an accredited member of the International Fact-Checking Network. To keep up with our latest fact checks, follow us on Facebook, Twitter and Instagram.
First published December 11, 2019, 19:25 AEDT