The Statement
AAP FactCheck examined a Facebook post by self-described "alternative news media outlet" The Unshackled, which posted a story from its website theunshackled.net claiming Victorian Premier Daniel Andrews said people had "no right to protest" the construction of a mosque in Bendigo in country Victoria.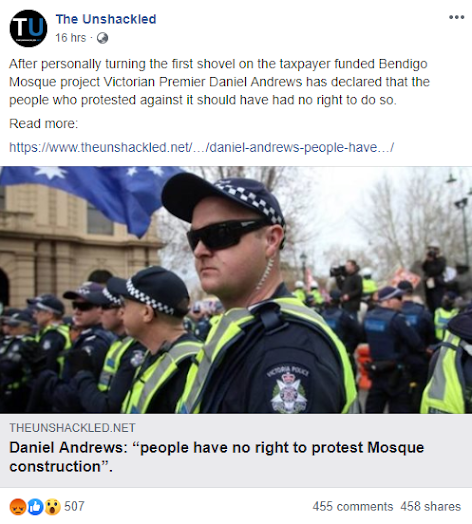 The Facebook post was accompanied by a caption reading, "After personally turning the first shovel on the taxpayer funded Bendigo Mosque project Victorian Premier Daniel Andrews has declared that the people who protested against it should have had no right to do so".
The post had been shared over 470 times, and had attracted more than 500 reactions and over 450 comments.
The same post had been shared by other Facebook pages, including NSW Patriots Against The Extreme Left, The Voice of Australia and Stand Up For Australia – Canberra, which between them amassed an additional 800 reactions, 550 comments and 230 plus shares. The captions circulating Facebook with the same article criticised Premier Andrews labeling him a "supporter of Islamic & Left Wing Terrorism" and "Comrade Dan being the little Communist is".
The Unshackled Facebook page states its mission is to "advance conservative and libertarian ideals while protecting free speech and fighting against the PC Culture" and that it endeavours to cover "topics and story angles that the mainstream media usually chooses to ignore".
The Analysis
There have been several public protests against Bendigo's Islamic Community Centre since a permit was approved in June 2014, including a mock beheading outside Bendigo council offices by Blair Cottrell, Neil Erikson and Christopher Neil Shortis. They were subsequently convicted of inciting serious contempt towards Muslims and each fined $2,000.
The Community Centre received a $400,000 grant from the Victorian government to assist in building the first phase of the project, a sports and community hall. Once completed, the Community Centre will house a mosque, cafe and library.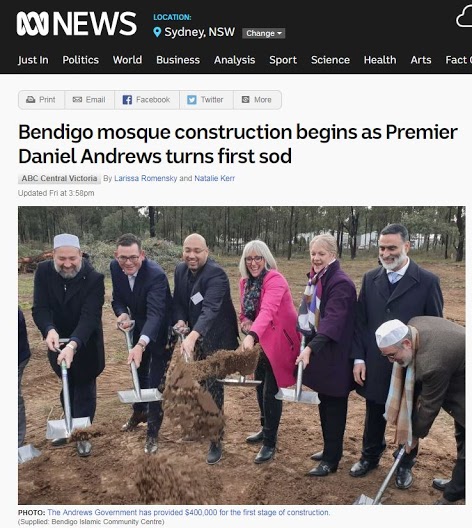 AAP FactCheck obtained an audio recording of Daniel Andrew's press conference from July 26, 2019 when he was on site in Bendigo to help turn the first sod in construction.
At no point during the press conference did Mr Andrews say people had no right to protest, nor does the alleged quote appear in the official media release from the same day's event.
During his media conference Mr Andrews said, "People have a right to put (sic) their views, people have a right to protest peacefully."
Mr Andrews went on to say, "There are limits, there are standards. Bigotry is not an acceptable form of protest. Ignorance is no excuse when it comes to these things."
AAP FactCheck found no reference to the alleged quote in any other media coverage of the event.
The Verdict
Based on the above evidence, AAP FactCheck found the post to be false. Premier Andrews reprimanded protesters, but reiterated their right to demonstrate peacefully.
False – The Facebook post is false.
First published July 30, 2019 15:40 AEST