The Statement
AAP FactCheck examined a Facebook post from August 17, 2018 by an Australian user featuring a photo of a tangle of multiple cables plugged into equipment and snaking across the floor at a concert venue. The image is accompanied by text that reads: "1969…cabling at the Woodstock Festival."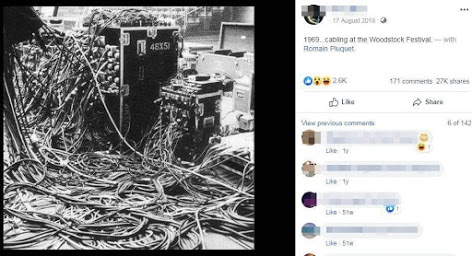 The post has been shared more than 27,000 times and attracted more than 2600 reactions and 170 comments.
The Analysis
The Woodstock Festival was held over three days in August 1969 at a dairy farm in Bethel, New York and became "synonymous with the counterculture movement of the 1960s". Among the acts who performed were Jimi Hendrix, The Who, Santana, The Grateful Dead and Sly and The Family Stone.
Woodstock was plagued by problems, among them was the weather and the outdoor stage, according to author Joel Makower.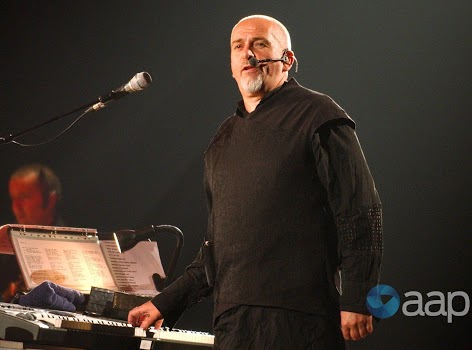 "The conditions were suboptimal to say the least," he told the website History. "There were electrical wires going under the mud and the ground was vibrating."
AAP FactCheck examined the image of the cabling and noted that it is taken in a venue with tiered seating. Among the comments on the Facebook post, one commenter debunked the photo, claiming it was taken during a 1994 tour by English singer Peter Gabriel. The photo was also labelled "fake news" by UK lighting professional Rob Sayer.
AAP FactCheck traced the photo to Gabriel's Secret World Live album which was released in August 1994. The album featured 15 songs from the singer's Secret World Tour of 1993-94 and the artwork receiving a Grammy Award nomination in 1994 for the Best Record Sleeve Packaging Design, according to the Rockapedia website.
The album was packaged with a colour booklet featuring photos from the tour. On one double page is a composite picture featuring eight small performance images at the top and two large images below. The large image on the left is the cabling photo which the Facebook post claimed was from Woodstock in 1969. In the Facebook image there is a box with "48X51" on the side and the same figures appear in the photo featured in the Peter Gabriel album booklet.
Michael Coulson, who was involved with the album's art direction, told AAP FactCheck in a statement the photo was taken by Stephen Lovell-Davis at the Hamburg Sporthalle in Germany on April 16, 1993. Mr Coulson said Mr Lovell-Davis shot many of the images featured in the booklet and owns the copyright to the cabling image.
The image is visible on the Discogs website by clicking the "More images" link on the page for the Secret World album. Discogs is a database and marketplace for music recordings.
The Verdict
Based on this evidence AAP FactCheck found the attribution for the image posted on Facebook on August 17, 2019 to be false. The Facebook post shows an image taken from Peter Gabriel's Secret World Tour Live album, not an image taken at the Woodstock festival in 1969.
False – The Facebook post is false.
First published August 28, 2019 17:37 AEST
Updated on September 2, 2019 12:22 AEST – Adds paragraph with statement and details by art director Michael Coulson.