The Statement
AAP FactCheck examined a Facebook post from December 4, 2019, by an Australian page: Tony Abbott: Leader of Her Majesty's Loyal Opposition, featuring the headline "Woolworths Australia's Fresh Food People TRAITORS!".
The post's text reads: "Woolworths have to (sic) decided to source your fruit from overseas and will stop buying Australian fruits from SPC & Ardmona (sic). Let's send them a message about putting Australians first Vote with your feet."
The post has been shared more than 1,300 times, attracting more than 60 reactions and 30 comments. The Woolworths post first appeared on Facebook on November 17, 2016, by a South Australian user. It was shared 143,000 times, drawing 4,400 reactions and 2,200 comments.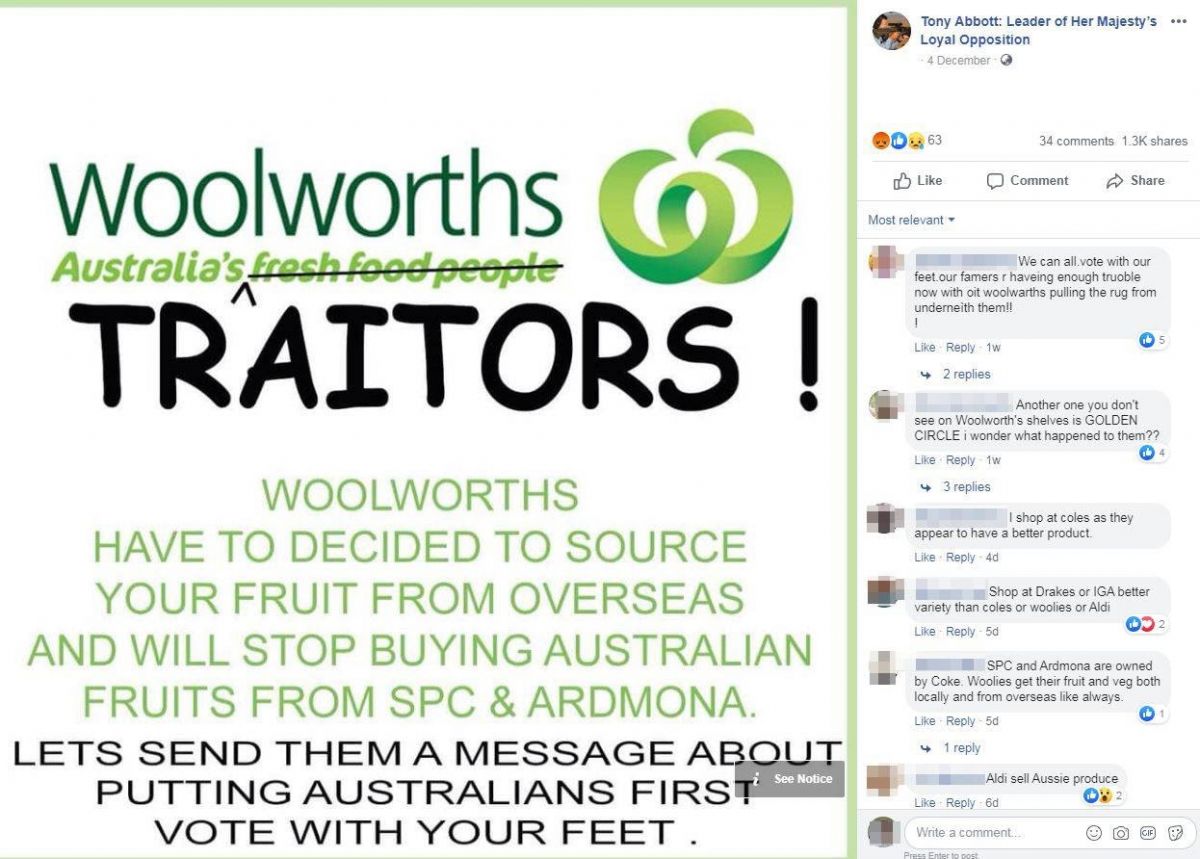 The Analysis
Woolworths is one of two retail giants – the other being Coles – that dominate the Australian supermarket sector. Woolworths, with 995 stores nationwide, is a crucial outlet to market for many Australian food producers.
SPC Ardmona is an Australian-based company that specialises in large fruit packing and owns and operates a canning factory in Shepparton and Kyabram, Victoria.
On November 8, 2016, Woolworths confirmed it was to end its year-to-year arrangement with SPC Ardmona for the supply of private-label tinned tomatoes.
The move sparked condemnation as reported in The Sydney Morning Herald on the day of the announcement.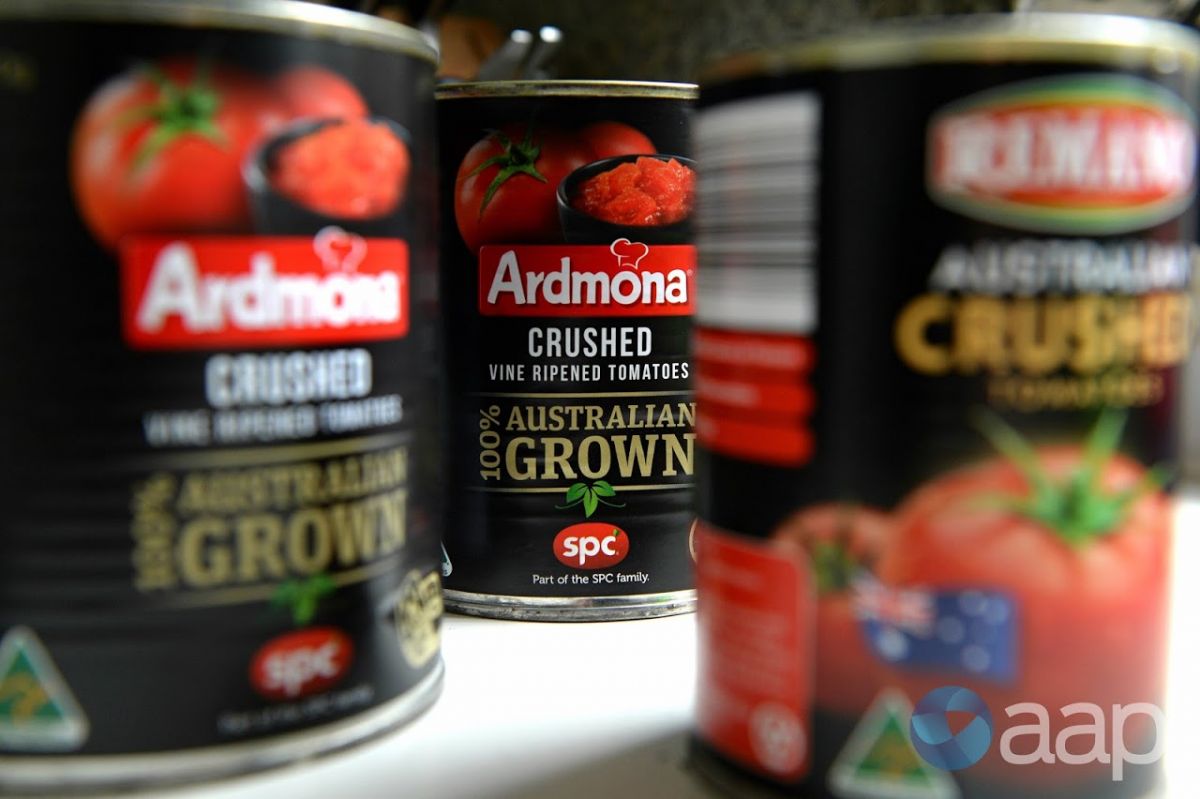 "Woolworths has dumped Australia's best-known tinned tomato brand, SPC Ardmona as its private label provider after cutting a deal with a new Australian supplier for the Woolworths-brand product line," the SMH report said.
"The tomato deal has the potential to undermine SPC's $70 million supply deal with Woolworths, which was only made on a handshake and is under review by the supermarket giant."
The supermarket giant said it would not cancel a five-year contract signed in 2014 that helped bail out the Coca-Cola Amatil-owned company.
The deal saved hundreds of jobs in northern Victoria at SPC and also those working for producers. Woolworths said the year-to-year arrangement covering tinned tomatoes was separate to the 2014 contract.
On June 4, 2019, Coca-Cola announced it had sold SPC Ardmona's cannery business for $40 million to Melbourne-based Shepparton Partners Collective, which is a joint venture between Perma Funds Management and The Eights, a Sydney-based private equity firm.
AAP FactCheck contacted Woolworths regarding the Facebook post and the supermarket's spokesperson said it was false.
"We've seen this post do the rounds on social media for a number of years now, but it is inaccurate," the spokesperson said.
"We have a strong partnership with SPC Ardmona and continue to work together to deliver the highest quality Australian-sourced products to our customers."
A spokesperson for Shepparton Partners Collective said the Facebook post was categorically untrue.
"Woolworths still buys its fruit from SPC," he told AAP FactCheck. "It's the same old fake news from 2016 doing the rounds again. It pops up periodically and has no foundation."
In a statement, SPC Ardmona CEO Robert Giles told AAP FactCheck in an email: "Woolworths still buys its fruit from SPC and in fact has increased it this year."
On January 4, 2017, Facebook user Thomas Toogood posed the question on Woolworths' own Facebook page: "Is it TRUE or NOT, Woolworths are going to stop buying Australian fruit and going to buy fruit from overseas?"
Woolworths responded: "Hey Thomas, we're pleased to announce that our discussions with SPC Ardmona has concluded positively, with the signing of a 3 year deal to supply us with an increased volume of deciduous fruit for our own label products.
This contract reflects our strong business partnership with SPC and we look forward to continuing to work together to provide products of the highest quality and value for our customers. Thanks. (smiley face emoji)".
In terms of sourcing of fresh fruit, the Woolworths stated position from its website says "as a service to its customers, is to procure fresh produce from international sources only during periods of seasonal unavailability in Australia, or where there is a shortfall in local supply.
"Woolworths also has an active import replacement program, providing opportunities and support for Australian growers to expand the range of domestic crops, to establish new varieties, or to explore new growing regions."
It should be noted that Woolworths does sell tinned fruit from overseas companies. Evidence of this can be found on the Woolworths website for products.
The Verdict
Based on the evidence, AAP FactCheck found the Facebook post to be false. AAP FactCheck contacted Woolworths, Ardmona SPC and Shepparton Partners Collective who each denied the claims made in the post. The companies all confirmed that Woolworths still buys fruit from Ardmona SPC.
False – The primary claim of the content is factually inaccurate.
First published December 13, 2019, 17:47 AEDT