Prime Minister Anthony Albanese has spoken with Palestinian Authority leader Mahmoud Abbas, condemning the Hamas attack on Israel and expressing his concern over civilian deaths in the conflict.
Mr Albanese, who is attending the Pacific Islands Forum in the Cook Islands, spoke with Mr Abbas on Thursday morning to reaffirm Australia's support for a two-state solution.
He underlined the need for international law to be observed and for the protection of civilians in Gaza.
Last week, Mr Albanese spoke with Israeli Prime Minister Benjamin Netanyahu.
Meanwhile, former Liberal prime minister Scott Morrison has returned from a visit to Israel with ex-UK prime minister Boris Johnson.
He backed Israel's war against Hamas in Gaza.
Mr Morrison found it "strange" there were discussions of a ceasefire when Hamas still had hostages – taken during the October 7 invasion that killed more than 1000 Israelis – and hadn't offered up its leaders for prosecution.
"You don't hear that in this debate," he told 2GB radio.
"I mean, it's just extraordinary the double standards that apply in this situation."
Asked about the plight of Palestinian civilians, Mr Morrison said "this is a terrible war".
"I'm not shying away from that," he said.
The Palestinian news agency Wafa reported on its website that Mr Abbas told Mr Albanese in the phone call that what was occurring in Gaza was "a genocide" and had to be stopped immediately.
He asserted the importance of bringing in relief aid to the Gaza Strip as soon as possible and preventing the displacement of Palestinians from there or the West Bank, including Jerusalem.
Mr Abbas affirmed the importance of a political solution based on the international legitimacy of the United Nations for Palestinians to achieve independence and sovereignty to ensure security for everyone in the region, Wafa reported.
He urged Australia to recognise the state of Palestine, saying an Israeli occupation would not be accepted.
Labor reaffirmed its policy to recognise Palestinian statehood at its annual party conference but there is no timeline.
Opposition foreign affairs spokesman Simon Birmingham said Labor shouldn't move ahead with recognition as "there is nothing practical, logical about what could be recognised".
"The Palestinian Authority has questionable control over the West Bank and no control over Gaza," he said.
"What we want to see is a situation where Hamas is defeated, disarmed and removed as a terrorist threat.
"And from there, hopefully, co-operation across the key players in the international community to try and build an environment for stability that could enable, step-by-step, some type of longer-term peaceful outcome."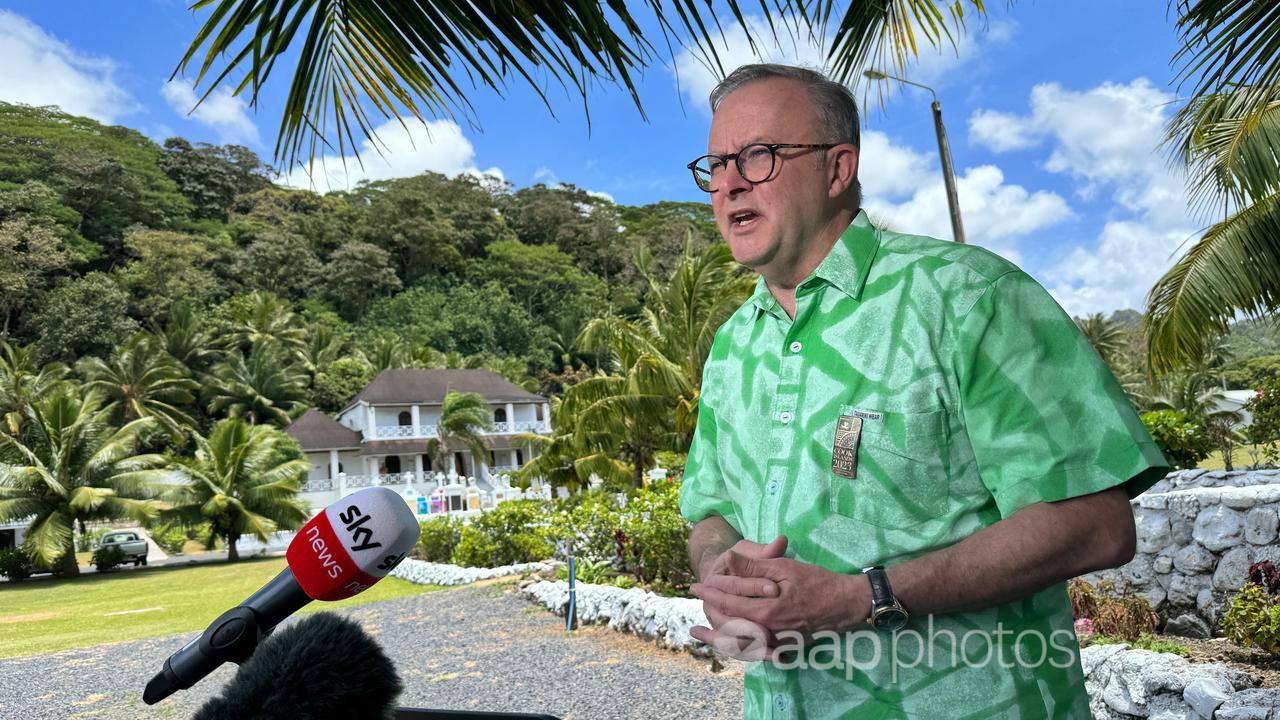 The Palestinian Authority's power base is in the West Bank but the Gaza Strip is controlled by Hamas, which is deemed a terrorist organisation by the Australian government.
Hamas gunmen killed 1400 people and took 240 hostages during an October 7 attack on Israel.
Israel has responded with an air bombardment and ground invasion and wants to oust the Islamist militant group from Gaza.
Palestinian officials say 10,812 Gaza residents had been killed as of Thursday.
with Reuters