Australians are flying to Israel to join the war effort against Hamas as Melbourne's Jewish community mourns those killed in terror attacks.
An Israeli official confirmed Israeli-Australians had been mobilised to fight in the military following the deadly attacks launched by Hamas on Saturday, but would not specify the number.
Some Australians have taken commercial flights to travel to the country, while others were flown by the Israeli government out of Bangkok.
"This is a war we didn't ask for, but we are determined to win," said the official, who spoke on the condition of anonymity.
The official said it was not an "objective" of the war to flatten Gaza, but to "eliminate" the military capability and infrastructure of Hamas.
More than 1300 Israelis were killed in the assault by Hamas, most of them civilians.
Gaza authorities say more than 1400 Palestinians have been killed in retaliatory strikes by Israel.
with thousands of people gathering for a vigil at Caulfield Park in the city's southeast under a cloudy afternoon sky.
Many waved Israeli flags while others held photos of those kidnapped in the conflict.
Children sat on their parents' shoulders to see performers singing on a stage, girls still in their school uniforms held each other and swayed to the music and elderly people sobbed as they leant on each other.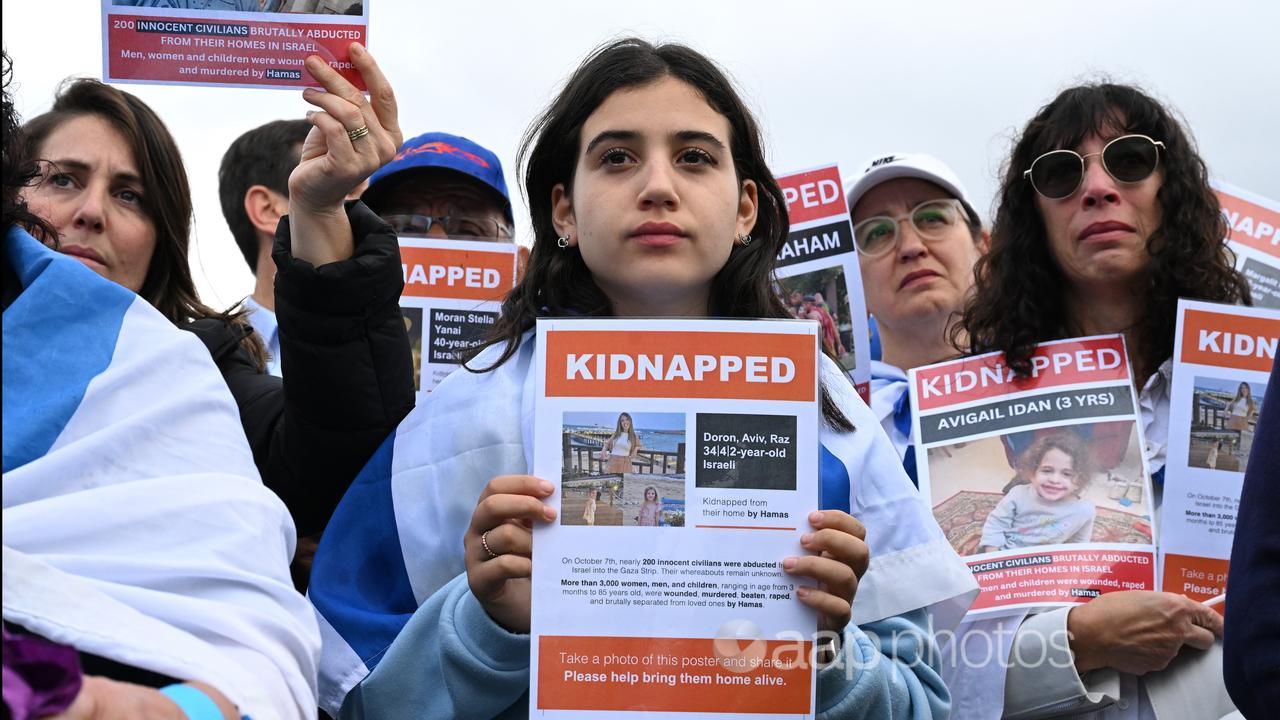 People of different faiths stood alongside the Jewish community as did politicians, with Attorney-General Mark Dreyfus, Victorian premier Jacinta Allan and opposition leader John Pesutto among the attendees.
Mr Dreyfus said that, as the son of a Holocaust survivor, it was unbearable for him to think the same could be happening again.
The attacks weren't on the state of Israel but on the Jewish people, he said.
"On behalf of the prime minister and the whole of the Australian government … Australia stands as one with Israel and the people of Israel," Mr Dreyfus told the vigil.
"Australia stands as one with the Jewish community and we always will."
Mr Pesutto described the attacks as "barbaric" and urged children in the audience to see "the beautiful resolve of people coming together" among their community's fear and pain.
Ms Allan said she heard the Jewish community's anguish and was prepared to offer it whatever it needed.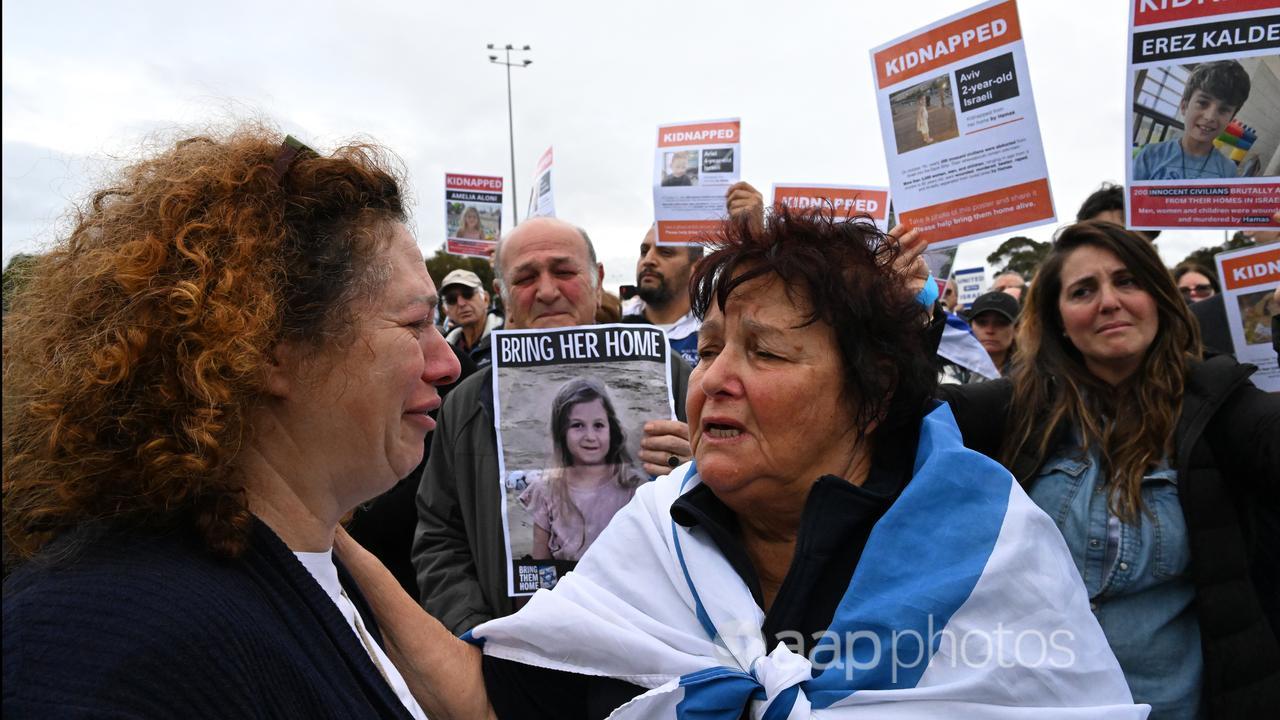 "The Jewish community are united by love but I know you continue to face the world's oldest form of hate," the premier told the vigil.
"We will stand with you every day."
Community members told the vigil of their fear for loved ones in Israel and their despair for those who had been taken hostage or killed.
Dozens of police officers, including some on horseback, surrounded the event while private security guards were also scattered throughout the audience.
Israel's military is warning more than one million Palestinians in Gaza to evacuate southwards.
Prime Minister Anthony Albanese said 1600 Australians had registered for repatriation, including 19 in Gaza.
Foreign Minister Penny Wong will on Monday meet with Israel's ambassador to Australia, Amir Maimon.
Israel has not asked Australia for military assistance but has not ruled it out, the official said.
An estimated 10,000 Australian citizens are in Israel, including dual citizens and tourists.