Anthony Albanese is calling for national unity, vowing the rejection of a constitutional Indigenous voice by voters will not define the nation.
The prime minister said the result was not what he had hoped for, but was the right thing to do.
With counting continuing on Saturday night, the progressive national vote count showed the 'no' vote was leading 58 per cent to 42 per cent.
Every state and territory apart from the ACT was on track to record a 'no' majority.
Mr Albanese said the road to reconciliation with Indigenous Australians had not ended despite the referendum outcome, and that a new way forward was needed with the same level of optimism.
"Just as the Uluru Statement from the Heart was an invitation extended with humility, grace and optimism for the future, tonight we must meet this result with the same grace and humility, and tomorrow we must seek a new way forward with the same optimism," he said.
"This moment of disagreement does not define us, and it will not divide us. We are not 'yes' voters or 'no' voters. We are all Australians."
Mr Albanese said he had given his word to Indigenous elders to enact the voice.
"I never imagined or indeed said that it would be easy. Very few things in public life worth doing are. Nor could I guarantee the referendum would succeed," he said.
"When you do the hard things, when you aim high, sometimes you fall short, and tonight, we acknowledge, understand and respect that we have. As prime minister, I will always accept responsibility for the decisions I've taken."
Indigenous Australians Minister Linda Burney said the result was a day of sadness.
"I know this outcome will be hard for some, but achieving progress is never easy, and progress doesn't always move in a straight line," she said.
In a statement, the 'yes' campaign said many would be deeply saddened and disheartened by the result.
"This referendum represented a promise made to Indigenous Australians for a better future, and its a promise we must find a way to keep," the statement said.
'Yes' campaigner Thomas Mayo said he was devastated by the results, which had signalled a "sorry day".
Mr Mayo said he did not blame the Australian public for the referendum outcome.
"It's not (Prime Minister Anthony Albanese's) fault, it's not the Australian people's fault, it's the people that have lied to us … they are the ones that should be blaming," he said.
"We have seen a disgusting campaign from the 'no' people."
A 'no' result is the right outcome for the nation, federal Opposition Leader Peter Dutton said late on Saturday.
"While 'yes' and 'no' voters may hold differences of opinion, these opinions of difference do not diminish a love for our country or our regard for each other," he said.
"This is the referendum that Australia did not need to have. The proposal and the process should have been designed to unite Australians, not to divide us."
Mr Dutton renewed his commitment by a coalition government for a royal commission into child sexual abuse in Indigenous communities and an audit into spending on Indigenous programs.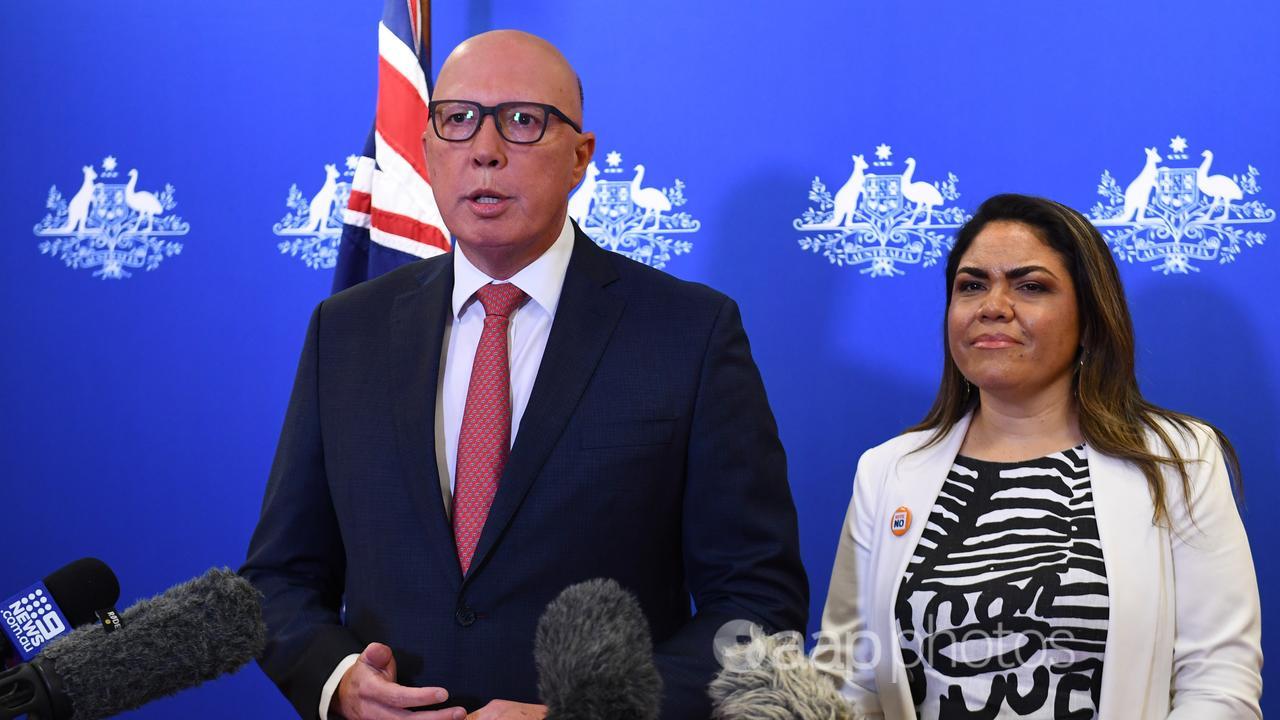 'No' campaigner Warren Mundine said advocates against the voice proposal had engaged with the community.
"I knew that we could win every state, and that we could have a chance to get the majority vote," he told ABC.
"The reality is that we went and spoke to the people out there."
Independent senator and 'no' campaigner Lidia Thorpe said she was not surprised by the referendum outcome.
"I'm not surprised that we've got 'no' votes coming out strongly, because people either don't know what it is about or, that in terms of the black sovereign movement, we don't want to go into the constitution," she said.