An out-of-control bushfire described as a "wild beast" has claimed one life and destroyed homes in southern Queensland, prompting calls for reinforcements.
But firefighters are confident they can protect the Western Downs town of Tara from the ferocious blaze, dismissing speculation of an evacuation.
About 350 people have been forced to flee their homes as firefighters battle the erratic blaze west of Brisbane that has burned more than 11,000 hectares, destroying five houses.
Western Downs Mayor Paul McVeigh said the tight-knit community was reeling after police found a body late on Tuesday night in the fire-ravaged Tara region.
"It has really knocked our community around," he told AAP.
Police said the body was found near a dam about 6.30pm AEST and recovered almost five hours later.
The identity is yet to be confirmed but police believe it could be a missing male.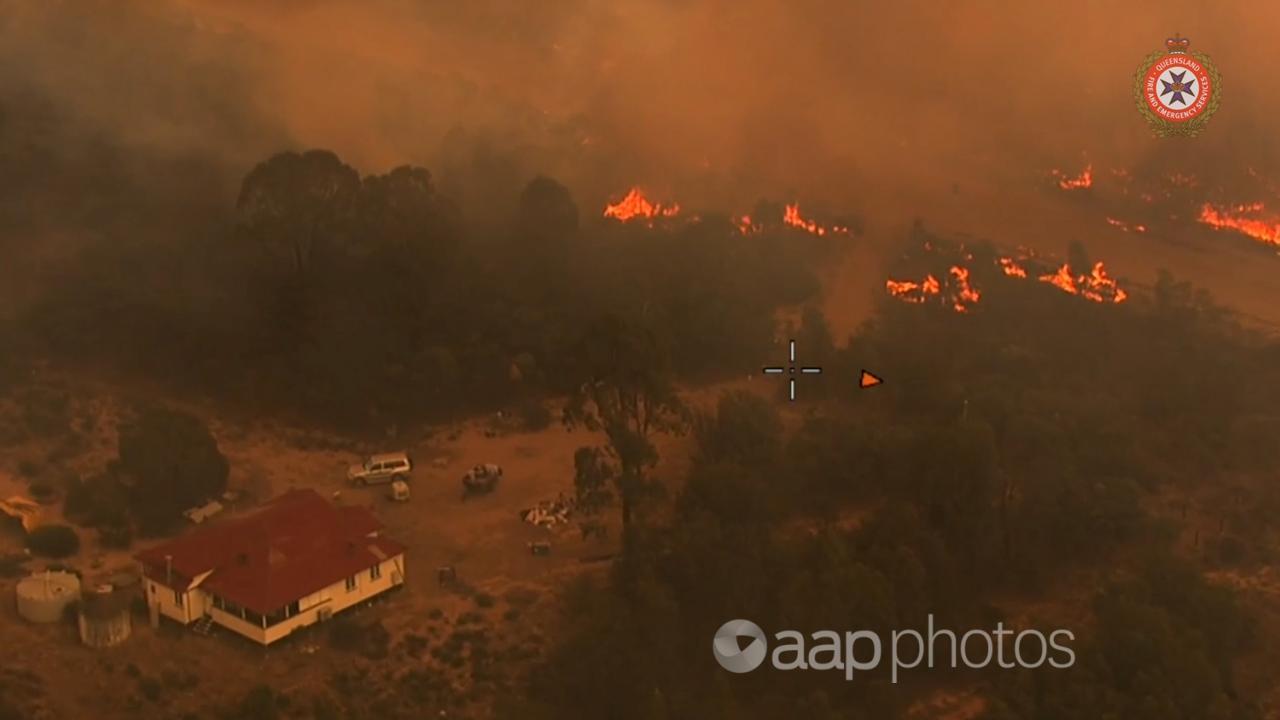 Mr McVeigh said fatigue had become an issue for firefighters as they battle a blaze that has been difficult to combat due to wind changes, with flames reportedly up to 15m high.
"It's a bit of a wild beast at the moment," he said.
There was speculation the Tara township may be evacuated with multiple homes under threat and hundreds seeking refuge at evacuation centres in Tara, Chinchilla and Dalby.
Queensland Fire and Emergency Services conceded the blaze had only maintained its intensity overnight.
"It is uncontrolled and I'm not going to mince words here – it's a dangerous fire," QFES Acting Chief Superintendent Warren Buckley told reporters.
But he ruled out evacuating Tara, saying they had a plan to protect the town from the fire which was located 15km away late on Wednesday.
Mr Buckley said they would ensure their safety with a large aerial tanker on standby and by working with Western Downs council to create fire breaks.
"We are not evacuating Tara township – I need to make that quite clear," he said.
However, discussions have begun to organise interstate firefighting reinforcements after local crews on Wednesday battled the blaze in "very uncomfortable" conditions that reached 42C.
Another fire on the Darling Downs in the southwest has burned about 3000ha, destroyed a house and forced about 50 people into evacuation centres but is expected to be contained by Thursday.
There are 60 fires burning across Queensland. High to extreme fire danger ratings are expected for central and southern inland areas in the coming days.
Premier Annastacia Palaszczuk implored residents to listen to QFES warnings, offering her condolences after the body was found at Tara.
"It is a sad reminder of how dangerous conditions remain," she told parliament.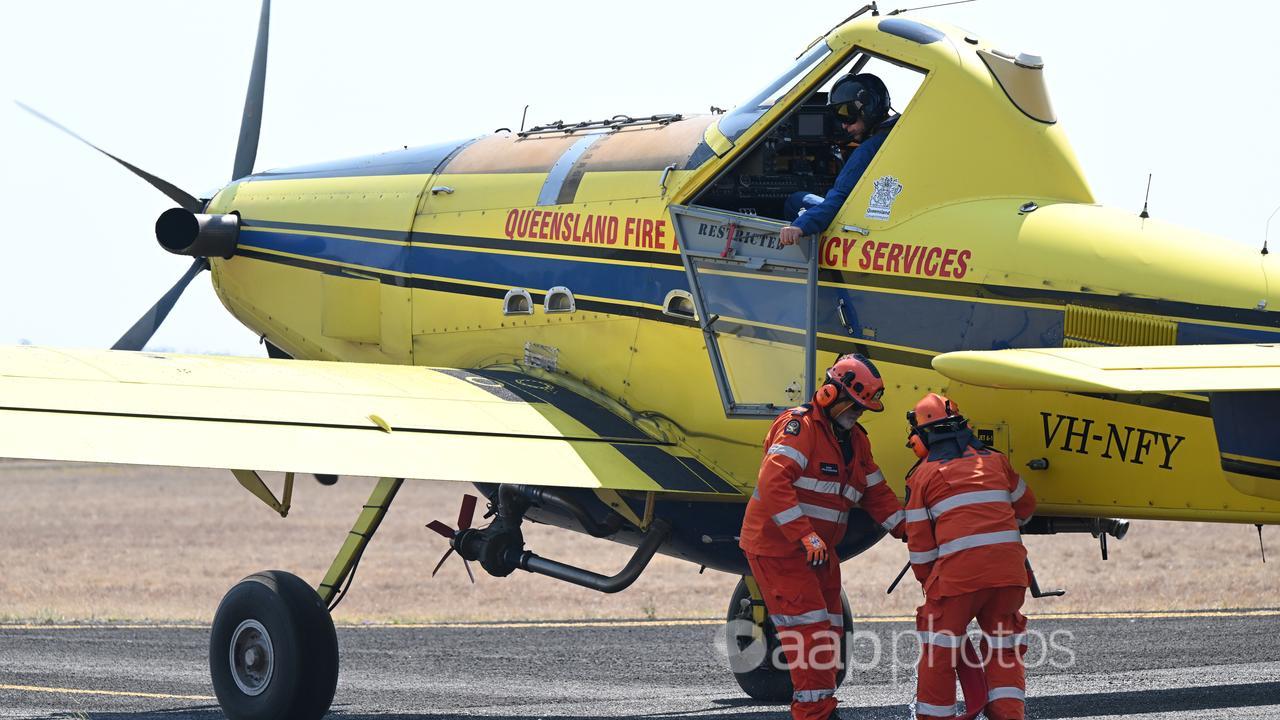 Mr McVeigh said power outages caused by the blaze meant radio was the best way for Western Downs residents to stay informed.
Ergon Network said almost 300 customers were without power at Tara on Wednesday due to fire damage that took out at least 50 power poles.
Queensland Reconstruction Agency CEO Jake Ellwood is set to assess damage in the area later this week.
QFES has "leave immediately" warnings out for Tara and nearby Wieambilla, Kogan, Goranba and Weranga.
Residents at Millmerran Woods, Cypress Gardens and Millmerran Downs in the southwest have been told it is not safe to return to their homes.
The Bureau of Meteorology said a southerly change would bring cooler conditions moving through the state's west later this week, with a chance of rain in the Western Downs by Friday.
People affected by the bushfires can access government financial assistance, with $180 for individuals and up to $900 for a family of five.
Uninsured residents can also access grants of up to $5000 per household.
Mr McVeigh said there might be more challenges ahead but the Western Downs community was banding together.
"I am very, very proud of our community at this very tough time," he said.