Victorian Premier Jacinta Allan sought to assure Commonwealth Games officials the 2026 event would be funded before it was canned, an inquiry has been told.
Commonwealth Games Australia chief executive Craig Phillips has revealed he and fellow organisers met to discuss cost savings with Ms Allan in April, when she was the minister tasked with delivering the event.
"We got the impression that she was very confident the budget would be available," he told a Victorian parliamentary inquiry on Monday.
Former Victorian premier Daniel Andrews pulled the pin on hosting the Games across regional areas in July, citing its original estimated cost of $2.6 billion blew out to about $7 billion.
Ms Allan was briefed by the Department of Jobs, Skills, Industry and Regions in March on revised cost estimates for the Games and rejected an updated budget request of $4.5 billion in April, telling bureaucrats to explore cutting costs.
Commonwealth Games Australia had no indication the 12-day sports event was in jeopardy of not going ahead.
"Hindsight is a terrific thing," Mr Phillips said.
"If you look back you pick up some signals but beyond that, nothing."
The state government in August agreed to pay $380 million in compensation to terminate its contract to host the Games.
But Mr Phillips said the Commonwealth Games Federation was yet to receive the payout over fears of a UK tax hit.
He and the federation's partners director Michael Bushell met with Gold Coast mayor Tom Tate last week as he unveiled plans to hold a "streamlined" 2026 Games for $700 million.
The Queensland government has ruled out supporting a Gold Coast bid, preferring to prioritise the 2032 Brisbane Olympics.
Volleyball Australia chief executive Andrew Dee said other sports bodies would be forced to reconsider their approach to deals with the Victorian government after the Games' cancellation.
Volleyball Australia alleges the Victorian government reneged on an "good-faith undertaking" to host the 2025 beach volleyball world championships at Torquay in October 2022.
The government has previously said a non-binding expression of interest was revoked but no contract was signed.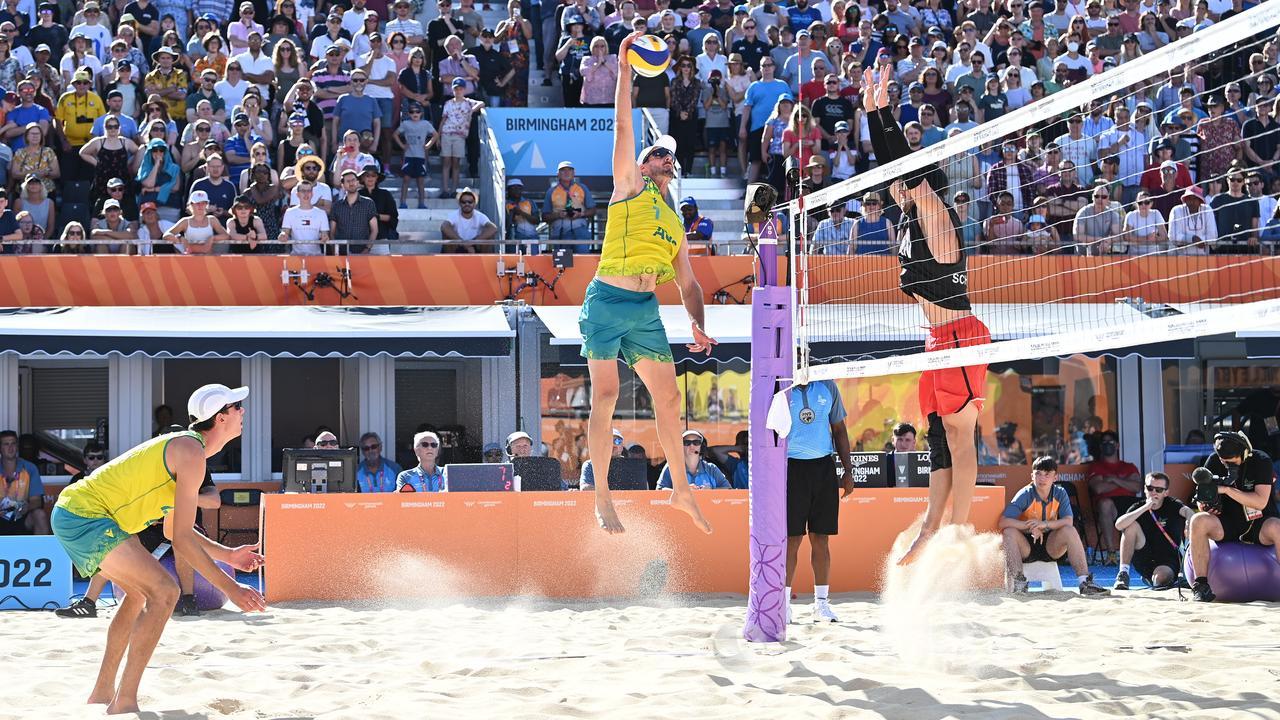 Adelaide was last week named host of the 2025 event.
"The reputational damage is significant," Mr Dee said.
"Other jurisdictions in the country will be preferred over Victoria for some time to come, both internally within Australia and also by international bodies overseas."
Swimming Victoria chief executive Jason Hellwig told the inquiry the association wasn't consulted about the decision to hold the swimming leg of the Games at Armstrong Creek in Geelong.
A main pool set to be built at Armstrong Creek for the Games was also expected to be relocated once the event was over.
It wasn't until a presentation by architects in May 2023 the association suggested the move would leave swimming without a meaningful legacy from the Games.
"The conversation that they did present us was that the shell of the pool itself (at Armstrong Creek) would be put up as a 'for sale' item for (a local government area) somewhere in the country … not necessarily in Victoria," Mr Hellwig said.
Swimming Victoria hoped the government would invest in upgrades at Melbourne Sports Centres and in five or six regional facilities after the Games were axed.
Mr Hellwig noted Victoria had significant delays across the state for learn to swim programs, with wait lists of more than 12 months and in excess of 2000 children in western Melbourne.
If the government failed to secure a lasting legacy for swimming out of the Games, wait lists would get longer and challenges would become greater, he said.
The inquiry continues on Thursday.