Pat Cummins believes Australia's batters are ready to fire again after a stuttering start to the World Cup in India.
The captain was encouraged by how his team went about their run chase in the last match in Lucknow on Monday, eventually knocking off a five-wicket win against Sri Lanka that at last gave lift-off to their tournament following two defeats.
And as they prepared to face Pakistan at the run-laden venue of Bengaluru in what shapes as another must-win match for Australia on Friday, Cummins offered up a positive eve-of-match preview at the ground.
Referring to the onus on David Warner and Mitch Marsh to get the team off to a flyer after stands so far of five, 27 and 24, he said: "It's really important, especially at a venue like here – smaller field, good pitch, I dare say it's going to be high-scoring.
"I think the way the guys started last game really set the tone, Mitchie and Davey up front from the first over taking the game on," he added of the pair's 24 off just 3.1 overs against the Sri Lankans.
"That's what we want from our players. They're working really hard, doing all the right things. I'm sure plenty of runs are around the corner."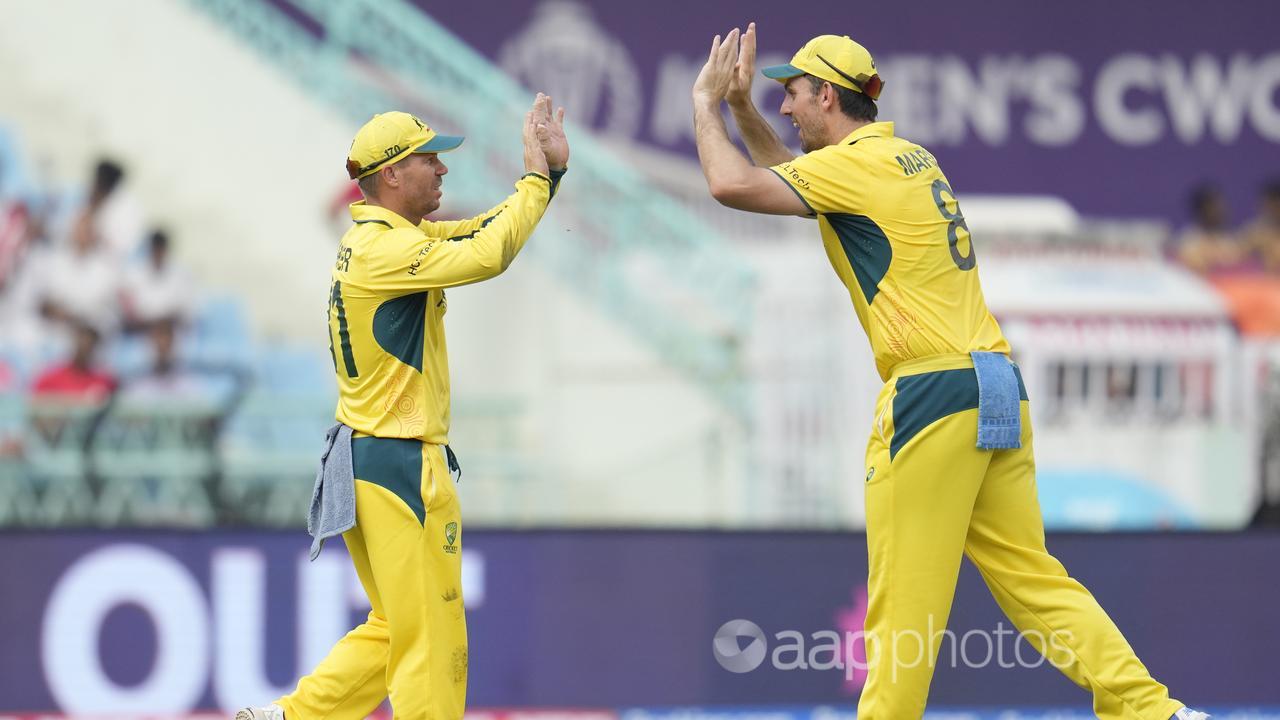 Admitting Australia had "given up the right to peak at the right time" after their poor two openers, he's still confident they'll keep up their record of getting past the group stage at each World Cup since 1996.
"You're always chasing that perfect game. For most of the last game, we were really good but there's always a couple of little areas and things to look at.
"After the first two losses, everyone in the team was really keen trying to make amends, maybe even trying a bit too hard for the first 25 overs. Everyone was diving around, plenty of energy.
"I think it was pleasing to get the breakthrough, we would have liked for it to come early but once we got the breakthrough, it felt like then we got on a roll, which we earned."
His own two-wicket haul was much welcome too, although Cummins didn't sound too bothered about any outside criticism, which had included a suggestion from former skipper Michael Clarke that he would be dropped.
"Yeah, not much really," said Cummins, asked what he thought about Clarke's comments, before adding with a smile: "Yeah, a couple of the boys let me know I was being dropped – so that was interesting…"
Cummins was confident spinner Adam Zampa, whose 4-47 was key to Australia's victory against Sri Lanka, would be fit to play after his back spasm trouble. "It's still lingering a bit but I think it's getting better each day so it shouldn't be any worse than the last game," he said.
But he knows a formidable challenge awaits against a Pakistan side smarting from their first loss against arch rivals India after two wins.
"They pose quite a few dangers really. Pretty well structured, some really good quick bowlers who can do some damage, spin bowlers that can bowl 20-plus of their overs," said Cummins.
(Mohammad) Rizwan's the leading run scorer, Babar Azam's always good, a couple of other batters that have scored a lot in ODIs lately. So, they're a really strong side pretty much in all facets."