Alex de Minaur and Alexei Popyrin have been left celebrating new career landmarks with their double assault on the Japan Open title in Tokyo.
The two 24-year-old Sydneysiders both powered into the quarter-finals of the ATP 500 hard-court event at the Ariake Coliseum on Thursday by defeating South American opposition.
De Minaur took out another diminutive battler, Argentine Diego Schwartzman, 6-0 7-5 while Popyrin fought from a set and a break down to beat Chilean Cristian Garin 4-6 7-6 (7-3) 6-2.
De Minaur's win puts him into a 10th tour-level quarter-final of the season and he's the first Australian man to achieve that feat since his Davis Cup captain Lleyton Hewitt back in 2004.
And for Popyrin, a 22nd tour-level win of 2023 matches his best-ever season back in 2021, with the promise of more to come when he faces Japanese wildcard Shintaro Mochizuki, a surprise conqueror of top seed Taylor Fritz, in his fourth quarter-final appearance of the season.
"I am always happy after a win like that," De Minaur said, after rating his first-set 'bagelling' of Schwartzman an almost 'perfect' stanza. "Especially against a tough competitor like Diego, I am most proud of how I then stay composed out there."
Next up for de Minaur is a last-eight clash with Aslan Karatsev, the Russian who first made his name with his breakthrough run to the Australian Open semi-finals as a qualifier in 2021.
Remarkably, de Minaur seems to be almost fresher than ever after a hugely tiring schedule of 63 matches this year, as he seeks to maintain his late push to earn a place in the end-of-season ATP Finals in Turin.
A second title of the year this week could see de Minaur climb at best to ninth in the 'Race to Turin' standings, moving ever closer to the top eight players in the list who will make the finals.
"I started very early this season and I'll finish very late (with the Davis Cup final) but though others might have had a more decent amount of rest, I've had my best year to date. I'll just put my head down and keep on working," said de Minaur.
Popyrin, currently ranked No.41, will leave Japan with a new career-high ranking as he breaks into the top 40 for the first time.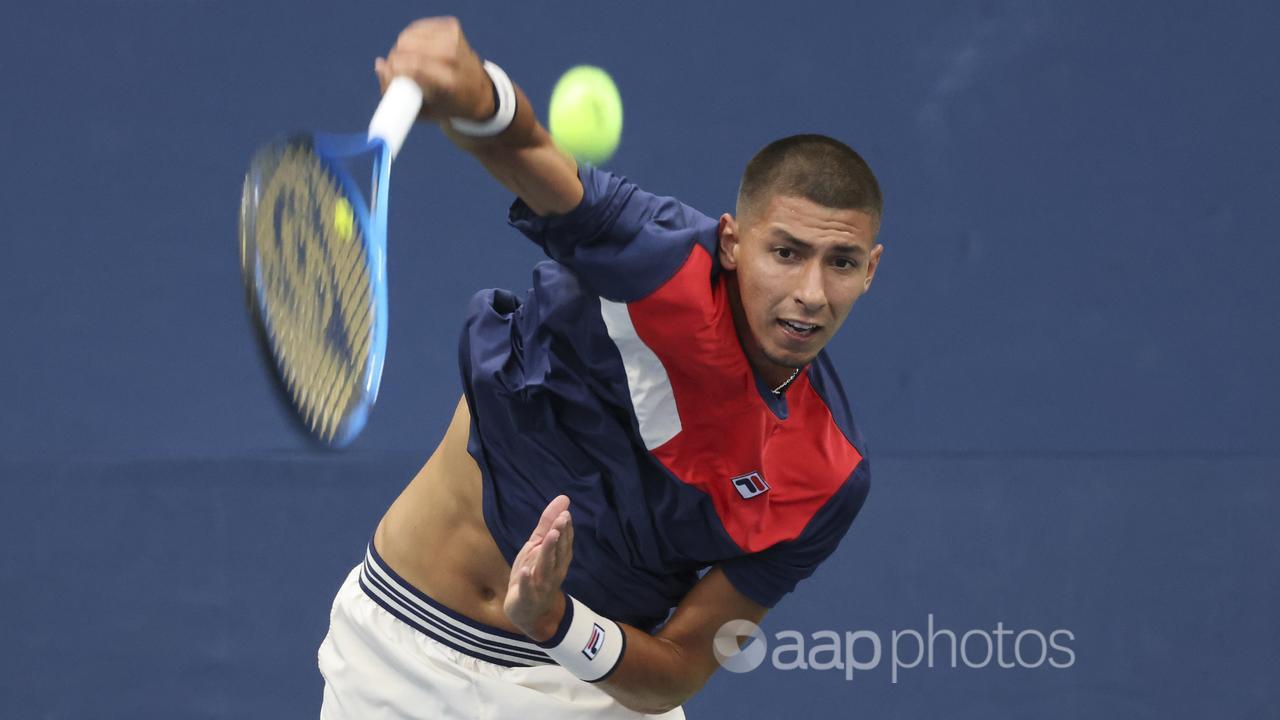 It was a particularly satisfying win for Popyrin, who showed real resilience when 4-2 down in the second set and staring at a straights-set defeat before he went on to rally and win in just under three hours.
"That was a battle, I've had a lot of them this year so it's good to come out on the right side," said Popyrin.
The most surprised man in the arena, though, was home favourite Mochizuki after he shocked Fritz 0-6 6-4 7-6 (7-2).
The 20-year-old, ranked only 215 in the world, was 5-2 down in the third set before forcing the deciding tiebreaker and earning his first win over a top-10 player.
"I don't really know what is happening right now," said the bemused Mochizuki, as he reached his first-ever quarter-final.
"I kept fighting and that is all I could do. I am so happy. I don't know how – but I won."