Eddie Jones concedes he, not the media, needs an uppercut, but remains committed to coaching the Wallabies through to the 2027 Rugby World Cup in Australia.
Speculation has been rife that Jones would walk away from his position following Australia's dismal campaign in France, where the Wallabies failed to make the quarter-finals for the first time in 10 editions of the global showpiece.
After a winless build-up, reports of Jones being interviewed for the Japan job last month, just days before the start of the tournament, derailed Australia's campaign.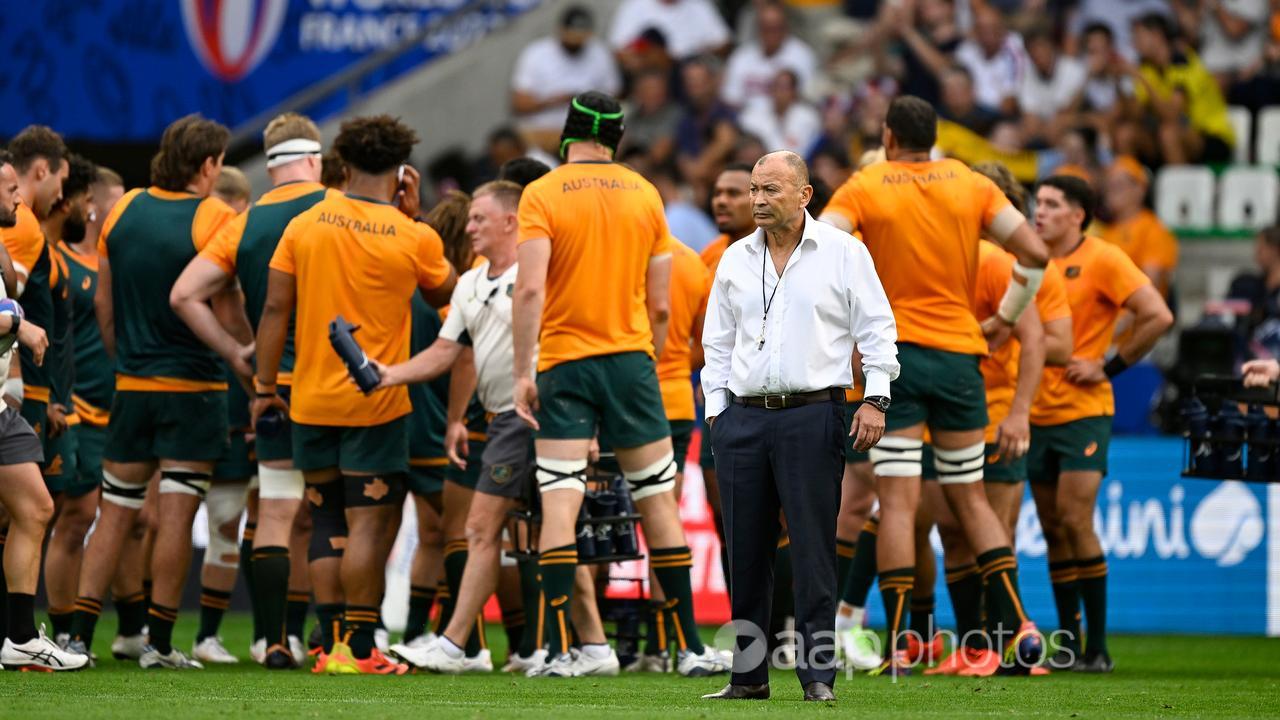 Despite insisting he wasn't jumping ship, the rumour mill continued to operate in overdrive, with further reports the 63-year-old was preparing for another Japan interview in November.
But Jones put the innuendo to bed on Tuesday at a packed press conference at Coogee Oval, where he was grilled for 25 minutes.
He again denied any links to, or having talks with, Japanese rugby and said he was "100 per cent" committed to staying on – if not sacked by Rugby Australia after a formal post-World Cup review.
"I loved seeing some of the young players maturing during the World Cup – and some struggled, and that is part of it," Jones said.
"Most of them showed … they have enough to really go forward and be very good players for Australia.
"We throw in a few other players from around the place and we have a nucleus of a really good team."
After fiercely defending his youth policy despite the Wallabies only registering unconvincing wins over minnows Portugal and Georgia in nine Tests this year, Jones fessed up to one regret in 2023.
"The only thing I regret is probably telling the press to give themselves an uppercut," he said of his infamous pre-World Cup press conference at Sydney airport.
"But sometimes you say things in the heat of the moment that you regret.
"I probably need to give myself an uppercut, don't I? I did not like the way that media conference was portrayed, but it was probably not the wisest thing."
Asked why he still believed he was the best man for the job, Jones claimed he had "the foresight to see where we need to go".
"I've got the experience of being in difficult situations before," said Jones, who guided England to the 2019 World Cup final, Japan to a first win over the Springboks in 2015, and assisted Jake White in leading South Africa to the 2007 title.
"This is not an unusual situation. You've got a team that was struggling for a period of time.
"You've got underneath it a system that's not supporting it. And at some stage, you bottom out.
"This is the opportunity to change the team, as we've started, picking younger players with bright futures.
"We've got to look at the development system underneath as well. This is not a simple equation that 'the Wallabies are bad'.
"Let's be serious about this. The Wallabies are not where they need to be, but underneath that we need to fix the system to go forward.
"If we can do that now, we've got a rosy future."
Jones also rejected the notion rugby was a dying code in Australia, but accepted it was playing catch-up to the AFL, NRL and soccer.
"We're in a difficult situation," he said after presiding over 15 losses in his past 18 Tests during his two tenures as Wallabies coach.
"If I look at when I left (in 2005) to now, the difference between the NRL and the AFL to where it was is massive.
"And that's definitely affected our talent pool, so we've got to work harder at those areas.
"We've not only got to fix things at the top level, but got to fix things at the talent identification, recruitment, development level.
"We've got to get more players into the game, better players into the game. And at the moment, NRL is stealing them all."