The Eddie Jones era is over.
Only 10 months after Rugby Australia trumpeted his arrival – and the revival of the Wallabies – Jones has resigned following his side's shambolic World Cup campaign.
The veteran coach met with RA bosses on the weekend and amicably agreed to his departure.
Jones' exit cuts short a five-year deal that initially had the 63-year-old in charge of the Wallabies through to the next World Cup in Australia in 2027.
Jones told AAP on Sunday that his resignation "was not far away", with the paperwork between the parties to be signed off on this week, while RA said they weren't in a position to comment.
In January, Jones was heralded as the saviour of the national side, with RA chairman Hamish McLennan axing Kiwi coach Dave Rennie, citing poor results.
But under Jones, who coached the Wallabies to the World Cup final in 2003 and England to the decider in 2019, Australia went from bad to worse, managing just two wins from nine Tests.
His World Cup campaign got off to an embarrassing start at a pre-departure press conference when he told journalists to "give yourselves an uppercut".
In France, the Wallabies failed to make the quarter-finals for the first time, suffered their first World Cup loss to Fiji, and endured further humiliation with a record-breaking 40-6 defeat to Wales.
Australia were also rocked on the eve of the global showpiece when Jones was linked to the Japan coaching vacancy, although he denied being interviewed for the post just days out from his side's World Cup opener.
He was heavily criticised for his youth selection policy, leaving a number of veterans out of the squad including long-time skipper Michael Hooper and playmaker Quade Cooper.
Just two weeks ago, back in Australia, Jones spoke of his ongoing commitment to rebuilding the team ahead of the in-bound 2025 British and Irish Lions tour and the next World Cup.
He said he was awaiting the result of an RA review of the tournament due in November.
But he has ultimately decided to walk.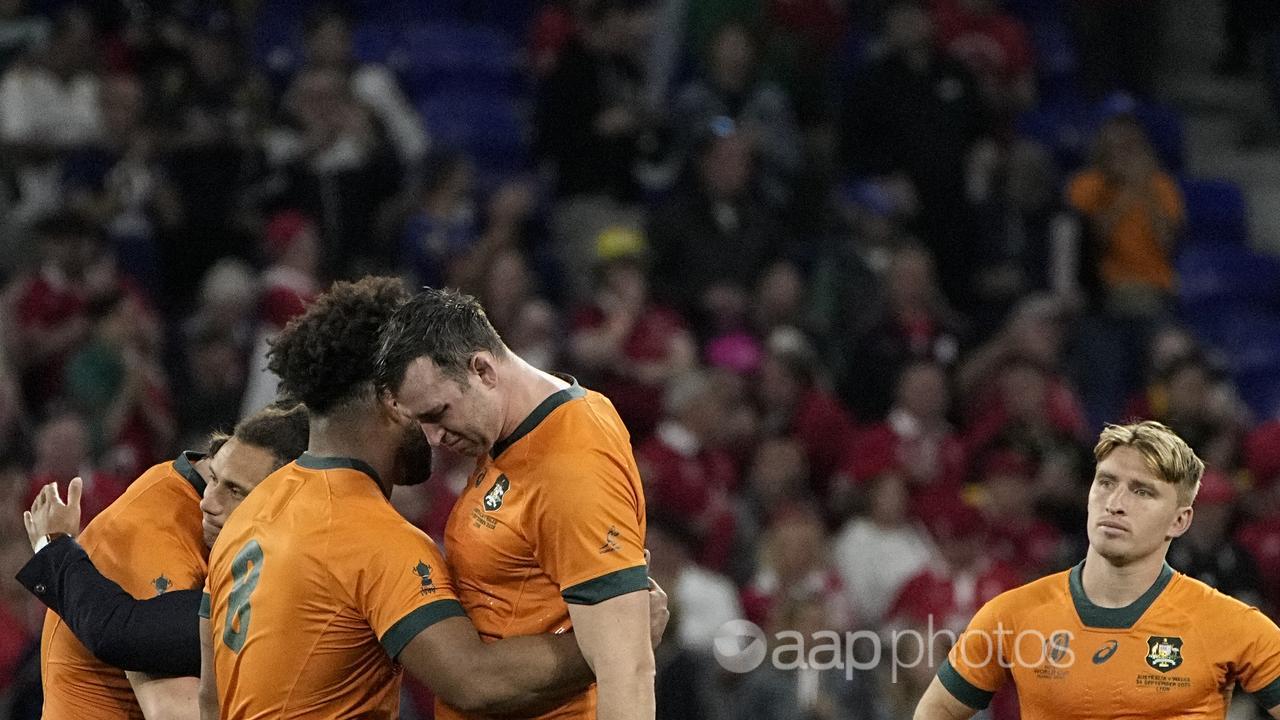 Jones told told The Australian he had amicably agreed to the terms of his departure and that there would be no payout.
He claimed he had no international job lined up, in Japan or elsewhere.
Jones also insisted he had no regrets and hoped his departure would be a catalyst for change.
He said Australia needed to improve its capture of youth talent and its high performance environment, notably Super Rugby.
"I feel disappointment about the fact that what we wanted to do in terms of changing the system hasn't been able to happen in the short term," Jones told The Australian.
"In the short and medium term, it really affects me personally. I have a major feeling of disappointment. But I don't feel any grievance towards anyone.
"I've really enjoyed coaching the players. The players have been fantastic. They just need a better environment to be training and playing in."
Jones is currently in the UK co-coaching the Barbarians with incoming All Blacks coach Scott Robertson ahead of their match against Wales on November 5 (AEDT).