US President Joe Biden has warned Australia against completely trusting China, while reaffirming his country's commitment to its allies in the Indo-Pacific.
In a joint media conference with Prime Minister Anthony Albanese in Washington, Mr Biden said of the China relationship, to "trust but verify".
He also criticised Beijing for its navy acting "dangerously and unlawfully" within the Philippines' exclusive economic zone in the South China Sea.
"I want to be clear … the United States defence commitment to the Philippines is iron-clad," Mr Biden told reporters.
"Any attack on the Filipino aircraft, vessels or armed forces will invoke our mutual defence treaty with the Philippines."
Mr Biden said China could expect "extreme competition" from the US in every way in line with international rules, but not conflict.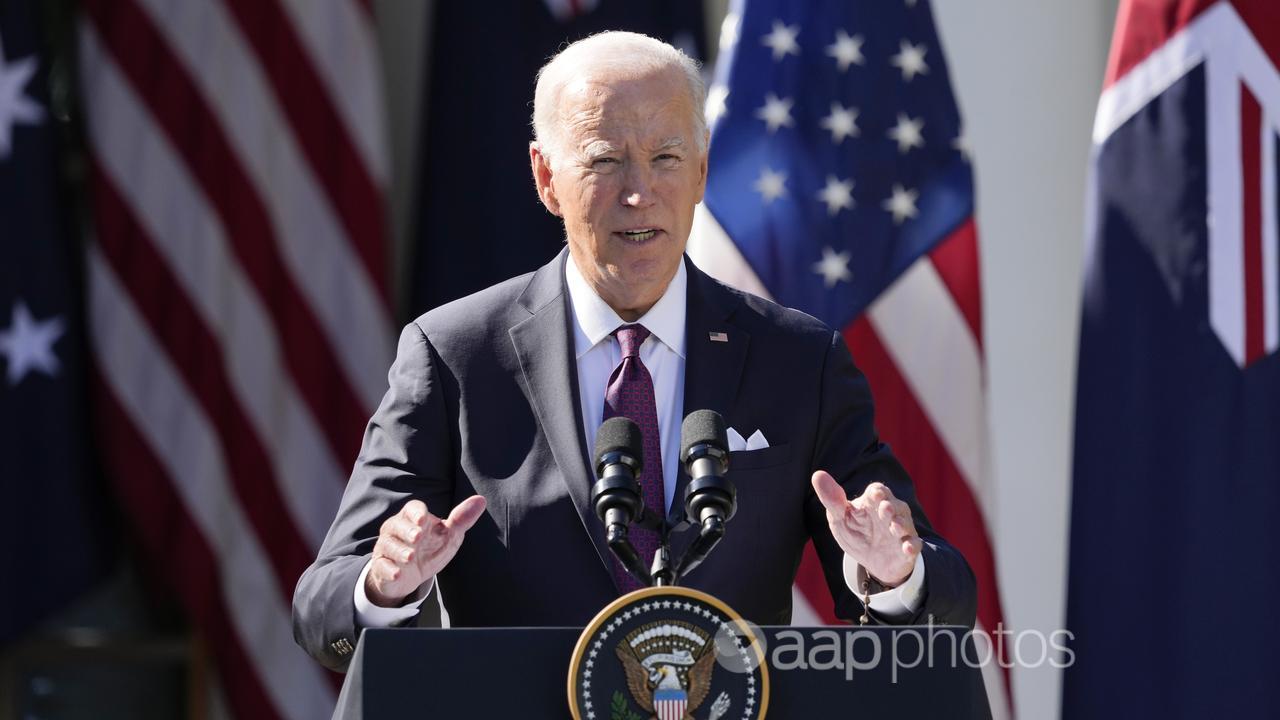 Asked if he could give a personal guarantee the legislation needed for AUKUS would pass through Congress, Mr Biden said he believed it would get done.
The president said he had told Chinese President Xi Jinping the US was not trying to surround China through the AUKUS security pact, but was "just making sure that the sea lanes remain open".
He told Mr Albanese he was asked by Mr Xi a couple of years ago "why I was working so hard with your country".
"And I said, 'Because we're a Pacific nation'. We are, and we're going to stay that way," Mr Biden said.
Opposition home affairs spokesman James Paterson said the comments made by Mr Xi to Mr Biden about the US-Australia relationship offered a "profound insight".
"That shows that many in the Chinese system don't understand the very fundamental and deep values-based bonds between Australia and the United States," he told Sky News.
Australian National University associate professor Graeme Smith said Mr Xi's comments reflected a "US and the rest" mentality, where smaller nations were perceived by their relative power.
"It's a Maoist world view," he said.
Mr Albanese will travel to Beijing in early-November for a meeting with the Chinese president.
The prime minister said it was in the globe's interests for nations to continue to communicate with China.
"Through dialogue comes understanding and comes a diffusion of tension," he said.
Mr Albanese said Australia wanted a peaceful and secure region where international law was upheld.
This included the right of passage in the South China Sea being respected, as well as in the East China Sea and the Taiwan Strait.
Mr Albanese's visit will mark 50 years since the first trip to China by an Australian prime minister.
The government has announced it will invest $4 billion into the mining and processing of critical minerals, which are crucial for countries meeting climate targets as they are used for clean technology.