Australia have been knocked out of the Billie Jean King Cup and will say farewell to captain Alicia Molik despite one final, stirring rescue operation by the indefatigable Storm Hunter.
Molik's final act in Spain after a distinguished decade of leadership was to listen to the number crunchers and learn, agonisingly, that Thursday's 2-1 victory over Kazakhstan – courtesy of two more Hunter wins – was, mathematically, not quite enough to keep their hopes alive.
She was still not sure, an hour after the victory in Seville, whether her side were definitely out or could still sneak through to the semi-finals by winning their three-team group.
Even at the post-match press conference as someone worked out they couldn't qualify whatever the combination of results in Friday's Slovenia-Kazakhstan tie, Molik politely thanked her informer but said she preferred to "triple cross-check" with the match referee.
Alas, it was bad news – and no-one felt more emotional than unbeaten Hunter, after her heroic jet-lag busting efforts with three wins since she made the transatlantic dash from Mexico as the newly minted world No.1 doubles player to lead the side.
Still believing at that point there might still be a slim chance of qualification, Hunter said: "It's just been a pleasure playing under Mol if this is her last tie. I'm going to get emotional now… "
Molik, by her side, comforted her, saying: "You don't need to, Stormy, champion. It's been amazing."
Welling up, Hunter continued: "Yeah, just wanted to make her proud and everyone else on the team proud."
To which there was only one answer. "You do. You do. All the time," Molik assured her.
She was right. Hunter's heroics only mirrored her remarkable performance when leading the team to the final in Glasgow last year.
First, she beat Anna Danilina 7-6 (7-2) 6-4 in the singles and then teamed up with Ellen Perez to deliver the crucial 6-1 4-6 (10-5) win over Danilina and Yulia Putintseva in the decisive doubles.
Molik had overhauled her singles line-up to promote world No.155 Hunter and the country's No.1 Kim Birrell after veterans Daria Saville and Ajla Tomljanovic suffered straight-set defeats in Australia's opening-day 2-1 loss to Slovenia.
Yet the move proved only partially successful when Birrell couldn't overcome the shock of playing a woefully nervy first set, in which she served five double faults, en route to losing to battle-hardened Putintseva 6-0 7-5.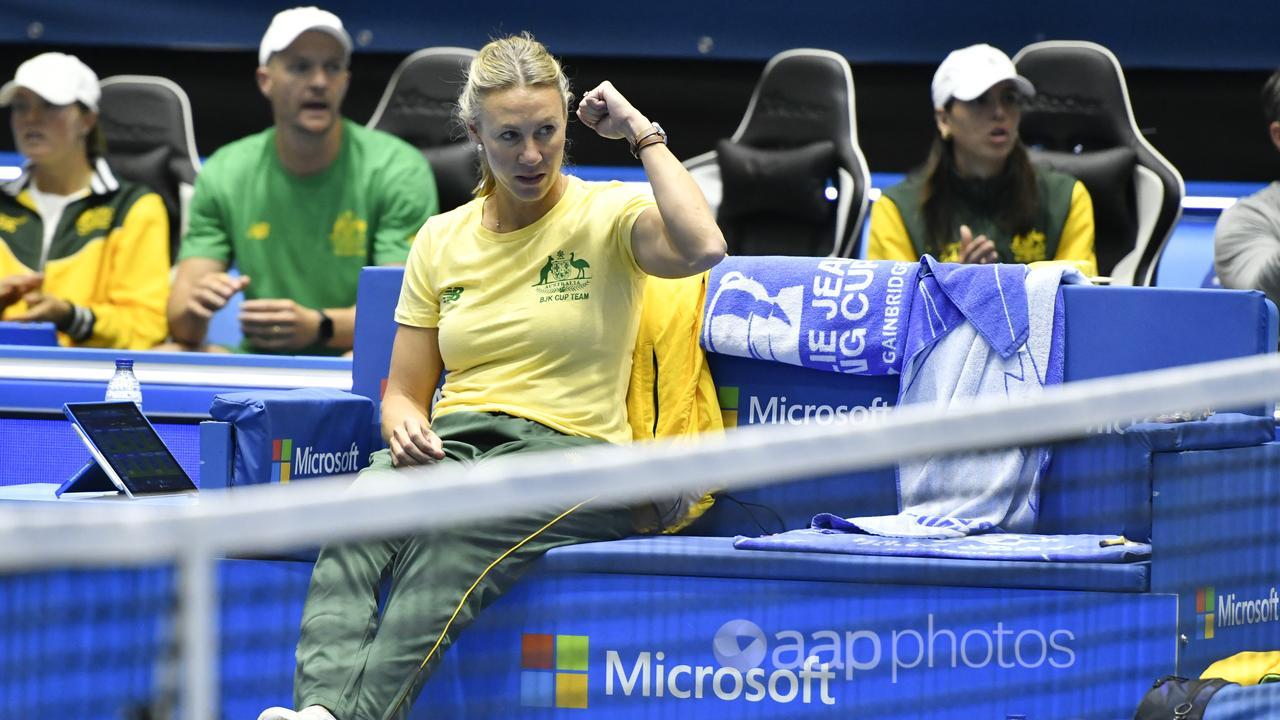 The Kazakhs then changed their doubles lineup to include their totem Putintseva, but southpaws Hunter and Perez – the doubles runner-up at the WTA Finals – proved too formidable.
Despite only landing in Seville after an 18-hour trip from Cancun 90 minutes before Australia's opening tie, a jet-lagged Hunter had teamed up with Birrell on Tuesday to secure a precious point with a super-tiebreak doubles win.
And after answering the singles call on Thursday for a hard-fought win over the inspired outsider, world No.814 Danilina, she admitted on court: "I feel pretty exhausted to be honest."
Yet a couple of hours later she was back with Perez, proving resolute following a Kazakh fightback and emerging victorious from a tense super tiebreaker after 75 nerve-wracking minutes.
Hunter had won the 'Heart Award' for piloting Molik's team to the final in Glasgow 2022 with three singles victories over higher-ranked players, plus two doubles wins – and she was all heart again in Seville.