Australians trapped in Gaza have been given a glimmer of hope and told to move to the Rafah border crossing in case a humanitarian window opens.
The federal government has backed negotiations between Egypt and Israel to open the crossing and provide a safe humanitarian corridor as Tel Aviv enforces a blockage against the Palestinian territory.
About 20 Australians are understood to be in Gaza but the number is not definitive, with poor internet and connectivity hampering consular efforts to determine how many remain trapped.
People have been told to be ready if a crossing opening does eventuate as it may not last long.
The Palestinian envoy to Australia is calling on the government to help de-escalate the situation in the Gaza Strip ahead of an imminent Israeli ground invasion.
Tel Aviv is amassing its forces to strike against the Islamist group Hamas, after the terrorist organisation killed and wounded thousands of people in an October 7 attack that has been dubbed Israel's September 11. About 150 people were also taken hostage.
An Israeli-enforced blockade on food, water and fuel into Gaza has left supplies dwindling and hospitals on the verge of collapse.
Izzat Abdulhadi has called on the government to help cool tensions as Israel faces warnings from the United Nations and the international community to operate within the confines of humanitarian law and not indiscriminately kill civilians.
"We asked the Australian government to talk to the Israelis to de-escalate the situation," the Palestinian envoy told AAP.
The international community had to bear some of the responsibility for failed peace talks in the region "because it provides Israel with impunity and Israel does not abide by international law", he added.
"The root cause of this problem in Gaza is persecution, colonisation, the settlements and the apartheid in Palestine," he said
"So we should also look to the historical context of the issue and see there is a local element of this struggle."
Mr Abdulhadi and ambassadors from the region – including Egypt, Jordan, Lebanon, Morocco, Saudi Arabia, and the United Arab Emirates – met with foreign affairs officials on Monday.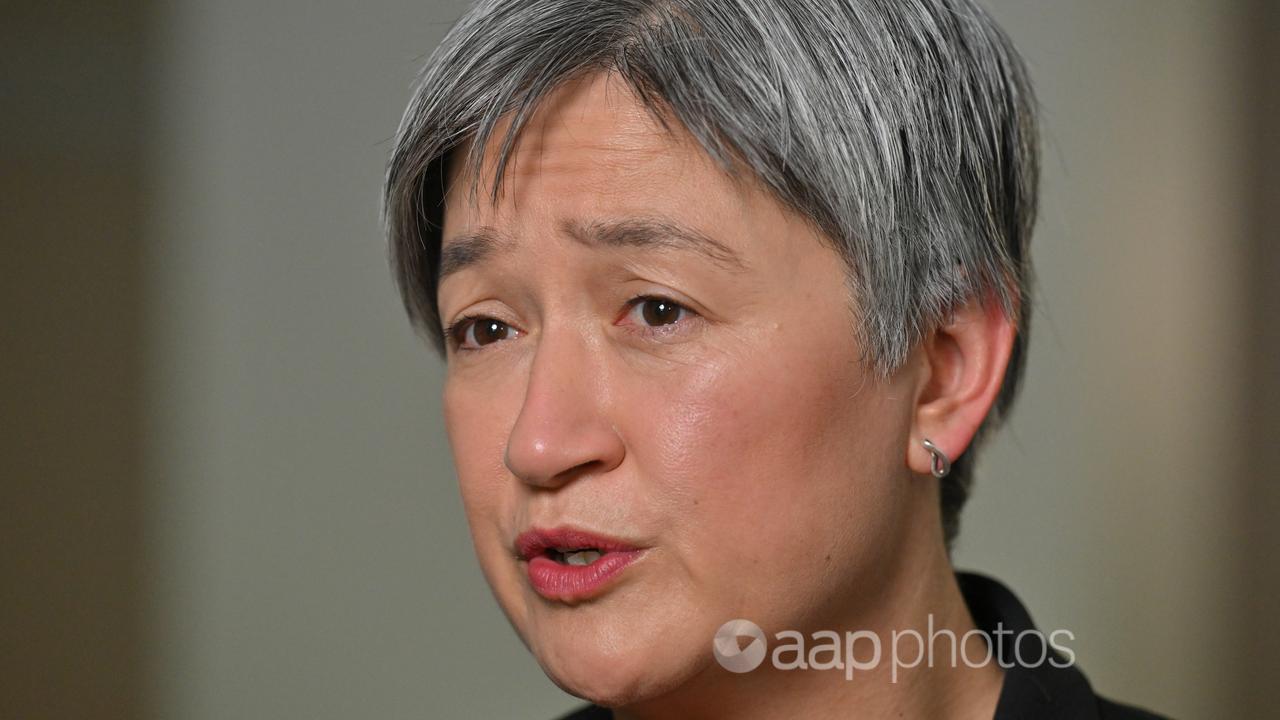 Foreign Minister Penny Wong postponed planned trips to South Korea and Japan this week as she works to support a US-led effort to open a humanitarian corridor, speaking to both Egypt and Israel to enable foreign nationals to leave Gaza.
"Australia calls for safe and unimpeded humanitarian access to Gaza and the rapid establishment of a humanitarian corridor," she told parliament on Monday.
The government is also ready to provide additional assistance if needed, Senator Wong added.
Australia is also working to repatriate its citizens from both Israel and Gaza, with Senator Wong warning that government-assisted flights from Tel Aviv on Monday could be the last for the foreseeable future due to the changing security situation.
This includes if Israel closes its airspace as it prepares for ground invasion.
One repatriation flight left Tel Aviv for Dubai on Monday, with another scheduled for later in the day.
Extra flights to get already evacuated Australians home from Dubai and London into Australia are also being put in place.
On Sunday, two Air Force flights and a chartered plane carried 255 Australians to safety from Israel, taking the total who had left the country to about 1200.
Some Australians were accompanied by non-citizen family members but seats on the plane remained empty despite all being allocated.
The Department of Foreign Affairs continues to assist more than 1000 registered Australians and handle 39 consular cases.
Not all those registered wanted to leave and some had put their names down for information purposes, Senator Wong said.