More than a dozen pro-Palestine rallies are expected to go ahead in and around Sydney, after NSW Police cleared a march of up to 10,000 people in the city centre on Saturday.
Premier Chris Minns said he was "confident that with good faith" the gathering would be peaceful after thousands took part in a largely uneventful rally in Hyde Park the previous weekend.
The police presence will be reduced from the 1000 officers on patrol in the area around the protest last Sunday to about 800 for the larger event on Saturday.
The NSW Police leadership is working closely with organisers and feels satisfied people will be safe, after ugly scenes marred a rally on October 9 at the Sydney Opera House, which was lit up in the colours of the Israeli flag.
It marks a distinct change in tone to the previous week when NSW Police urged people not to attend the Hyde Park rally and requested authorisation to use rarely deployed powers to search attendees and demand their identities.
Mr Minns condemned the organisers of the Opera House protest for their "failure to control the crowd", adding they had "proven that they're not peaceful" after people began chanting anti-Semitic slogans and set off flares.
"The idea that they're going to commandeer Sydney streets is not going to happen," he said.
Deputy Commissioner Mal Lanyon said on Friday it was not the organisers' responsibility to vouch for every person who attended.
"We expect the community and those that wish to assemble to regulate themselves, but where that doesn't happen the police will be present to take action," he said.
Palestine Action Group spokeswoman Amal Naser said she expected up to 10,000 people to attend Saturday's march from Town Hall to Belmore Park after police gave the event the green light.
The Executive Council of Australian Jewry, the peak body for Australia's Jewish community, declined to comment on the planned march.
Thousands of Australians have joined protests in support of Palestinians after Israeli forces bombarded the Hamas-controlled Gaza Strip after a bloody incursion by the Islamist militants on October 7 left more than 1000 dead.
Some 200 Israelis, including children, were taken hostage.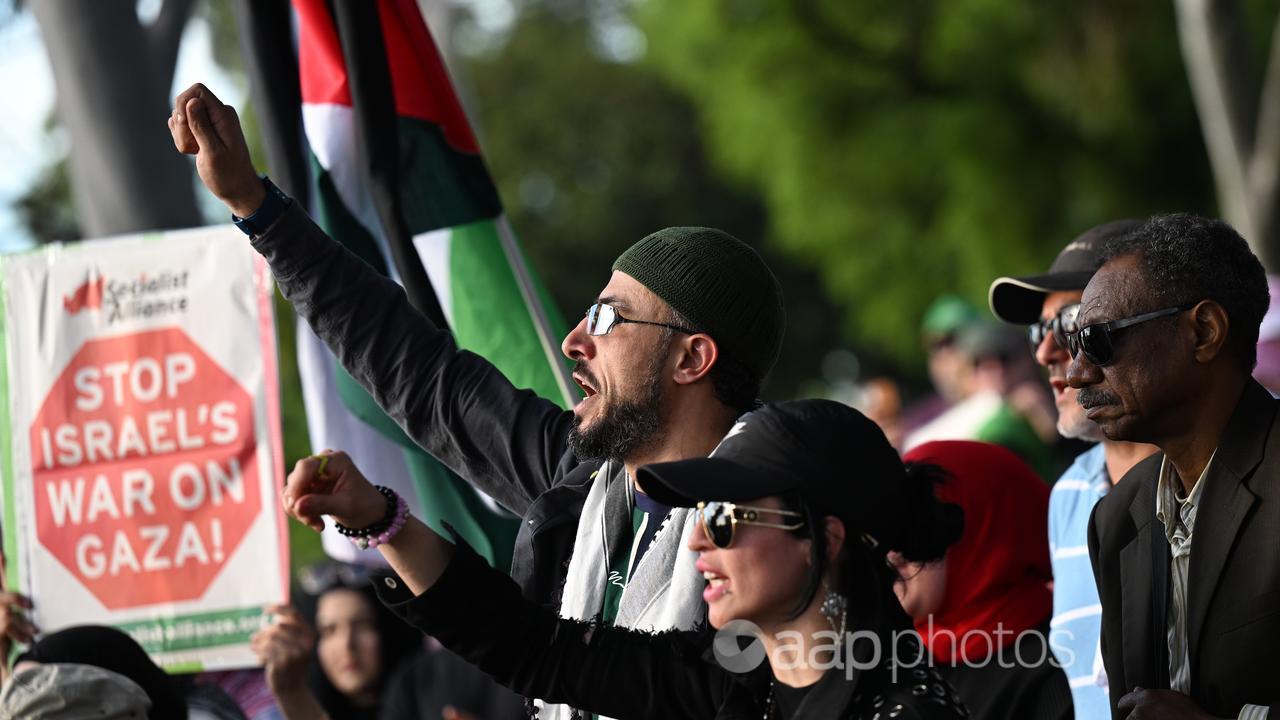 According to Palestinian health officials, the death toll from Israeli strikes on Gaza has risen to more than 3500.
A pro-Palestine rally in Canberra's CBD on Friday attracted hundreds of people.
Rallies scheduled on Saturday in Brisbane, Perth and Hobart are set to draw thousands.
In Melbourne, at a rally at Coburg on Thursday night the crowd paused for a minute's silence in memory of Palestinians killed in the conflict.
Hundreds of people attended an open air prayer service dedicated to Palestinians at Lakemba in southwest Sydney on Friday afternoon.
Organisers from Lakemba mosque urged people to come together in unity and solidarity to pray for "a peaceful and just resolution to the ongoing conflict".
Western Sydney Labor MP Ed Husic, the first Muslim appointed to a federal ministry, on Thursday said the Palestinian death toll from the current conflict had surpassed the number of lives lost in the September 11, 2001 attack in New York.
"We don't see any public landmarks in Australia being lit up in red, black, white and green," he said.
In addition to the Opera House, Australian landmarks including Parliament House in Canberra, the MCG and Brisbane's Story Bridge, were lit up in the Israeli flag colours in the days after the attack by Hamas.