Thousands of Australians have rallied for a free Palestine and denounced elected leaders' hypocrisy in supporting Israel and Indigenous recognition.
Despite being warned away by NSW Police around 6000 people in Sydney's Hyde Park peacefully protested against Israel's strikes on Gaza on Sunday, amid a large police presence that included officers from the riot, mounted and canine units.
Thousands more gathered in Melbourne and Adelaide, following rallies on Friday in Brisbane and Perth.
In Sydney protesters held signs calling for an end to the Gaza blockade, a ceasefire and an end to "Israeli apartheid".
But the overwhelming sentiment was clear: free Palestine.
Greens Senator Mehreen Faruqi told the Sydney rally Israel's sustained strikes and ongoing siege of Gaza were "war crimes".
"I know the harsh consequences of telling the truth but that will not stop me telling it exactly as it is," she said to cheers.
"(Israel's actions) are the very definition of collective punishment."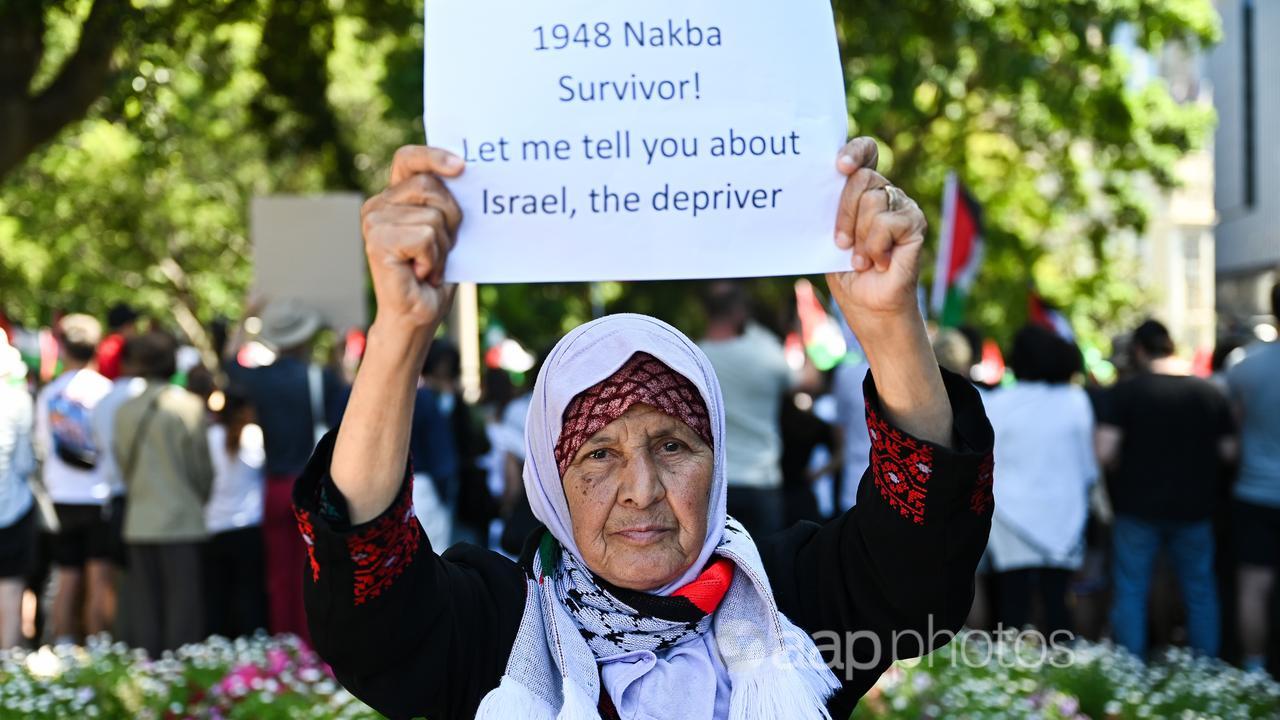 Ghanemia Sultan, expelled from Gaza aged four in 1948 in what is known as the Nakba, said Israel had stolen her land.
"They kill my family," she told AAP.
"I have the right to return to Palestine … We never, never, never forget our right."
One of the organisers contrasted Australian leaders' backing of a 'yes' vote for an Indigenous voice and recognition while concurrently supporting a "colonial, settler and fascist" regime in Israel.
"What a hypocrisy," she told the rally.
Muslim, Christian and Jewish speakers called for peace as hundreds of uniformed NSW Police officers watched on.
Jasminka Hadzimustafic said she was there to "stop the rise of Nazism" and support innocent people caught up in the conflict.
"Anyone with a hint of decency should be here," she told AAP.
"I'm not Palestinian, I'm not Arab, I'm just a human being."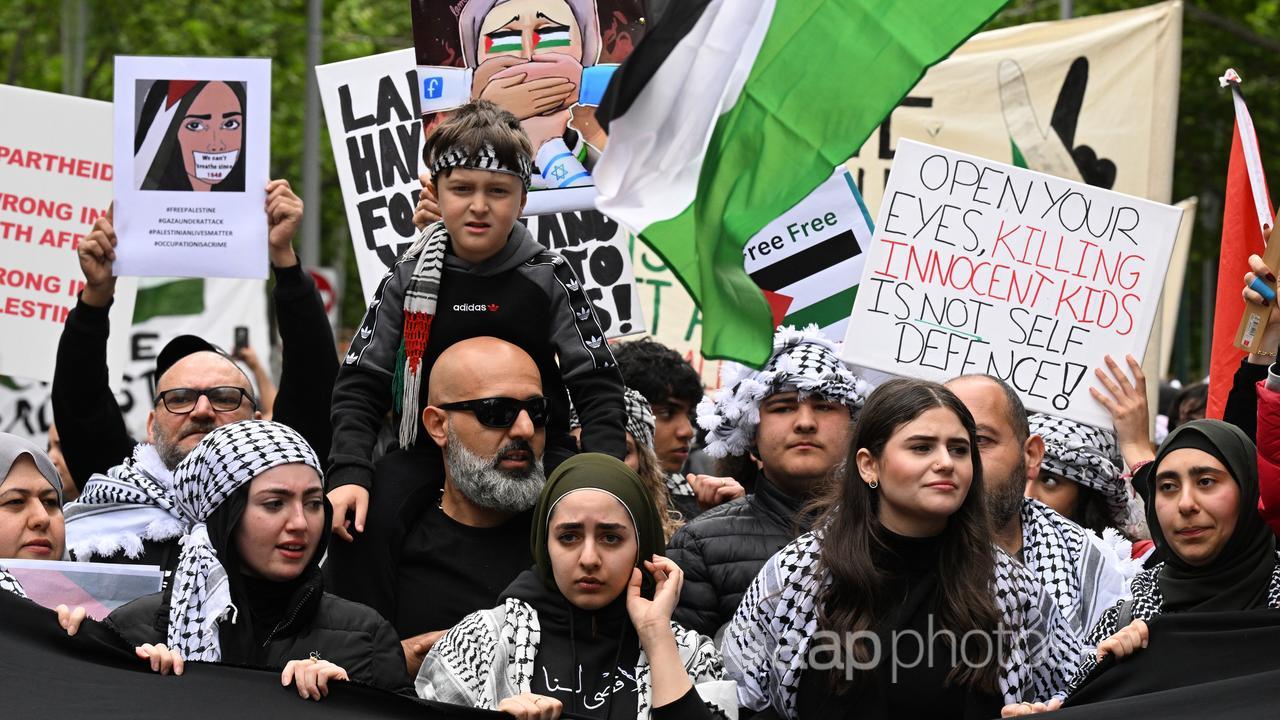 In Melbourne, 10,000 people holding Palestine flags and signs converged outside the State Library of Victoria and surrounding streets for a rally.
The crowd, led by outgoing Greens senator Janet Rice, chanted "free, free Palestine" and heard speeches as police patrolled.
"This is genocide, this is ethnic cleansing," one speaker said.
Some in the crowd became involved in a push and shove with police outside the town hall before the rally moved along Swanston Street and finished at parliament house.
Victoria Police said officers were pleased with the behaviour of the crowd, adding there were 'no incidents of note.'
Another demonstration was planned for state parliament in Adelaide on Sunday.
Nationwide rallies erupted after Israel launched dozens of retaliatory strikes in Gaza after Hamas militants crossed the border and killed more than 1000 people in co-ordinated attacks last weekend.
A rally in Sydney last Monday, organised by the same people behind Sunday's Hyde Park demonstration, sparked widespread condemnation after some protesters chanted anti-Semitic slogans.
Rally organisers distanced themselves from the rhetoric and warned any repeat on Sunday would not be tolerated.
Executive Council of Australian Jewry co-CEO Alex Ryvchin, said the demonstrations were disappointing.
"The fact that these rallies are taking place just days after the deadliest slaughter of Jews for 80 years, says it all."
NSW Police did not enact extraordinary powers that permit them to search any person or vehicle and disperse groups without reasonable grounds.
Speaking after the rally, Assistant Commissioner Tony Cooke said a significant policing response was in place to prevent a repeat of the demonstration at the Opera House.
"We had spoken during the week of our concern, and I am pleased to say that in the circumstances today, people listened to the message," he said.
"We will continue to provide significant policing processes to make sure that people are safe, and that they feel safe."
No arrests were made.