The Socceroos are determined to remain focused on their football as they prepare to face Palestine in a World Cup qualifier set against the backdrop of conflict in the Middle East.
After thrashing Bangladesh 7-0 at Melbourne's AAMI Park in their opening qualifying match on Thursday night to take early control of Group I, Australia will fly directly to Kuwait on Saturday for Tuesday's game.
Lebanon and Palestine drew 0-0 in the other group match on Thursday to ensure Australia are already two points ahead at the top of a pool which has been thrown into disarray by the escalation in violence in the region.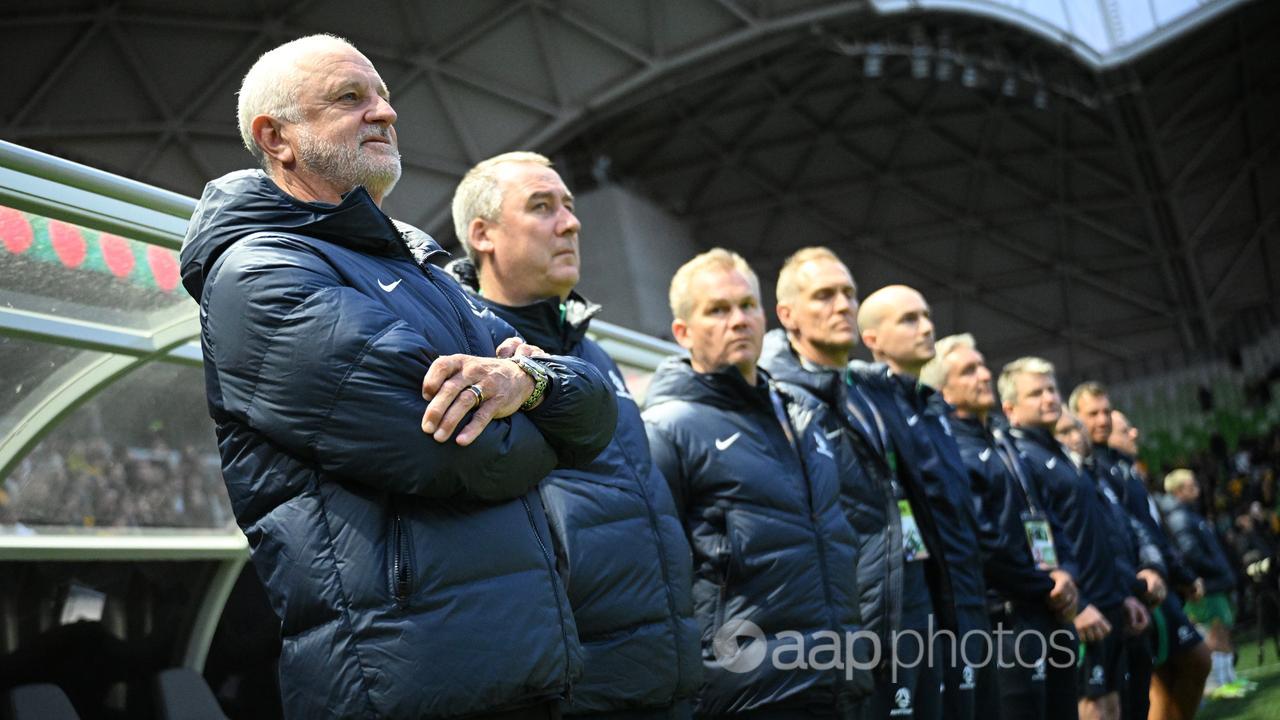 Australia's game against Palestine was originally going to be held in the West Bank but was ultimately relocated to Kuwait.
"It's horrific what's going on over there at the moment," coach Graham Arnold said.
"But I don't think we have any control over that.
"What we do have control over is our performance and playing against Palestine and going out and getting the job done for Australia.
"We're very sympathetic for everyone with what's going on.
"But again, it's a game of football and that brings a lot of joy to everybody."
The Socceroos will have an additional rest day in Melbourne on Friday before heading to Kuwait, chosen by Palestine as their nominated 'home' venue, on Saturday.
"We heard actually the game could be sold out, which is crazy and exciting as well," striker Mitch Duke said on Friday.
"You always love a good atmosphere and it is going to be probably a little bit hostile.
"They're going to create as much of a home advantage for themselves as they can.
"But a lot of the boys have probably experienced it and the others that haven't it will be a great learning experience for them as well. We're all prepared mentally and physically, we're in great condition.
"So we're ready to take that test and start off this campaign with two wins."
Duke expects an "emotional game" for his Palestinian counterparts and with defender Harry Souttar urged the Socceroos to turn in a professional performance.
"We know that Palestine are going to be right up for it," Souttar said.
"We know that they're going to be playing for a lot more than just football.
"But we're there to get a result and get a job done. We'll be professional and be going for the win."
Arnold hailed the "fantastic and supportive" Football Australia for booking a charter flight to Kuwait, which cuts travel time by approximately six hours, while Duke said the players had been made to feel "as safe as possible".
The coach flagged changes to his starting line-up.
He expects mainstays Jackson Irvine, Duke and Craig Goodwin to be fresh after being taken off against Bangladesh.
Martin Boyle, who skipped the trip to Melbourne with knee swelling, will also be available.