Marathon swimmer Chelsea Gubecka has become the first athlete named for the Australian team for the 2024 Olympic Games in Paris.
The 25-year-old will contest the women's marathon 10km event in the famous River Seine.
Gubecka will be among the favourites for a podium place in Paris after collecting the silver medal in the 10km event at the world championships in Fukuoka, Japan, earlier this year.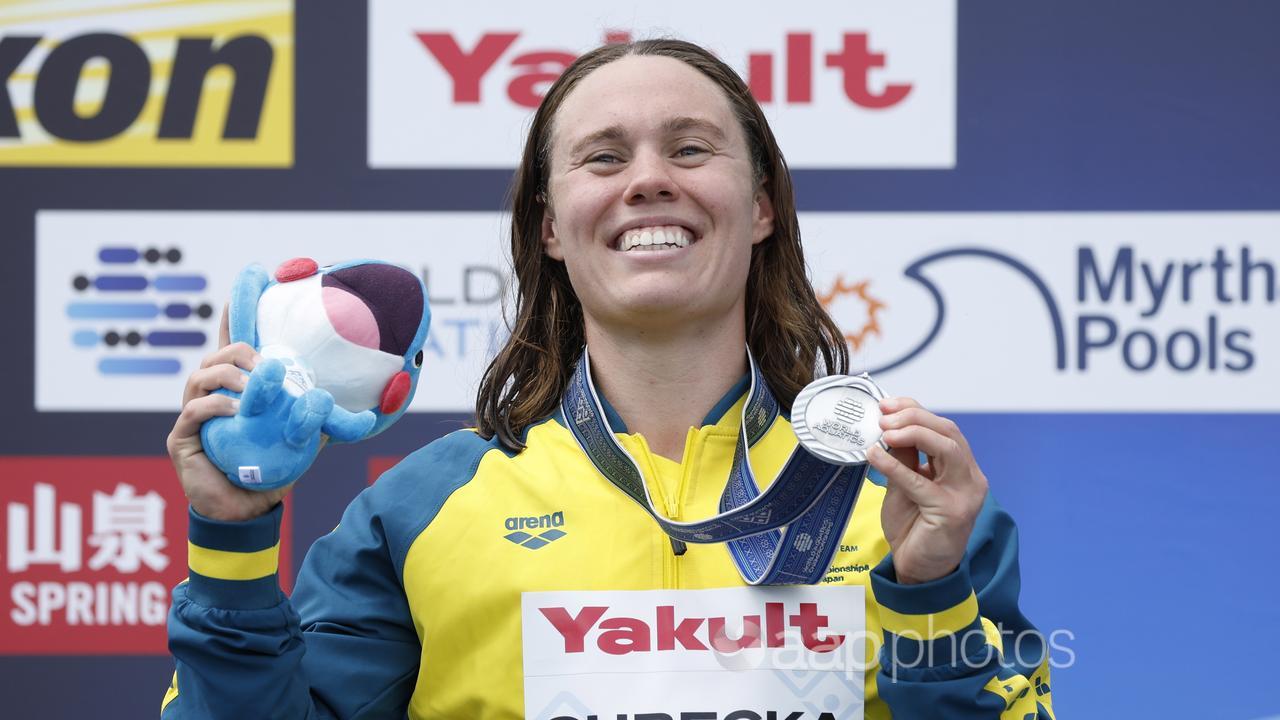 Australia's Olympic chef de mission Anna Meares on Thursday announced Gebecka as the first member of the team for Paris.
"It is a bit surreal to be honest," Gubecka said.
"This sort of work doesn't come easy. I have been on the (Australian swim) team for the last 10 or 11 years and this is testament to the group and team that supports me day-in and day-out.
"I am very happy and grounded in my life, which is testament to the results I have had over the last 12 months.
"I am looking forward to the next 12 months and what we can achieve in Paris."
Gubecka, who trains at Yeronga Park Pool in Brisbane, said she was "absolutely" aiming to win gold in Paris.
"I won my first World Cup last year and that was my first major international win," she said.
"Silver this year (at the world championships) is certainly something to be super proud of and the goal was to get that Olympic quota spot. I have full confidence in my team that we will be able to get the work done and do something special next year."
Gubecka made her Olympic debut at Rio in 2016 at the age of 17.
She said swimming in the Seine – also the venue for swimming at the Paris 1900 Olympics – through the heart of the French capital would present its challenges, but would guarantee a spectacle.
"We did a bit of recon last year and had a look at the race venue and it is very exciting," she said.
"The view is amazing and being able to look out over the Pont Alexandre III bridge and see the Eiffel Tower in the background is going to make for some great viewership and hopefully promote our sport a little bit more."
There have been ongoing concerns about the water quality in the Seine after an open water swimming World Cup event was called off in August.
"It raised an issue earlier this year when we went over and unfortunately could not swim," Gubecka said.
"However a few weeks later they ended up getting the water quality back to normal and contested the triathlon event. I know the mayor and town are really trying to make sure we have the best experience next year."