Tim Tszyu wants a piece of Jermell Charlo as part of spectacular sporting double header in Las Vegas after retaining his WBO super-welterweight crown with a tense and electrifying points win over Brian Mendoza.
Tszyu captivated a sellout crowd at the Gold Coast Convention Centre with one of the most polished all-round displays of his still-undefeated 24-fight career to record a unanimous victory on Sunday.
The 28-year-old son of a gun once again showcased his full armoury to keep the tough American at bay before again calling out Charlo, the former undisputed divisional king who has been dodging Tszyu for almost a year.
"Charloooooooo. Charloooooo, where you at?" Tszyu beamed after dominating his first defence since being elevated from interim to full WBO world champion on October 1.
Charlo has twice cancelled on Tszyu since the pair were slated to fight for all four belts in January but the American can longer hide from the Sydney slayer.
Tszyu wants the fight to follow the NRL's season-opening double-header in Vegas on March 2 next year which features his club, South Sydney.
"Let them get their chequebook out and get it sorted," Tszyu said.
"It's not for me, it's more for the people, to go over and watch the rugby.
"But to finish up on a boxing fight, that's a holiday right there for any Aussie sporting fan."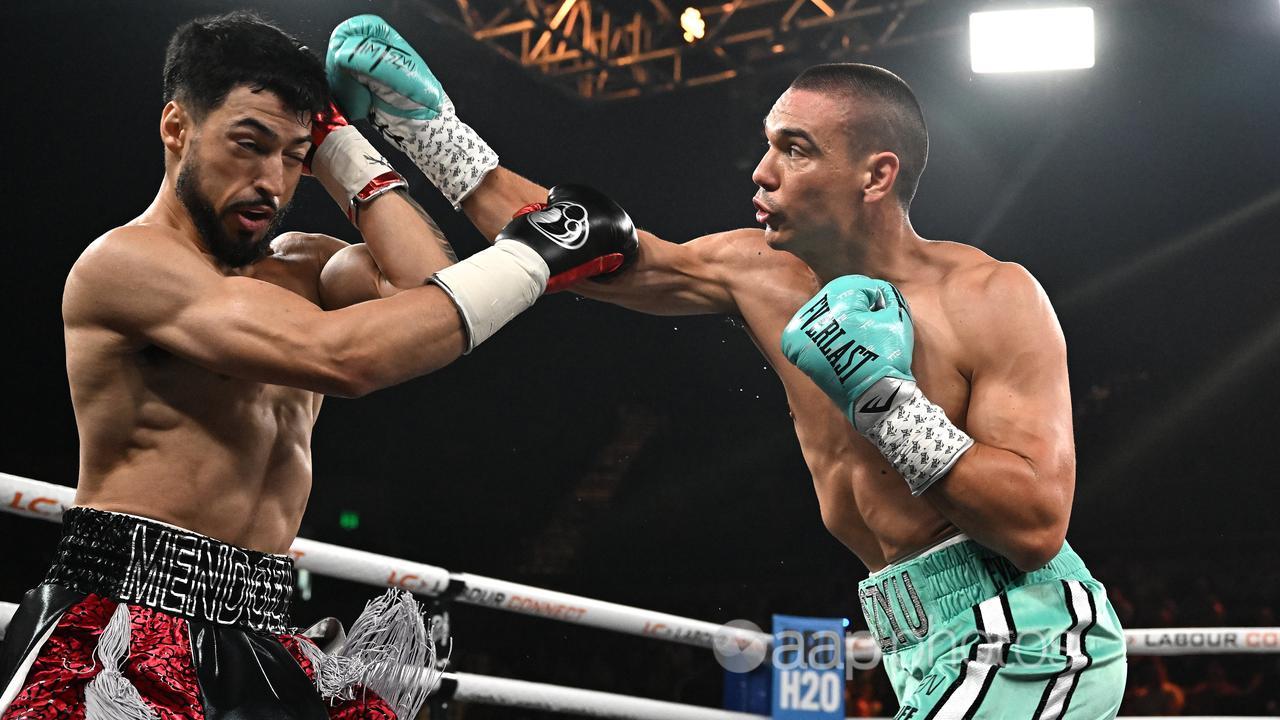 Tszyu's win against Mendoza came with three judges awarding him the fight 116-111, 116-112 and 117-111.
Both fighters landed heavy punches in the opening round, which Tszyu probably shaded with more connections.
The mutual respect between the pair was evident in a watchful second round as Mendoza landed a straight left to Tszyu's nose, and the Australian replied with some clean body shots.
There was nothing in the third round either, but Tszyu was very much on the front foot in the fourth as he carefully probed a way through the US powerhouse.
Tszyu battered Mendoza in the fifth with a series of punishing combinations to the challenger's head, who hit back in the sixth with a big right hook and straight left in his best round yet.
The crowd erupted as Tszyu hurt Mendoza with a flurry of huge uppercuts to dominate the seventh round.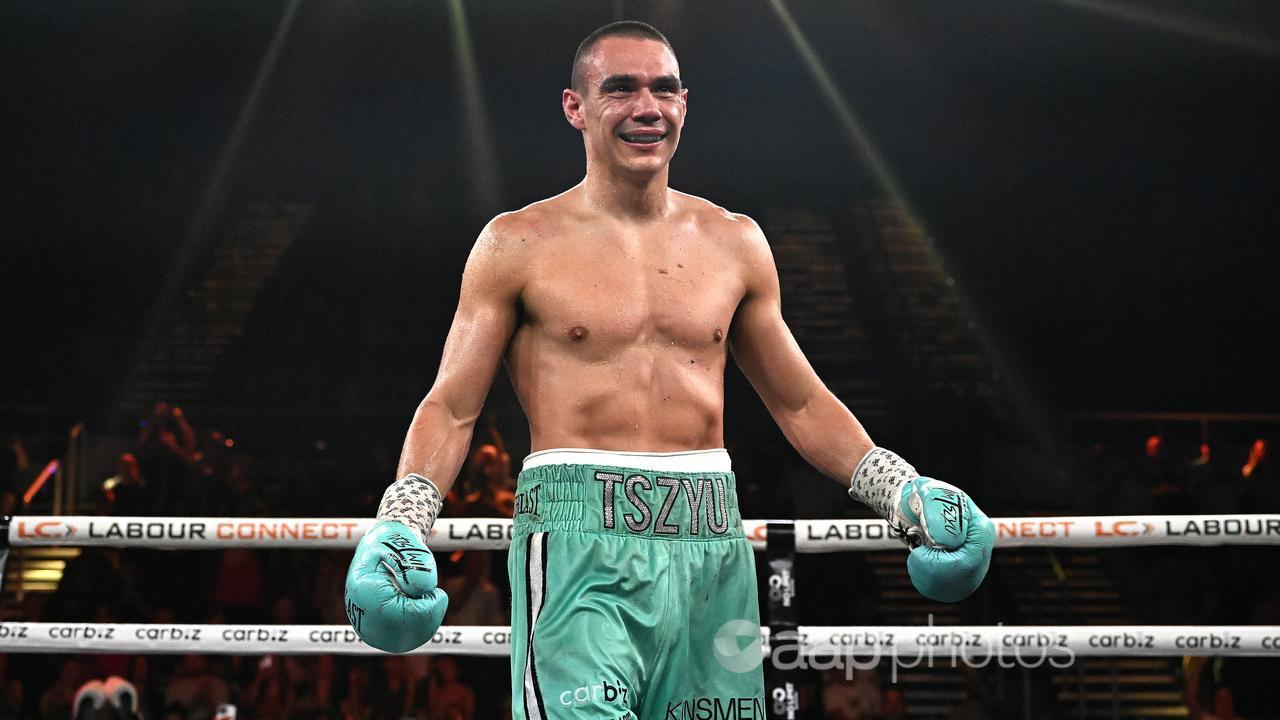 The two combatants continued to dazzle spectators in a bruising eighth round as both fighters copped heavy blows to the head and body.
While on top, the Australian remained wary of Mendoza's one-punch power in the championship rounds in a measured defensive display.
Tszyu worked his opponent over in a savage 10th round as the underdog courageously and remarkably stayed on his feet.
The American was saved by the bell in the penultimate round and only a knockout of his own in the last could savage an unlikely victory.
It didn't come, with Tszyu too slick to let the fight slip.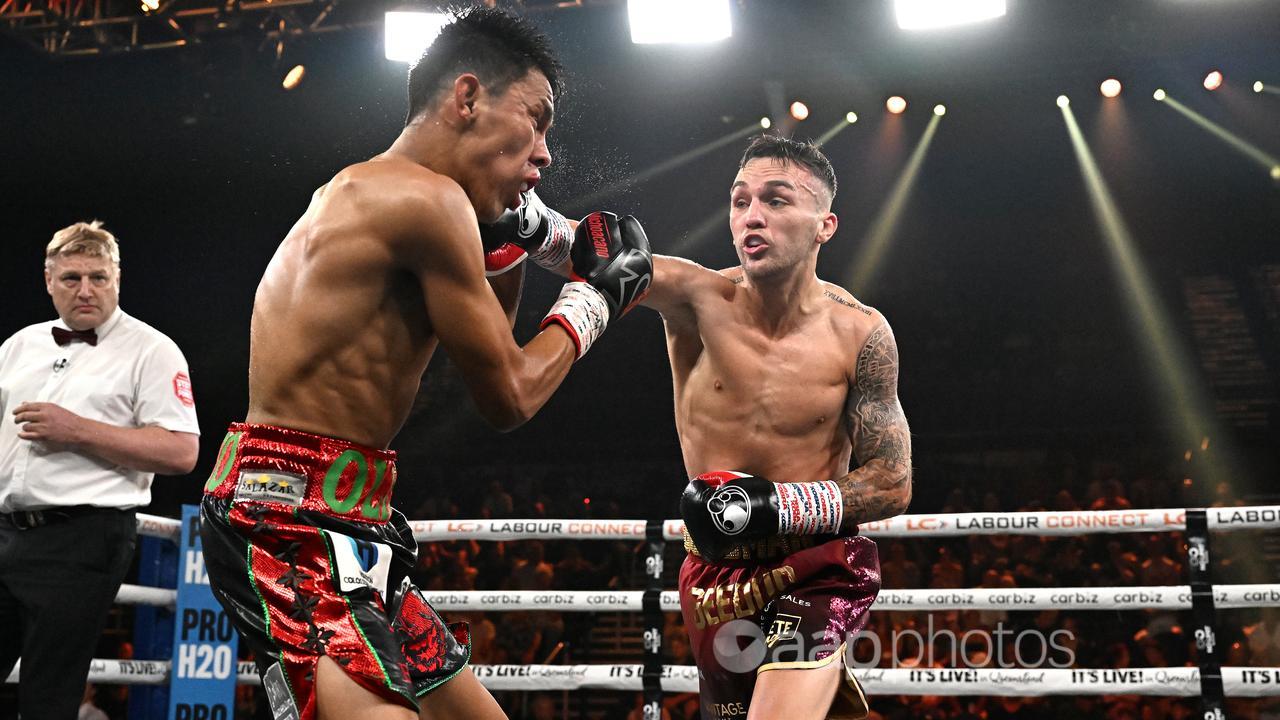 In the co-main event, Sam Goodman scored a unanimous points decision over Mexican Miguel Flores to remain on track for a super-bantamweight world title shot.
Stepping up to 125-pound catchweight to "keep busy", Goodman dropped Flores in the eighth round of a commanding performance to improve his unbeaten record to 16-0.
The 25-year-old is ranked No.1 in both the IBF and WBO rankings and will likely land a crack at Japanese warrior Naoya "The Monster" Inoue for world supremacy early next year.
In the historic all-Indigenous women's affair, Shanell Dargan captured the vacant Australian super-bantamweight title also with unanimous points verdict over Amber Amelia.