Westpac has grown its full-year net profit by 26 per cent to $7.2 billion and is returning some of that to shareholders with a $1.5 billion share buyback.
Australia's oldest company also announced on Monday a final dividend of 72c a share, taking its total dividend for 2022/23 to $1.42 per share, up 14 per cent from the year before.
"Over the past year we've further strengthened the bank, improved our financial performance and continued to support customers in a rising interest rate environment," chief executive Peter King said in a letter to shareholders.
"A strong banking sector is vital for a resilient economy and Westpac's balance sheet is the strongest I've seen in my 29 years at the bank," he said.
As of September 30 Westpac had a tier one capital ratio of 12.4 per cent, up from 11.3 per cent a year ago and well above of its target ratio of 11 to 11.5 per cent, leaving open the option of more returns to shareholders.
Westpac earned $3.05 billion in profit from its Australian consumer banking operations, down seven per cent from last year.
The bank's net interest margin, a key gauge of profitability, rose two basis points to 1.95 per cent for the full year.
E&P Capital analyst Azib Khan said it was a good result relative to the disappointment that's been baked into Westpac's share price, which has been the worst-performing this year of any of the four big banks.
"From a share price perspective, we believe investor disappointment may now have peaked," Mr Khan wrote.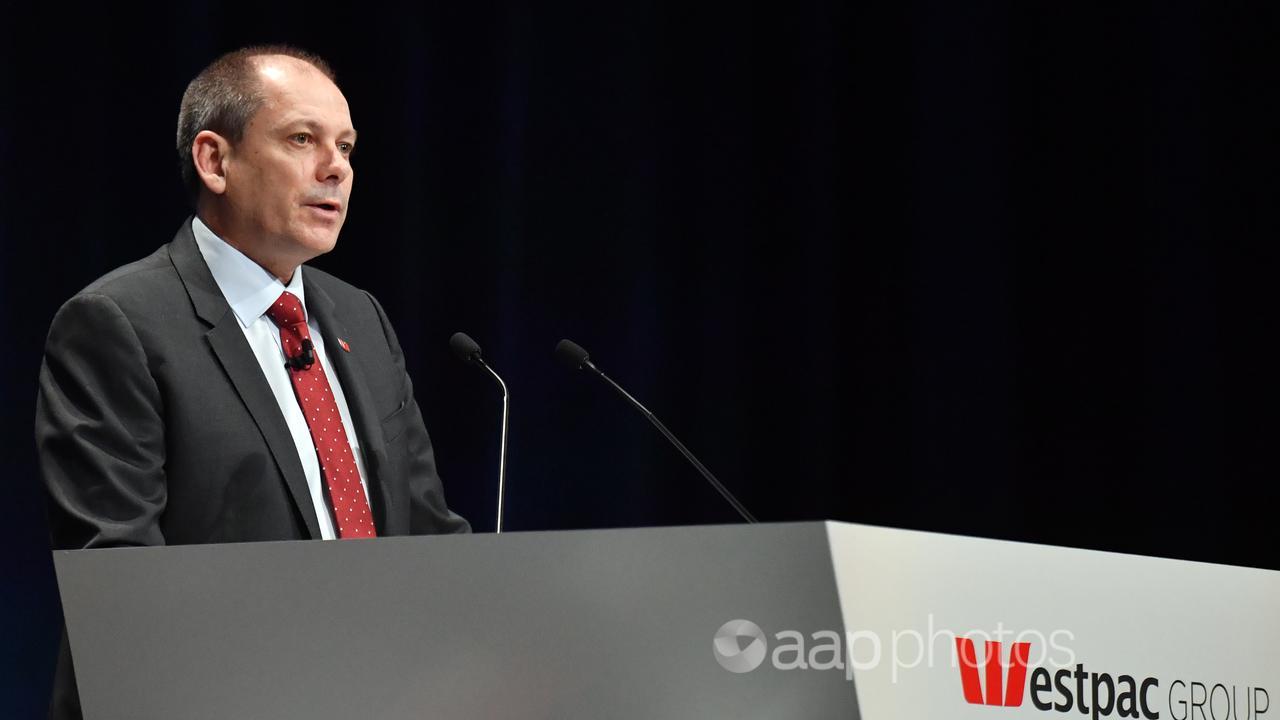 "There are signs of improving franchise momentum at the margin with a pick up in home loan growth and business lending growth."
By midafternoon, Westpac shares were up 2.8 per cent to $22.11.
Mr King said rising interest rates and the cost-of-living crunch had resulted in more customers calling the bank, but just 13,000 were in hardship arrangements as of September 30, which was 69 per cent below the peak during the COVID-19 pandemic.
Westpac has not had significant increases in customers falling behind on their mortgages, Mr King said.
Numbers have been drifting slightly higher since September 2022, but are still well down from the levels of two or three years ago.
That doesn't mean that mortgagors are having an easy road, though, Mr King acknowledged.
"From experience we know customers prioritise paying their mortgage while cutting back their spending elsewhere."
The bank is in a strong position to assist customers, he said.
Mr King predicted the jobs market would be tested in 2024 but said the bank was broadly positive about the economic outlook for next year.
Westpac also on Monday released its 2023 climate report, which includes a new commitment not to lend to beef, dairy and sheep farmers who continue to engage in deforestation past 2025.
"This requires no more conversion of natural forest to agricultural land use within farm systems," Westpac said.
The move was welcomed by environmental groups.
"While the scope of Westpac's commitment could be broader, it should help rein in Australia's unfortunate status as a global deforestation hotspot by focusing on the main driver of land clearing in Australia: pastoral expansion," Australian Conservation Foundation corporate campaigner Jonathan Moylan said.
But Kyle Robertson, a banks campaigner with Market Forces, criticised Westpac for continuing to finance coal, oil and gas companies for another nine months before they must disclose emissions reduction plans.
"Every delay is costly as Westpac has recently financed some of the world's highest emitting companies like Santos, Woodside and JERA, whose new oil and gas projects threaten a safe and secure climate and future for all of us," Mr Robertson said.