Two humanoid robots, taking quick, abrupt steps as if walking on hot sand, methodically lift boxes from racks and deliver them to humans on the other side of a workspace.
They perform their task in perfect sync, their flat 'palms' tightening around the plastic tubs, hydraulic joints in their 'knees' and 'elbows' rising and falling to match the target item.
It's only the first week on the job for the Digits, bipedal robots created for Amazon by Agility Robotics, but they are already in good company.
The online retail giant has deployed several robots in its delivery hubs — machines that move shelves, robotic arms that sort products or load cartons like playing a game of Tetris, and systems that move tubs to human-friendly heights — in an effort to make Amazon operations more productive.
Executives say the robots have also made operations safer for human employees, with reportable injuries down by 15 per cent.
They concede the machines will replace "mundane" jobs in the industry but argue these roles will be replaced with complex, problem-solving positions only fit for human employees.
It is a prediction backed by international research but, nevertheless, could fuel futuristic fears for workers.
Amazon showed off its latest robotic addition at the Delivering The Future conference in Seattle, opening the doors to its BFI1 testing facility an hour south of the city centre.
Though new to the facility, the Digit humanoid robots stole most attention as they slowly moved back and forth.
Amazon robotics research and development director Emily Vetterick says despite the robot's futuristic appearance, it's main task is simple: shifting boxes from one area to another.
"Some buildings can't have conveyors because the geometry is not right," she said.
"The robot would do the very repetitive tasks that a conveyor typically does, picking up the totes and putting them back where they need to go."
It is symbolic, Amazon robotics chief technologist Tye Brady says, of what the company intends to use robots to achieve.
"Our philosophy is we would really like to eliminate the mundane, the menial, the repetitive work and if we can automate that, that's a win for our employees," he said.
"Collaboration means we put robots at the centre of the robotics universe, we extend human capability and allow people to do what they're really good at: problem solving, complex reasoning, understanding overall building flows."
Mr Brady says robots should be used to work with the company's employees, to make their jobs easier, and to increase the safety of workers while boosting productivity.
Amazon facilities using robots record 15 per cent fewer reportable injuries, he says, with one reporting an 18 per cent reduction last quarter.
Robots used in Amazon warehouses currently include Sparrow, an advanced robotic arm equipped to sort products. There's also Cardinal, which can stack boxes in an efficient manner. And Proteus, a mobile robot programmed to autonomously move shelves around a facility, avoiding obstacles.
Amazon also unveiled a new robotic system called Sequoia at the Seattle event that moves containers through a "pick station" to ensure they are within easy reach of human workers.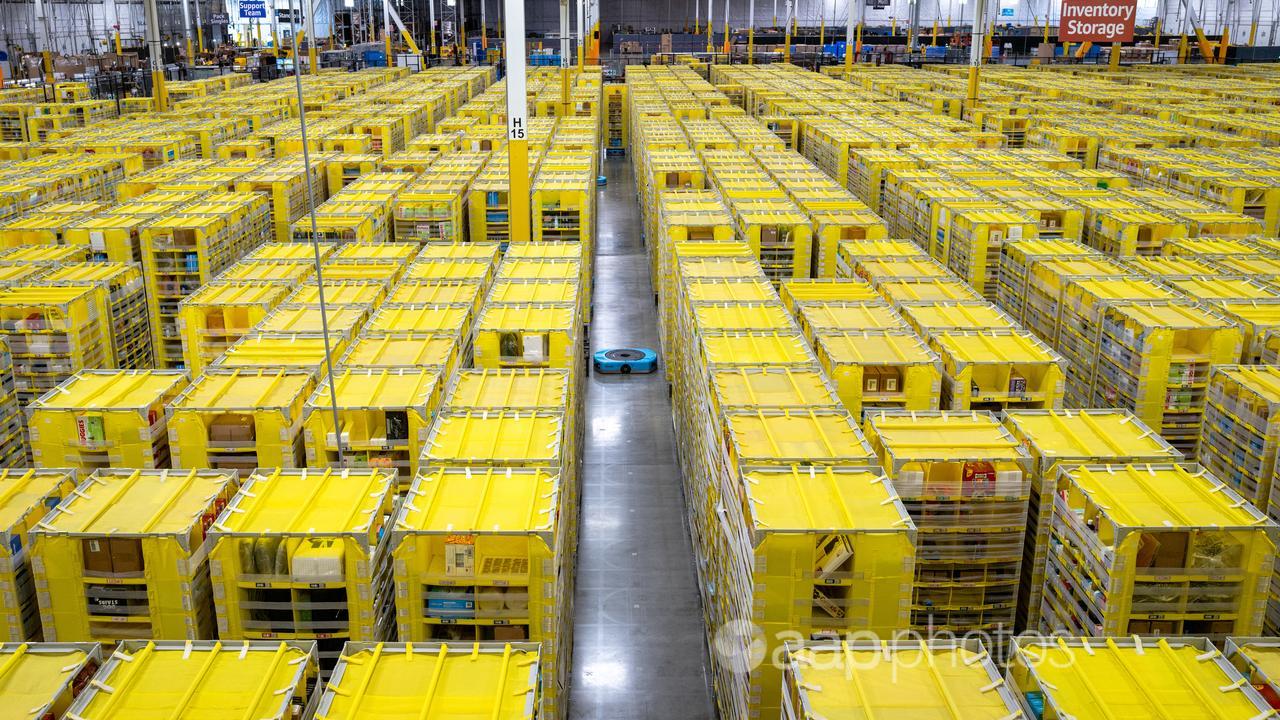 "Jobs will change over time but if you reframe your relationship with machines, this human-centred design approach where people are at the centre of the robotics universe, something magical happens and you gain more productivity," Mr Brady said.
"There's a really common thing to put people versus machines as compared to embracing people and machines together."
But not everyone is convinced adding robots to the workplace will have a positive outcome for human roles.
IPSOS US public affairs president Clifford Young says the marriage of robots and people in the workplace is "a complex story" and one that can raise fear.
While many people love and embrace technology, like smartphones, the internet and artificial intelligence tools, he says, they also worry about the effect technology will have on their futures.
"There's trepidation and fear, not understanding, not knowing what will happen with new technology, to what extent will it disrupt my life or the lives of those around me," Mr Young said.
"We see an increase in this sort of fear and it's specifically related … to one's job for the most part."
MIT aeronautics and astronautics expert Julie Shah says some of those fears can be mitigated by exposure to technology.
People who work alongside robotics and automated systems, she says, are less likely to feel threatened.
"When the technology is abstract, it's concerning and there's uncertainty associated with how it will impact us in our work, in our lives," she said.
"The research also shows that when you look at people actively working with the technology and engaged with it, the view tends to be more positive. "
Companies that are able to find the right mix of automation in their processes, she says, can create better and more jobs for humans.
"Firms that are able to adapt and scale robotics are able to use see increased competitiveness, higher wages and higher quality of work," Prof Shah says.
It's a prediction backed by the findings of a report from the World Economic Forum, which predicts "a shift in the division of labour between humans and machine" will displace 85 million jobs by 2025.
Conversely, this shift will create 97 million jobs in operating and designing algorithms, artificial intelligence systems and robotics, the report found.
For Amazon, the company has lofty goals for more machines and greater automation.
Robotics vice-president Scott Dresser says he would like the company's advanced robotic arms to move around facilities rather than being bolted to the floor.
"You think about our manipulators today, they're much larger than I'd like them to be," he said.
"In five years, we'll be having a different discussions."
AAP's reporter travelled to the US as a guest of Amazon.