Whatever the sport, AAP can provide content – text, image, video and data – to increase fan engagement. Independently created, our high-value content is accurate, trusted and reliably delivered.
Editorial Production
AAP's production business, Pagemasters, provides media with outsource solutions for logistically complex and critical services. These include centralised subediting, page-ready content, imaging and comment moderation. Contact us.
Design
Working collaboratively with clients, our team of designers delivers compelling presentation and structure for websites, mobile, apps and print. Contemporary styling and smartly imagined interfaces – all designed to ignite audience engagement. Send us a brief.
Digital Development
Website, mobile, app and CMS development solutions are provided by AAP's production  house, Pagemasters. Producing intuitive and stylish user interfaces, our development team works to deadline to deliver quality and cost-effective products. Contact us.
Custom Publishing
If you require a tailored newsletter, magazine or journal, AAP's production division Pagemasters provides a one-stop solution. Skilled designers and editorial staff work collaboratively with clients to deliver quality and cost-effective publications. Discuss your needs with us.
Directories
Access vast contact databases covering media, government and associations through AAP's Medianet business. Contact lists provide core information including name, telephone, email and social media presence. Medianet also publishes Who's Who – the eminent Australian biography reference source. Explore our databases. Contact us.
Press Release Distribution
Targeted delivery of press releases across a vast network of media contacts, delivered by AAP's Medianet business. With more than 1400 customised media lists, your message lands with laser precision. Contact us.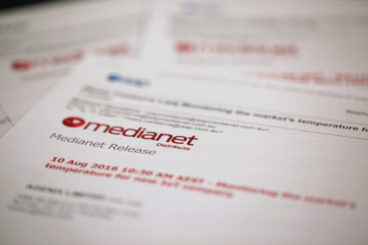 Media Summaries and Analysis
To keep you apprised of how the media is covering all sport matters, AAP's Medianet provides tailored daily reports. Medianet can also expertly analyse the coverage to give you critical insights and an information advantage. Contact us.
Medianet for Journalists
Free press release database for working journalists, reporters, editors and producers, providing a  rich vein of real-time announcements. An essential service – provided by AAP's Medianet business – to stay connected to the news cycle and manage coverage. Contact us.
Commissioned Content
If you require specific content – stories, photographs and video – AAP provides an efficient, cost-effective and reliable solution. Our network of professional writers, photographers and editors can work with you to deliver – on deadline – content on any subject. Request a quote.
Media Training
For a deeper understanding of how media works – and how to work with media – AAP's Medianet conducts professional media training courses tailored to sports organisations. Certified and experienced trainers deliver customised and practical insights. Contact us.