QUEBEC CITY, Jan. 13, 2023 (GLOBE NEWSWIRE) — Robex Resources Inc. ("Robex", "the Group" or "the Company") (TSXV: RBX) is pleased to announce strike extension drilling results at the SGA Complex on its property in Guinea.
Historical resource delineation drilling at the SGA Complex of the Kiniero Gold Mine was focussed on the shallower oxide and transitional ore horizons that targeted the central components of the Gobelé A, B and C mineralised structures, which supported the historical mine start-up in c. 2002. Beyond this central mining zone of the SGA Complex, historical step out drilling was limited in testing for extensions of the Gobelé mineralised structures that make up the SGA Complex.
During 2020, Robex completed a detailed unbiased remote sensing structural interpretation to the gauge the overall prospectivity of the property, aiding in identifying new exploration targets. This was bolstered in 2021 by the acquisition of the gridded data of the previous geophysical surveys over the property, which helped identify the strike extensions of the SGA Complex as being prospective.
Based on this new structural interpretation, Robex commenced a strike extension drilling campaign during 2021 at the previously mined SGA Complex. This drilling campaign was designed to both infill and validate the historical drilling data, as well as to step out and test for new strike extensions. Drilling was executed as both RC and DD drilling to test for extensions of this mineralisation, both at near-surface through the oxide horizons as well as at depth through the fresh horizons. Drilling continued from 2021 through to 2022, and remains ongoing.
Results
Results of this drilling have been continuously positive and have clearly confirmed and demonstrated the unmined strike extensions of the Gobelé gold bearing system at the SGA Complex, resulting in additional reserve delineations. This reserve delineation drilling supported the recently completed independent Pre-Feasibility Study (PFS, dated 26 August 2022) on the Kiniero Gold Project and had a direct impact on the overall PFS pitshell.
Drilling has increased the strike length of the Gobelé A, B and C mineralised structures of the SGA Complex within the PFS pit shell from ~450m to ~1,000m, and remains open along strike in both directions (Figure 1 & Figure 2). The northeastern extension has a pronounced BLEG Au-in-soil footprint extending for an additional ~1.5km, while the southwestern extension is represented by a ~1,000m BLEG Au-in-soil anomaly that end sharply at the Kéléro River, a feature which represents a pronounced geological fault on the property. Drilling has remained ongoing at the SGA Complex and continues to validate and infill the historical drilling data.
Figure 1 : SGA Complex Plan Map – SGA Extension Drilling
https://www.globenewswire.com/NewsRoom/AttachmentNg/4e384553-b761-4de6-a471-e01fad455314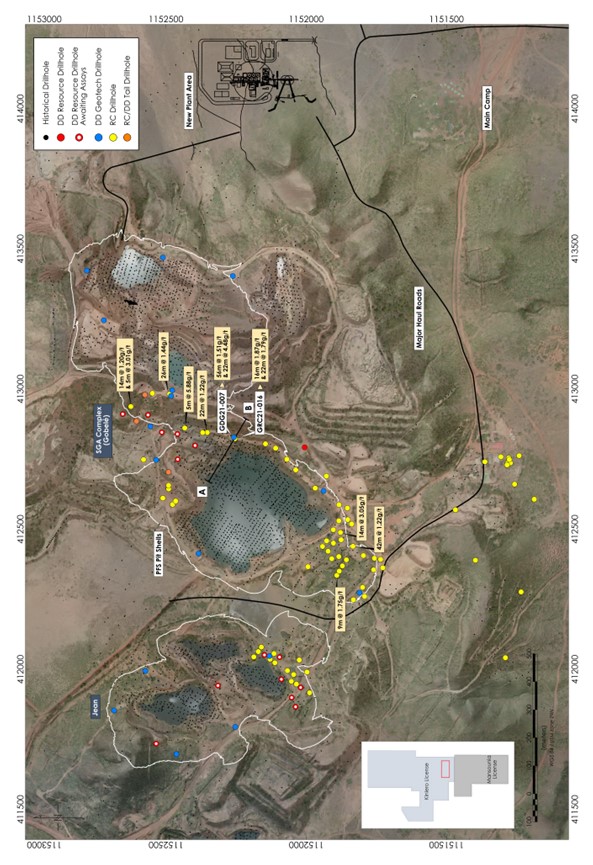 Highlighted intersections from the north-eastern extension of the SGA Complex strike extension reserve delineation drilling include:
| | | |
| --- | --- | --- |
| • | GDG21-007: | 56m @ 1.51g/t from 21m, including 28m @ 2.58g/t from 43m |
|   |   | 22m @ 4.48g/t from 139m, including 7m @ 12.65g/t from 151.10m |
|   |   |   |
| • | GRC21-016: | 16m @ 1.87g/t from 16m, including 8m @ 3.27g/t from 23m |
|   |   | 22m @ 1.79g/t from 41m, including 8m @ 2.64g/t from 41m |
|   |   |   |
| • | GRC21-018: | 22m @ 1.22g/t from 3m |
|   |   | 2m @ 18.56g/t from 39m |
|   |   | 4m @ 3.69g/t from 143m |
|   |   |   |
| • | GRC22-009: | 26m @ 1.44g/t from 97m, including 4m @ 4.42g/t from 98m |
|   |   | 5m @ 3.40g/t from 236m |
|   |   |   |
| • | GRC22-013: | 5m @ 5.88g/t from 2m |
|   |   | 11m @ 4.05g/t from 13m, including 3m @ 13.17g/t from 16m |
|   |   | 13m @ 1.18g/t from 55m |
|   |   | 11m @ 1.57g/t from 116m |
|   |   |   |
| • | GRC22-014: | 2m @ 2.73g/t from 3m |
|   |   | 5m @ 1.35g/t from 31m |
|   |   | 14m @ 1.20g/t from 88m |
|   |   | 5m @ 3.01g/t from 134m, including 3m @ 4.65g/t from 135m |
Highlighted intersections from the southwestern extension of the SGA Complex strike extension reserve delineation drilling include:
| | | |
| --- | --- | --- |
| • | GRC21-002: | 4m @ 2.18g/t from 44m |
|   |   | 3m @ 2.08g/t from 63m |
|   |   | 42mm @ 1.22g/t from 74m, including 16m @ 2.82g/t from 83m |
|   |   |   |
| • | GRC22-015: | 9m @ 1.75g/t from 87m |
|   |   |   |
| • | GRC22-030: | 14m @ 3.05g/t from 88m, including 2m @ 13.82g/t from 88m |
Figure 2 : SGA Complex A-B Cross Section – SGA Extension Drilling
https://www.globenewswire.com/NewsRoom/AttachmentNg/1453e7b7-8d25-423c-9b3d-f338ab37abe4
Conclusion
Dan Tucker, the Mining Manager for Robex said: "This northern extension of the SGA Complex demonstrates the fantastic near-term upside resource and reserve potential outside of the PFS pit shells. These high-grade results will add significant value to the SGA Complex given the proximal positioning to the main pit."
Whilst Andrew de Klerk, the Exploration Manager for Robex said: "The prospectivity of the strike extension of the SGA Complex has been demonstrated by this delineation drilling campaign. Detailed mapping, trenching and auger drilling beyond the current PFS pit shells at SGA and Sabali South is currently underway to ascertain the potential of the pronounced BLEG Au-in-soil anomalies of these extensions that remain untested. Results from these field campaigns will be followed by RC drilling in 2023."
Qualified Person
The technical disclosures contained in this press release have been approved by Andrew De Klerk, BSc (Hons), Pr.Sci.Nat, a Qualified Person pursuant to NI 43-101. Mr De Klerk is the Exploration Manager of the Company, a Member of the Geological Society of South Africa and a Member of The Southern African Institute of Mining and Metallurgy. Mr De Klerk is not independent of Robex as he is a full-time employee.
Forward-Looking Statements
Certain information set forth in this news release contains "forward‐looking statements" and "forward‐looking information" within the meaning of applicable Canadian securities legislation (referred to herein as forward‐looking statements). Except for statements of historical fact, certain information contained herein constitutes forward‐looking statements which includes, but is not limited to, statements with respect to: the potential development and exploitation of the Kiniero Project and the Company's existing mineral properties and business plan, including the completion of feasibility studies or the making of production decisions in respect thereof; the future financial or operating performance of the Company and the Kiniero Project; results from work performed to date; the realization of mineral resource and mineral reserve estimates; the development, operational and economic results of the prefeasibility study for the Kiniero Project, including cash flows, revenue potential, potential for staged development, capital expenditures, development costs and timing thereof, extraction rates, life of mine projections and cost estimates; magnitude or quality of mineral deposits; anticipated advancement of the Kiniero Project including mine plan; exploration expenditures, costs and timing of the development of new deposits; exploration potential and opportunities at the Kiniero Project; costs and timing of future exploration; the completion and timing of future development studies; estimates of metallurgical recovery rates; anticipated advancement of the Kiniero Project and future exploration prospects; requirements for additional capital; the future price of metals; government regulation of mining operations; environmental risks; the timing and possible outcome of pending regulatory matters; the realization of the expected economics of the Kiniero Project; and future growth potential of the Kiniero Project. Forward-looking statements are often identified by the use of words such as "may", "will", "could", "would", "anticipate", 'believe", expect", "intend", "potential", "estimate", "budget", "scheduled", "plans", "planned", "forecasts", "goals" and similar expressions. Forward-looking statements are based on a number of factors and assumptions made by management and considered reasonable at the time such information is provided. Assumptions and factors include: the Company's ability to complete its planned exploration programs; the absence of adverse conditions at the Kiniero Project; no unforeseen operational delays; no material delays in obtaining necessary permits; the price of gold remaining at levels that render the Kiniero Project economic; the Company's ability to continue raising necessary capital to finance operations; and the ability to realize on the mineral resource and mineral reserve estimates. Forward‐looking statements necessarily involve known and unknown risks and uncertainties, which may cause actual performance and financial results in future periods to differ materially from any projections of future performance or result expressed or implied by such forward‐looking statements. These risks and uncertainties include, but are not limited to: general business, economic and competitive uncertainties; the actual results of current and future exploration activities; geopolitical risk, political risks inherent to mining in developing countries, conclusions of economic evaluations; meeting various expected cost estimates; benefits of certain technology usage; changes in project parameters and/or economic assessments as plans continue to be refined; future prices of metals; possible variations of mineral grade or recovery rates; the risk that actual costs may exceed estimated costs; geological, mining and exploration technical problems; failure of plant, equipment or processes to operate as anticipated; accidents, labour disputes and other risks of the mining industry; delays in obtaining governmental approvals or financing; the speculative nature of mineral exploration and development (including the risks of obtaining necessary licenses, permits and approvals from government authorities); title to properties; the impact of COVID-19 on the timing of exploration and development work and management's ability to anticipate and manage the foregoing factors and risks. Although the Company has attempted to identify important factors that could cause actual actions, events or results to differ materially from those described in the forward-looking statements, there may be other factors that cause actions, events or results not to be as anticipated, estimated or intended. Readers are advised to study and consider risk factors disclosed in the Company's disclosure documents for a more complete discussion of such risk factors and their potential effects, which may be accessed through the Company's profile on SEDAR at www.sedar.com.
There can be no assurance that forward‐looking statements will prove to be accurate, or even benefit Robex, if any, as actual results and future events could differ materially from those anticipated in such statements. The Company undertakes no obligation to update forward‐looking statements if circumstances or management's estimates or opinions should change except as required by applicable securities laws. The forward-looking statements contained herein are presented for the purposes of assisting investors in understanding the Company's plan, objectives and goals and may not be appropriate for other purposes. Forward-looking statements are not guarantees of future performance and the reader is cautioned not to place undue reliance on forward‐looking statements.