100% OF PATIENTS SAW NO INCREASE IN LEVEL OF SEVERITY, QUICK DECREASE IN SYMPTOMS AFTER ONLY THREE DAYS OF USE
HANOI, Vietnam, April 25, 2023 (GLOBE NEWSWIRE) — SUNKOVIR, the herbal medicine developed by Sunstar, was granted marketing authorization by the Ministry of Health of Vietnam in its decision No. 82/QD-YDCT on April 12th, 2023. In addition of being administered to Covid-19 patients, SUNKOVIR is also used in cases caused by the transmission of respiratory virus, flu. The results include a quick reduction of symptoms such as coughs, fever, difficulty in breathing, loss of sense of smell and taste, sinusitis, body ache, muscle pain, sore throat, rhinitis, headache, general fatigue, chest pain, sneezing, coldness, hoarseness, sweating, and drowsiness. It is safe for patients, children from 3 years old, on reproduction and genetics.
SUNKOVIR has been officially accepted by the National Ethics Committee in Vietnam as a safe and effective product after eight clinical trials and preclinical trials taken place between January 2021 and December 2022 as well as six internal researches at Sao Thai Duong JSC.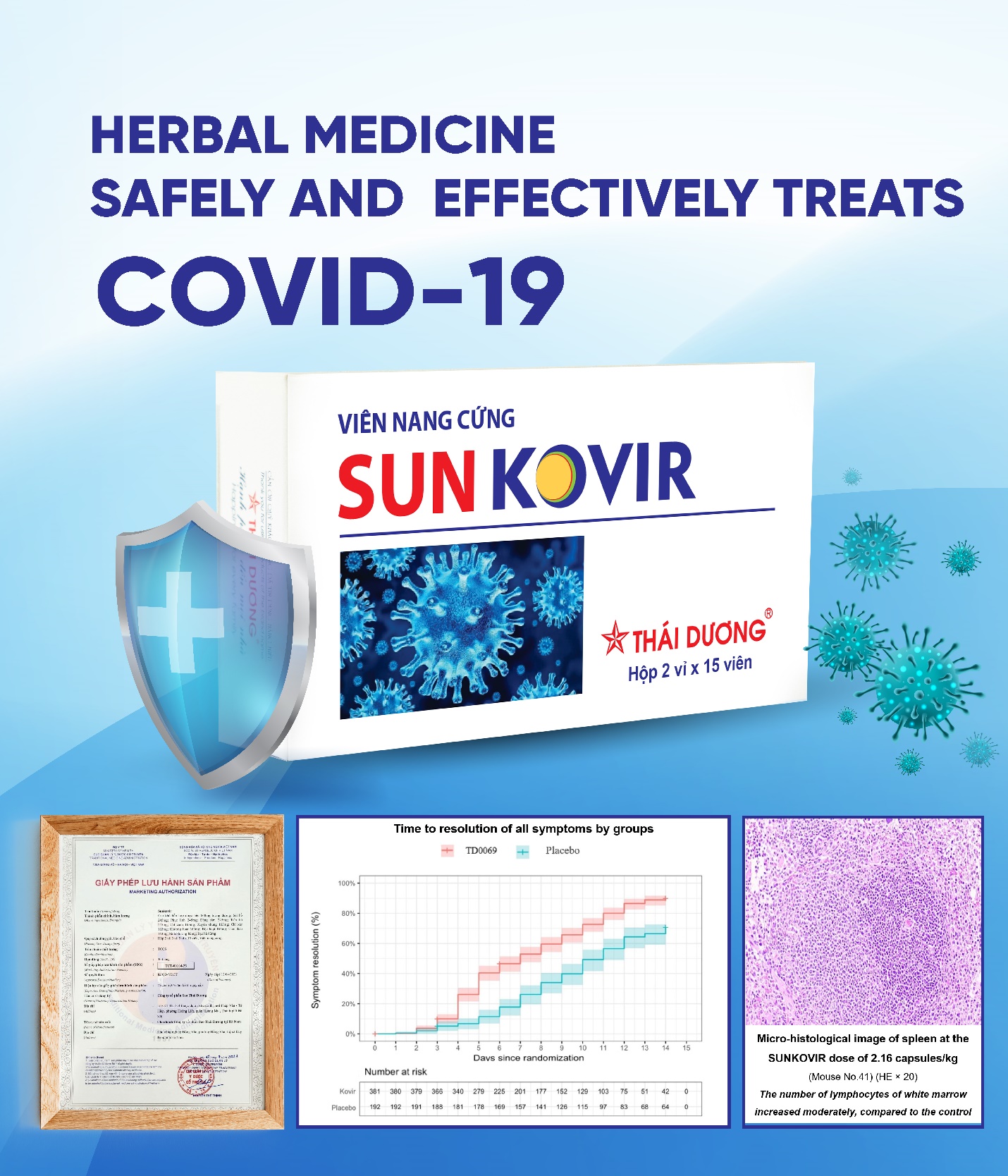 Phase III clinical trial (C573) involving 573 Covid-19 patients was carried out at two sites, the Traditional Medicine Institute of Ho Chi Minh City and the Hanoi Hospital of Traditional Medicine. The study were designed based on international scientific and ethical standards in clinical studies on COVID-19 patients in accordance with the Declaration of Helsinki and Good Clinical Practice guidelines (ICH-GCP). The study have been published on www.clinicaltrials.gov.
The research has been approved for publication on the science publications Pubmed and Phytotherapy Research of the network Scopus of Wiley (February 2023) – https://pubmed.ncbi.nlm.nih.gov/36751127/.
Prior to that, the two clinical researches A66 and B100 have also been approved for publications.
The first study (A66), between July and September 2021, carried out a double-blind randomized controlled trial on 66 patients. The results were published on June 22nd, 2022 – Phytotherapy research, Volume 36, Issue 7, p.2878-2888.
The second study (B1000), between August and December 2021, carried out clinical research on 1,000 COVID-19 patients. The results were published on November 2022 – Phytotherapy research, letter to the editor, ptr.7668.
No increase in level of severity:
In the three trials, none of the 1,115 Covid-19 patients who were given SUNKOVIR experienced an increase in level of severity.
It is worth noting that 6.2% and 6.0% of the unvaccinated patients; 0,5% of vaccinated patents in three studies who were not given SUNKOVIR saw an increase in the level of severity.
Sharp decrease in symptoms and level of severity:
SUNKOVIR resulted in a quick and sharp decrease of symptoms displayed by patients from the 3rd day.
Shorten the length of treatment:
In the research C573, The average time for the group given SUNKOVIR to be free from all symptoms was 7 days. The average time for the group given placebo was 11 days.
Less use of medications:
SUNKOVIR Capsules resulted in a sharp decrease in the use of corticoid, anticoagulant, NSAIDs, cough medicine, expectorant drug, anti- histamine, etc.
Quicker in achieving a negative PCR test result:
The group of patients given SUNKOVIR has a higher percentage of patients who tested negative PCR results from the 5th day than the group given placebo.
Real improvement in patient wellbeing:
The wellbeing of the group of patients given SUNKOVIR gradually improved as their treatment went on and was greater than that of the group given placebo.
Safety:
SUNKOVIR was safe to patients 3 times per day and 3 capsules each time for the duration of 14 days.
Preclinical studies:
SUNKOVIR produces pharmacological effects in restoring the damaged immune system at the dose of 6 or 9 capsules/day/person…
SUNKOVIR does not cause acute toxicity at the dose of 156 capsules/day/person and semi-chronic toxicity at the dose of 9 and 27 capsules/day/person continuously for 30 days.
The reproductive toxicity on the rats at the doses equivalent of 6 and 9 capsules/day/person, shows that there was no toxicity:
to the male and female rats during their whole reproduction process.
to the female rats during the pregnancy and lactation.
to the development of the rats' offspring.
The genetic toxicity on bone marrow cells on the rats, which were given the equivalent of 6 and 9 capsules/day/person, showed that neither dose level caused any increase in the proportion of rats with mutations compared to the control group.
The achievement of researches which has proven that Vietnamese herbal medicines are safe and effective in the fight against the Covid-19 pandemic. This result is an encouragement for Vietnamese Traditional Medicine to continue contributing to the public with valuable herbal products. Benefitting from its long history of using traditional medicine in treatment of diseases, the Association of Traditional Medicine of Vietnam with its 70.000 members, including physicians at central and regional levels, is carrying out numerous studies to evaluate the results from clinical trials of traditional medicines currently being used in Vietnam.
SUNKOVIR contains 100% natural ingredients and is produced by Sao Thai Duong JSC which is a Vietnam-based science and technology company with 23 years of experience in the field of herbal medicine. The company currently has more than 300 herbal medicinal products, dietary supplements, and cosmetics which are sold widely in Vietnam and exported to the UK, USA, Europe, and China.
https://www.globenewswire.com/NewsRoom/AttachmentNg/395f6850-81f1-41a3-a550-18bc8d627ab9

www.saothaiduong.com.vn
www.saothaiduongglobal.com
hantm@thaiduong.com.vn