Fastest PCIe Generation Doubles Gen 3 Data Rate, Cuts Latency, Offers Excellent R/W Performance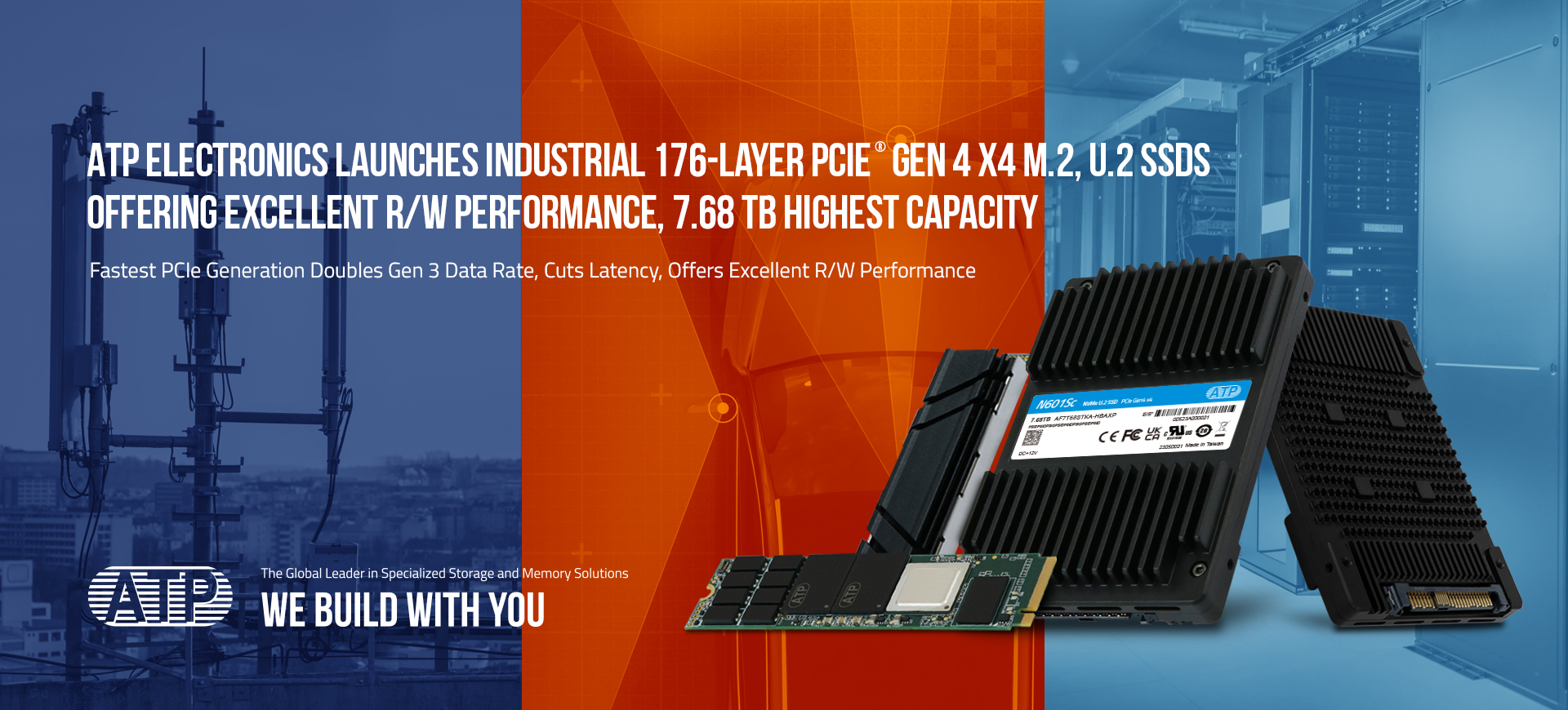 TAIPEI, Taiwan, June 28, 2023 (GLOBE NEWSWIRE) — ATP Electronics, the global leader in specialized storage and memory solutions, introduces its latest high-speed N600 Series M.2 2280 and U.2 solid state drives (SSDs) sporting the 4th generation PCIe® interface and supporting the NVMe™ protocol. The new ATP PCIe Gen 4 SSDs' 16 GT/s data rate is double that of the previous generation, translating to a bandwidth of 2 GB/s for every PCIe lane.
Using x4 lanes, these SSDs have a maximum bandwidth of 8 GB/s, meeting the growing need for high-speed data transfer in today's demanding applications and making them suitable for both read/write-intensive, mission-critical industrial applications such as networking/server, 5G, data logging, surveillance, and imaging, with performance on par, if not better, than mainstream PCIe Gen 4 consumer SSDs in the market.
176-Layer NAND Flash, Onboard DRAM Offer Exceptional QoS,
Lower Cost per GB with Prime 512 Gbit Die Package
The N600 Series is built on innovative 176-layer 3D NAND flash and uses prime 512 Gbit die package to deliver not only performance improvements over the 64-layer technology, but also price improvements resulting in lower cost per GB.
The M.2 2280 SSDs are available in capacities from 240 GB up to 3.84 TB, while the U.2 SSDs are available from 960 GB to 7.68 TB for more cost-effective options for diverse storage requirements.
With an outstanding Quality of Service (QoS) rating compared with the previous generation, the N600 Series offers optimal consistency and predictability with higher read/write performance, high IOPS, low write amplification index (WAI), and low latency, thanks to its onboard DRAM. The onboard DRAM delivers higher sustained performance over long periods of operation compared with DRAM-less solutions.
Future-Ready, Long-Term Supply Support
Maximizing SSD lifespan, as well as the availability of replacement units long after similar consumer-grade counterparts have stopped production, is important for business to get the most out of their investments. This is why ATP Electronics is committed to longevity support.
"We are thrilled to introduce this new product line based on 176-layer triple level cell (TLC) NAND flash. While there are newer iterations of NAND being released in 2XX+layers , these will focus on 1 Tbit and larger density sizes. The 176-layer 3D TLC NAND in 512 Gbit density remains the sweet spot die density for many embedded and specialty applications given their ongoing need for mid and lower SSD device densities.
"Besides a competitive price position, this generation will offer latency improvements and reliability improvements at all temperature ranges. Perhaps even more important to our customer base, this generation will offer product longevity for the foreseeable future. We can work in confidence with our customer base often needing product longevity planning 5 plus years," said Jeff Hsieh, ATP Electronics President and Chief Executive Officer.
Reliable and Secure Operation
The N600 Series offers a host of reliability, security, and data integrity features, such as:
End-to-end data protection, TRIM function support, and LDPC error correction
Anti-sulfur resistors repel the damaging effects of sulfur contamination, guaranteeing continued dependable operation even in environments with high sulfur content
Hardware-based AES 256-bit encryption and optional TCG Opal 2.0/ IEEE 1667 security for self-encrypting drive (SED)
N600Sc Series offers reliable operation in varying temperature shifts with C-Temp (0℃ to 70℃) rating. I-Temp operable (-40℃ to 85℃) N600Si Series will be available for later release.
Thermal throttling intelligently adjusts the workload per operating unit time. Throttling stages are pre-configured, allowing the controller to effectively manage heat generation to keep the SSD cool. This ensures stable sustained performance and prevents the heat from damaging the device. Heatsink options are available by project and according to customer request.
Power loss protection (PLP) Mechanism. The N600 Series U.2 and upcoming I-Temp rated M.2 2280 SSDs feature hardware-based PLP. Onboard capacitors hold up power long enough to ensure that the last read/write/erase command is completed, and data is stored safely in the non-volatile flash memory. The microcontroller unit (MCU)-based design allows the PLP array to perform intelligently in various temperatures, power glitches, and charge states to protect both device and data. C-Temp rated M.2 2280 SSDs, on the other hand, feature a firmware-based PLP, which effectively protects data that had been written to the device prior to power loss.
Mission-Critical Applications: We Build With You
Depending on project support and customer request, ATP can provide hardware/firmware customization, thermal solutions customization, and engineering joint validation and collaboration.
To ensure design reliability for mission-critical applications, ATP performs extensive testing, comprehensive design/product characterization and specifications validation, and customized testing in mass production (MP) stage, such as burn-in, power cycling, specific testing scripts, and more.
Product Highlights
 
PCIe® Gen 4 NVMe M.2 2280
PCIe® Gen 4 NVMe U.2
Capacities
240 GB to 3.84 TB
960 GB to 7.68 TB
Operating Temp
C-Temp (0°C to 70°C): N600Sc
I-Temp (-40°C to 85°C): N600Si (upcoming)
Thermal Management for Optimal Heat Dissipation
•  Nickel-coated copper heat spreader
•  4 mm or 8 mm fin-type heatsink design
15 mm fin-type heatsink design
Security
AES 256-bit encryption
TCG Opal 2.0
Data Integrity
End-to-End data path protection
Performance (Read/Write up to)
6,450/6,050 MB/s
6,000/5,500 MB/s
Others
 
Hot-swappable
*By Project Support
For more information on ATP's N600 Series PCIe Gen 4 x4 M.2 SSDs, visit:
https://www.atpinc.com/products/industrial-gen4-nvme-M.2-ssd
For more information on ATP's N600 Series PCIe Gen 4 x4 U.2 SSDs, visit:
https://www.atpinc.com/products/industrial-gen4-U.2-ssd
Media Contact on the Press Release: Kelly Lin (Kellylin@tw.atpinc.com)
Follow ATP Electronics on LinkedIn: https://www.linkedin.com/company/atp-electronics
About ATP
ATP Electronics ("ATP") has dedicated 30 years of manufacturing excellence as the premier provider of memory and NAND flash storage products for rigorous embedded/industrial/automotive applications. As the "Global Leader in Specialized Storage and Memory Solutions," ATP is known for its expertise in thermal and high-endurance solutions. ATP is committed to delivering add-on value, differentiation and best TCO for customers. A true manufacturer, ATP manages every stage of the manufacturing process to ensure quality and product longevity. ATP upholds the highest standards of corporate social responsibility by ensuring sustainable value for workers, the environment, and business throughout the global supply chain. For more information on ATP Electronics, please visit www.atpinc.com or contact us at info@atpinc.com.
Photos accompanying this announcement are available at:
https://www.globenewswire.com/NewsRoom/AttachmentNg/56be0635-5027-442b-b9e7-c64c43e353d7
https://www.globenewswire.com/NewsRoom/AttachmentNg/3f0e3129-6f53-4366-b5bc-fd0cdc86f5a1
https://www.globenewswire.com/NewsRoom/AttachmentNg/63c5d538-09c1-4481-a188-e66cc487ecc9
https://www.globenewswire.com/NewsRoom/AttachmentNg/512ea038-214a-4b27-bbf4-adf8fa8a3fac
https://www.globenewswire.com/NewsRoom/AttachmentNg/400709dd-4d79-4e2a-ad76-e3bc7266f7a5
https://www.globenewswire.com/NewsRoom/AttachmentNg/933e1523-0df5-485d-9a11-e130864b199b