Tsui to touch on the company's future ambitions & strategic road map including supply chain circularity and the portal's AI capabilities
NEW YORK and HONG KONG, July 05, 2023 (GLOBE NEWSWIRE) — Floship, a leading global circular supply chain solutions provider, today announced its participation in The Lead Innovation Summit, a leading strategy conference for global decision-makers and executives in today's retail and consumer industries. The conference takes place in New York City between 12 & 13 July.
Floship CEO Josh Tsui will deliver his Vision Talk on Wednesday, 12 July during the session "Optimizing Digital Commerce Opportunity" fielding questions from Dawit Heck of Bain Capital Ventures. Tsui will share information about Floship, his strategic vision, as well as the company's transformational ambitions including his thoughts on the future of generative AI in e-commerce to an audience of 2000+ executives from major global brand retailers.
As part of his talk, Tsui will share information about Floship's holistic circular supply chain ecosystem, illustrating how it connects every core component across the value chain from the manufacturer, warehouse systems, delivery mechanisms, and returns solutions through a wholly integrated platform.
Also at The Summit, Floship will be among the companies recognized on The Lead's Leading 100 List in an award ceremony, which honors innovative tech start-ups that are driving the future of brand-to-consumer businesses, especially in helping these businesses adopt circular supply chains.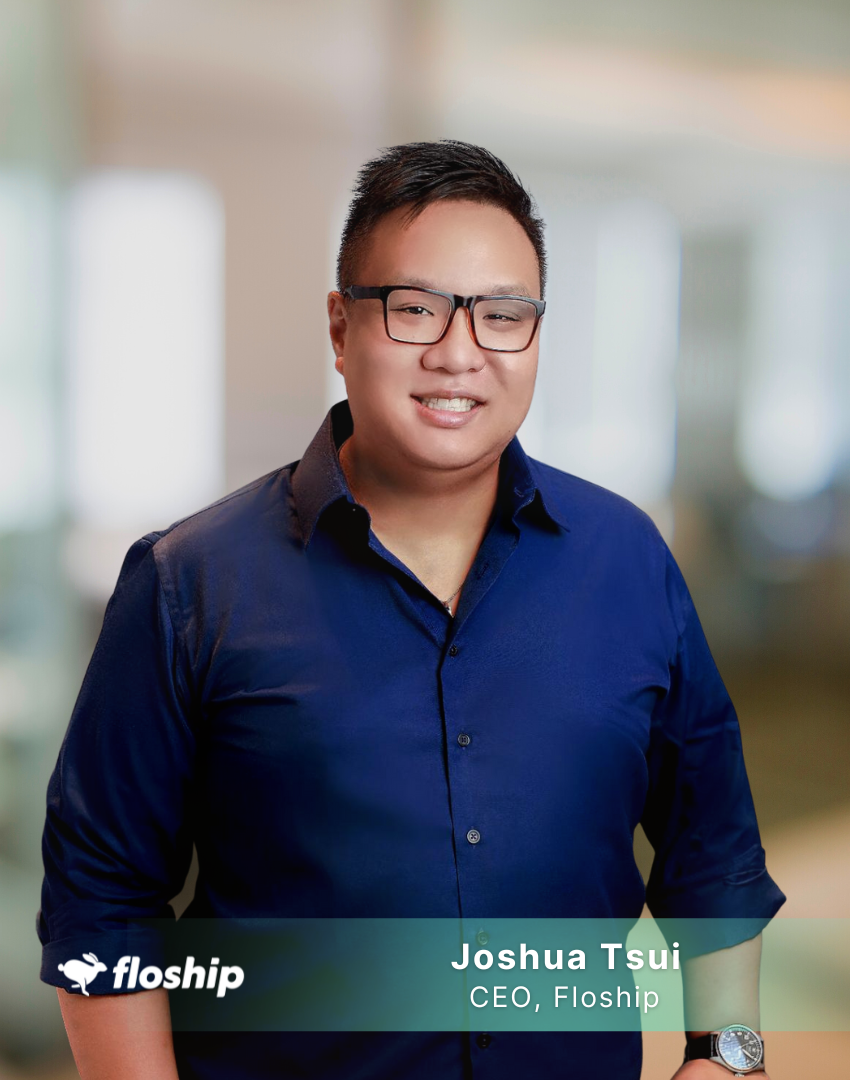 "It is an extremely exciting time here at Floship, and I'm honored that we're being acknowledged for our disruptive innovations toward the business-to-consumer model. Supply chain circularity and generative AI are extremely important supply chain focus areas for merchants as they work hand-in-hand to minimize the use of raw materials, reduce excessive amounts of discarded waste materials, and automate many manually intensive processes," said Tsui. "We believe the Lead Innovation Summit provides the necessary backdrop to continue to tell this story to an audience who are cognizant of the need to build more sustainable and intelligent supply chains by leveraging technologies that empower consumers, businesses, and the economy to be more efficient with a leaner amount of resources."
Circular supply chains involve a company reusing or repurposing waste and customer returns to convert those resources into new or refurbished products, and this strategy is critical in building global partnerships. Floship recently announced one such partnership with FedEx that is designed to provide enhanced fulfillment and logistics services to e-tailers worldwide. The partnership gives FedEx's e-commerce customers access to Floship's global network of warehouses and powerful logistics platform's capabilities to streamline their e-commerce fulfillment operations. At the same time, Floship's customers will be able to leverage FedEx global networks as well as a full range of FedEx extensive transportation options to optimize their operations.
The Lead Innovation Summit is where 2,000+ leaders from the fashion, beauty, home, consumer & retail innovation communities converge to learn from and connect with scaled brands, digital natives, & technology enablers. The two-day summit features more than 140 stand-out speakers and 45 content sessions and breaks down every aspect of a brand's direct-to-consumer business, online and offline.
About Floship
Floship's global circular supply chain ecosystem solutions cover all aspects of the global supply chain, ensuring minimal operation effort for e-commerce businesses while exceeding their expectations, allowing business owners to concentrate on driving growth and investment flexibility while gaining peace of mind. Learn more at www.floship.com or follow us on LinkedIn.
E info@floship.com   W www.floship.com
Level 7, 18 Salisbury Rd, Tsim Sha Tsui, Hong Kong
香港尖沙咀梳士巴利道18號7樓
For more information about Floship, please contact:
James Linacre, PR & Communications Lead
Phone: (+852) 5333 9420
Email: james@floship.com 
A photo accompanying this announcement is available at https://www.globenewswire.com/NewsRoom/AttachmentNg/6e85ddb6-bd4c-4a24-9422-a4429f79a882