A Facebook video with more than half a million views claims that people are exposed to more radiation from standing near a 5G tower than if they were inside a microwave.
The claim is false with experts telling AAP FactCheck the levels of radiation inside a microwave are around 150,000 times greater.
The video (archived here), which was first published back in 2019, has had a resurgence with tens of thousands of views in recent weeks.
It claims that new research reveals 5G networks are "worse than living in (a) microwave oven".
The 24-minute video provides no research and consists of a man holding up a TriField EMF reader outside of an active microwave and then in view of what appears to be a 5G installation.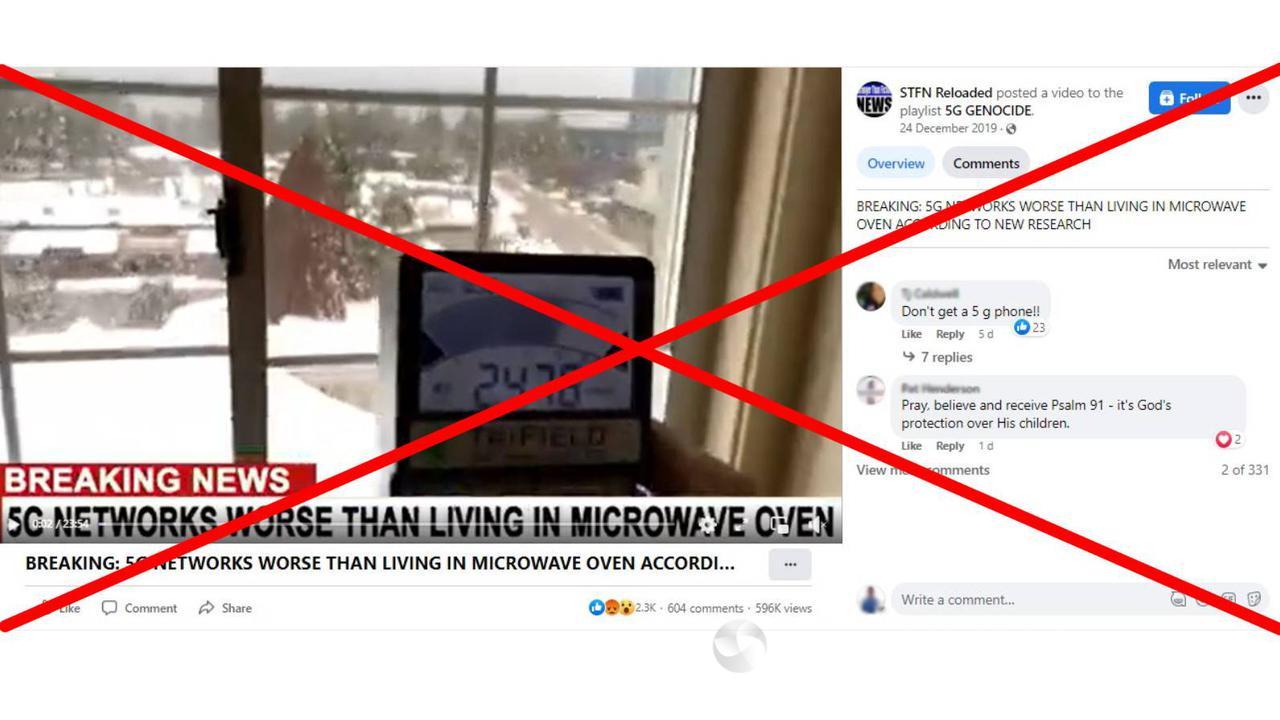 He first takes a reading outside the microwave before walking to a window and pointing the device towards the supposed 5G facility.
The narrator says: "Breaking news: these 5G 'death towers' are going to be worse than living in a microwave oven … He's getting dosed and it just goes off the scales. Way beyond the microwave oven and he's not even outside" (video mark 33sec).
Dr Ken Karipidis, from the Australian Radiation Protection and Nuclear Safety Agency (ARPANSA), said there would be a huge difference between the levels of  electromagnetic energy (EME) from 5G towers compared to inside a microwave.
"'Inside the cavity of a microwave oven the EME is very powerful, thousands of times above the safety limit for humans, in order to warm or cook the food," Dr Karipidis said via email.
"It is important to note that this intense EME is contained within the cavity of the microwave oven and does not pose any risk to anyone standing next to a microwave oven.
"The EME that people are exposed to from 5G is at extremely low levels, well below the safety limit for humans. This was recently demonstrated in a survey of EME levels near 5G mobile base stations."
The survey by the Australian Communications and Media Authority (ACMA) measured EME levels next to 129 5G base stations in NSW.
The average level from the sites was less than 1.2 per cent of the safety limit.
By comparison, Dr Karipidis said studies show the levels inside a microwave are some 150,000 times the safety limit.
Dr Andrew Wood, an expert on 5G and health, said the claim was "sheer baloney" and questioned whether the reader used in the video would be able to check frequencies used by 5G.
Associate Professor Philip Branch, from Swinburne University of Technology, also raised questions about the device used in the video, noting the reading was taken outside of the oven, not inside as was claimed.
He also doubted if the device would be able to pick up readings from the 5G facility which is pictured at a considerable distance in the video.
Dr Karipidis added: "It is the assessment of ARPANSA and other health authorities including the World Health Organization, that current evidence indicates there is no illness or harm from 5G EME exposure below safety the limits. This is outlined in a review of the research into 5G and health that was conducted by ARPANSA."
AAP FactCheck has previously debunked numerous claims relating to 5G, examples here, here, here, here and here.
The Verdict
The claim that people are exposed to more radiation from being near to a 5G tower than being inside a microwave is false.
Experts told AAP FactCheck that the levels of electromagnetic energy are more than 150,000 times more powerful inside a microwave.
False – The claim is inaccurate.
* AAP FactCheck is an accredited member of the International Fact-Checking Network. To keep up with our latest fact checks, follow us on Facebook, Twitter and Instagram.
All information, text and images included on the AAP Websites is for personal use only and may not be re-written, copied, re-sold or re-distributed, framed, linked, shared onto social media or otherwise used whether for compensation of any kind or not, unless you have the prior written permission of AAP. For more information, please refer to our standard terms and conditions.