The Statement
A video posted on Facebook claims vitamin supplements and ivermectin can effectively treat or prevent COVID-19.
The video features Reiner Fuellmich, a German-American lawyer representing the "corona investigation committee", who claims: "We don't have a pandemic. We have a virus circulating that any intact human immune system can fight just as well as the flu. … There are very good alternative methods to treat or prevent this disease such as Vitamin C and D and zinc, possibly ivermectin and others" (video mark 4min 23sec).
At the time of writing, the video, shared by a New Zealand user, had been viewed more than 9400 times and shared more than 1300 times. Other examples can be found here and here.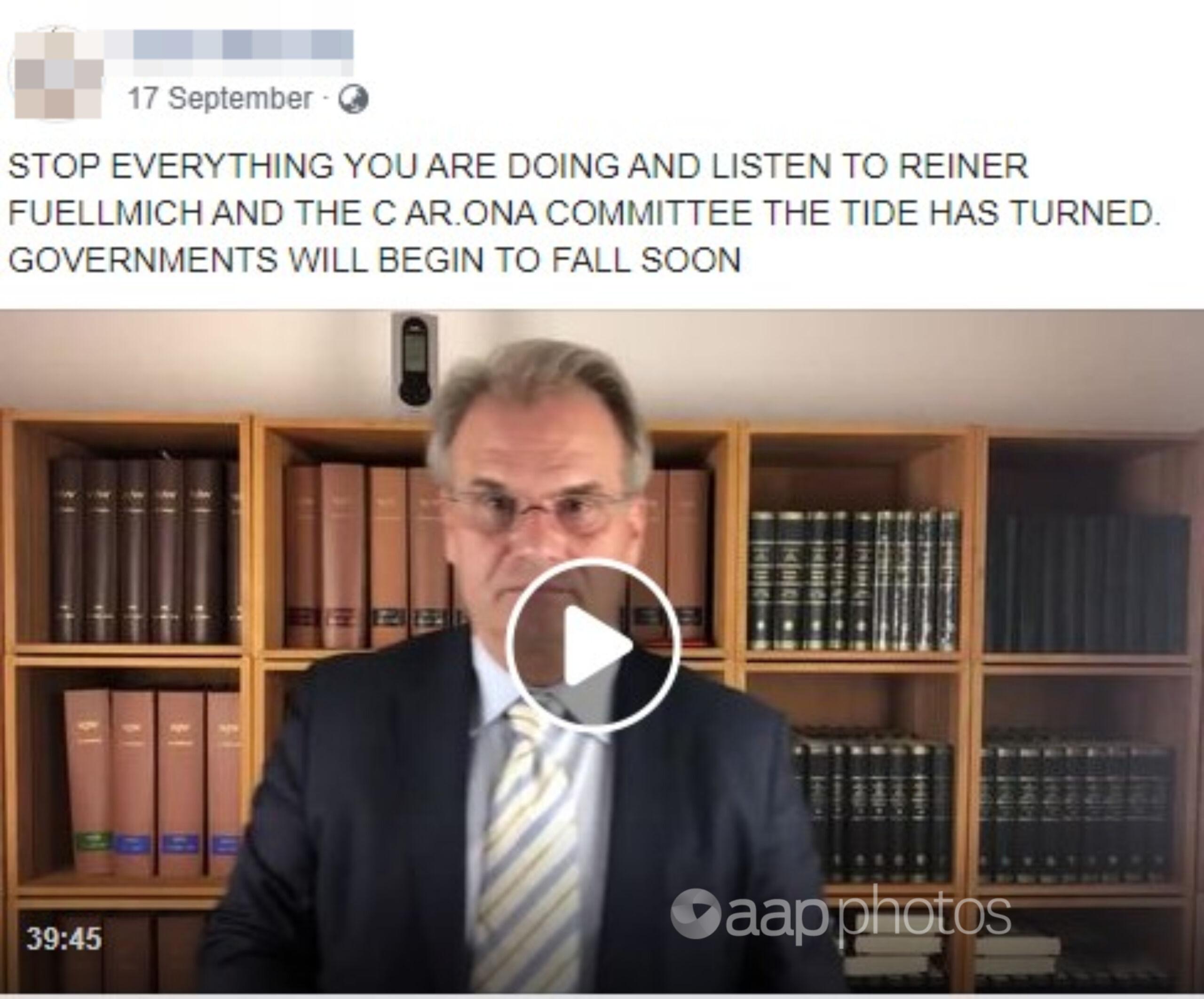 The Analysis
There have been numerous studies investigating the efficacy of various vitamins and ivermectin to treat and prevent COVID-19, but there is no conclusive scientific evidence of their effectiveness.
The video's speaker, Reiner Fuellmich, has been repeatedly identified as a source of misinformation regarding COVID-19 (see here, here and here), including spreading false claims that the pandemic was planned in order to control people.
In an email to AAP FactCheck, Ian Musgrave, an expert in pharmacology and toxicology from the University of Adelaide, dismissed the video's claims: "There is no good evidence that vitamin C can prevent any respiratory virus, let alone COVID, the evidence on vitamin D is currently not sufficient to support a role, and while zinc may be marginally effective in colds there is no evidence that it is effective in COVID."
Julian Elliott, the executive director of Australia's National COVID-19 Clinical Evidence Taskforce, agreed and told AAP FactCheck: "The statement that these drugs are 'good alternative methods' is false. The statement 'any intact human immune system can fight just as well as the flu' is false."
Dr Elliott, who has previously written about COVID-19 treatments, said the taskforce had "comprehensive, rigorous and rapid evidence systems in place, which gives us confidence that we have identified all randomised trials of the treatment and prophylaxis of COVID-19".
"My personal view is based on this scientific process, which has found that in the context of COVID-19 ivermectin, vitamin C, vitamin D or zinc should only be used in randomised controlled trials with appropriate ethical approval," he said via email.
"There is insufficient data to recommend the use of any of these drugs for either the prevention (prophylaxis) or treatment of COVID-19 outside of research studies."
Dean Blumberg, an infectious disease specialist at University of California-Davis Children's Hospital, told AAP FactCheck that he was "not aware of any proven benefits for using vitamin C, D or zinc to treat COVID".
While it is true that vitamin C plays an important role in immune function, a review of 21 case reports and studies found "no evidence to support routine vitamin C supplementation to healthy individuals for the prevention of COVID-19".
A pilot trial of high-dose vitamin C in critically ill patients in China failed to reduce 28-day mortality or the primary outcome of patients being invasive mechanical ventilation-free within 28 days.
A Cochrane review into vitamin D supplementation for the treatment of COVID-19 noted that studies had shown people hospitalised with the virus often had low levels of the vitamin. However, it was unclear if low vitamin D levels actually led to an increased likelihood severe COVID-19 as many of the risk factors for the disease were the same as for vitamin D deficiency.
It noted there was insufficient high-quality evidence to determine if vitamin D was a safe and effective treatment for COVID-19, and that further research was needed.
While there is some evidence high doses of zinc can be helpful in treating the common cold, a meta-analysis of four studies involving 1,474 patients found zinc supplementation did not have any beneficial impact on the course of COVID-19 mortality and was linked to longer stays in ICUs.
Ivermectin, a medication commonly used to treat parasitic diseases, has been used in some countries as a COVID-19 treatment or preventative measure, however regulators in developed countries have cautioned against its use to combat the coronavirus, as previously explained by AAP FactCheck.
A Cochrane review published in July found the reliable and available evidence did not support the use of ivermectin outside well-designed randomised trials. Its findings were in contrast to an earlier meta-analysis, which found the use of ivermectin as an early treatment for COVID-19 could reduce the number of patients progressing to severe disease.
Dr Blumberg said that ivermectin had anti-inflammatory effects, but studies on its use for COVID-19 were of "extremely poor quality" and there was no good evidence of its benefits at safe doses.
"Ivermectin has antiviral activity vs COVID in the laboratory, but requires higher concentrations than achieved with usual dosing, so that would require an overdose with significant side effects in order to obtain this antiviral effect," he said.
Dr Musgrave said concerns have been raised about the validity of several studies on ivermectin as COVID treatment (see here, here and here).
"The bottom line is that there is no evidence that ivermectin is helpful and the observational literature is too low quality to be of use and the clinical trials show no effect when the fraudulent studies are removed," he said.
Dr Elliott noted that further studies on the effectiveness of ivermectin for treating COVID-19 were underway, and results from the TOGETHER and PRINCIPLE trials were expected within a few months.
The Verdict
The video's claim that vitamins C and D, zinc and ivermectin are good alternative methods for the treatment or prevention of COVID-19 is not backed by robust scientific evidence.
While there is some research to suggest that the vitamins and ivermectin may have positive effects, experts and several comprehensive reviews say there is currently insufficient proof to recommend their use as treatments.
Missing Context – Content that may mislead without additional context.
* AAP FactCheck is an accredited member of the International Fact-Checking Network. To keep up with our latest fact checks, follow us on Facebook, Twitter and Instagram.
All information, text and images included on the AAP Websites is for personal use only and may not be re-written, copied, re-sold or re-distributed, framed, linked, shared onto social media or otherwise used whether for compensation of any kind or not, unless you have the prior written permission of AAP. For more information, please refer to our standard terms and conditions.