The Statement
An Australian legal advocacy service claims that COVID-19 health orders in the state of New South Wales are invalid as they have been issued based on a state of emergency that has never been announced.
In an article published on its website, Advocate Me says: "The State of New South Wales is issuing orders and directions to its residents under the guise there is a State of Emergency. However, no State of Emergency has been declared for New South Wales."
The article goes on to say that government officials have been wrongfully "soliciting compliance … under false pretenses that there is a state of emergency", adding that the Public Health Act did not allow the NSW health minister to "force compliance" in an undeclared state of emergency.
It says that even if a state of emergency were to be declared, the minister would be barred from imposing health orders in any areas covered by the state of emergency.
Vaccine-sceptic minor political party the Informed Medical Options Party posted the article to its Facebook page on August 21 along with a comment that repeated some of the claims made on the Advocate Me website. At the time of writing, the post had been shared more than 850 times.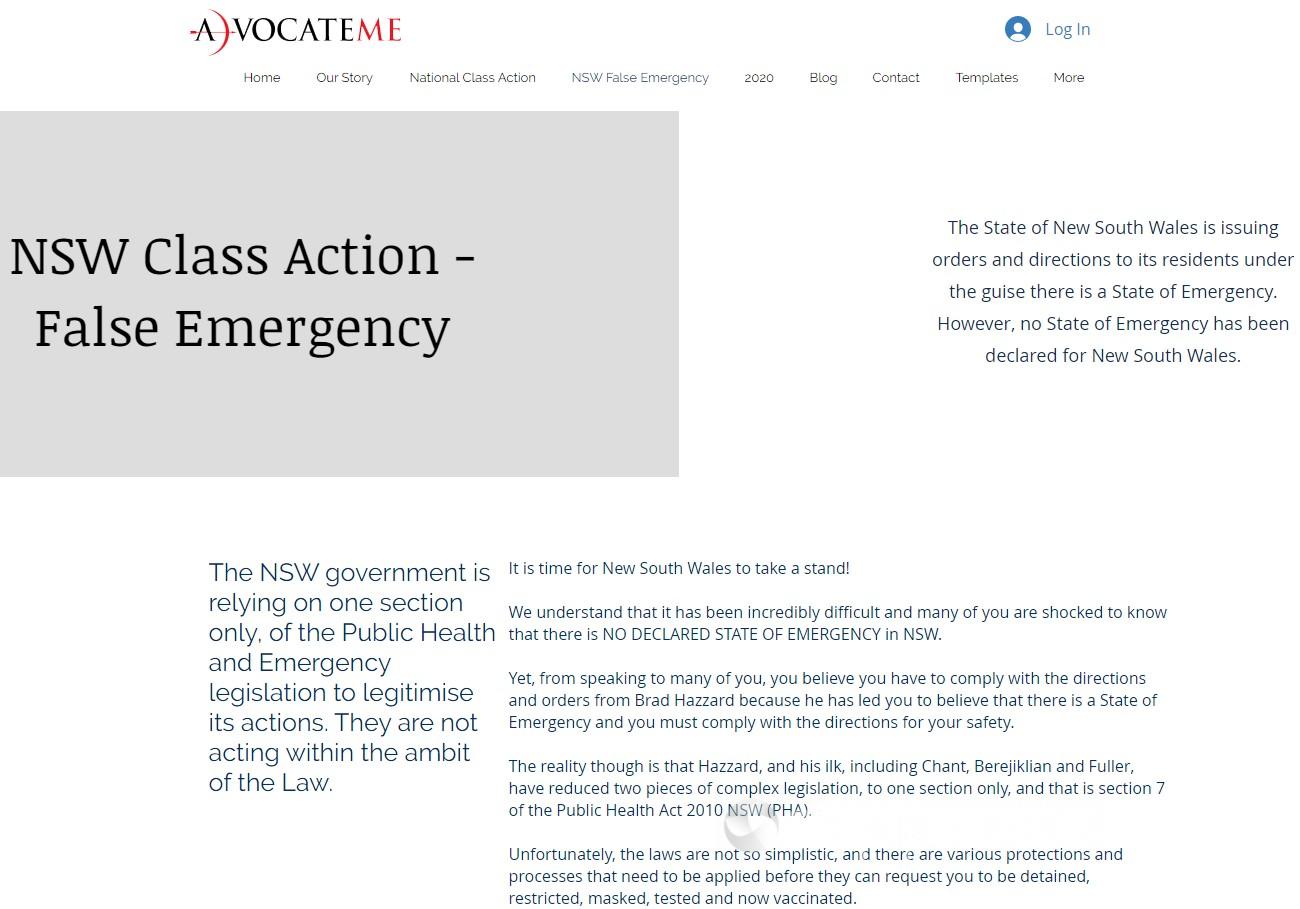 The Analysis
The article is wrong in its claim that the NSW government is forcing residents to comply with restrictions based on a state of emergency that has never been declared, legal experts say.
Niamh Kinchin, a senior law lecturer at the University of Wollongong, told AAP FactCheck that NSW health orders are imposed under section 7 of NSW's Public Health Act, which gives the health minister "quite a wide discretion" to make orders about things like face masks and stay-at-home directions.
At the time of writing, the state's COVID-19 restrictions were set out in the Public Health (COVID-19 Additional Restrictions for Delta Outbreak) Order (No 2) 2021, which states that the orders are made under section 7 of the act. These rules built on or replaced various other public health orders introduced since the start of the pandemic.
Dr Kinchin said it was true that health orders may be affected by a formal state of emergency because the Public Health Act said that orders under section 7 could not be imposed where a state of emergency had been declared. However, no state of emergency currently exists in NSW.
"For a state of emergency to exist it must be declared by the premier under section 33 of the State Emergency and Rescue Management Act 1989 (SERMA)," she said in an email. "The premier has not declared a state of emergency under this section, so no state of emergency exists regarding COVID."
As explained in this ABC News article, some Australian states and territories are required to declare a state of emergency before imposing strict public health measures – but not NSW.
Nevertheless, state of emergencies have been called several times in NSW in the past decade. In March 2012, then premier Barry O'Farrell declared a state of emergency in response to severe flooding in Wagga Wagga and surrounding towns. Current premier Gladys Berejiklian declared three state of emergencies during the state's bushfire crisis of 2019-20.
Professor Anne Twomey, a professor of constitutional law at the University of Sydney, said it was "misleading and dangerous" to assert that people may not need to comply with NSW public health orders on the basis that no state of emergency has been declared.
"There is no requirement to declare a state of emergency before the health minister can exercise powers under section 7 of (the Public Health Act) when there is a risk to public health," she said.
Prof Twomey added that section 8 of the act gave ministers additional powers if a state of emergency were declared, but that section had not been activated at the time of writing.
Not-for-profit legal organisation Justice Connect also said a state of emergency was not necessary for COVID-19 restrictions to be implemented in NSW.
"The NSW Government has the power to deal with public health risks generally where a situation arises that is a risk to public health. A state of emergency does not need to be declared to use these powers," it said in an article published on January 7.
Advocate Me is run by Serene Teffaha, a prominent anti-lockdown campaigner who reportedly launched a class-action lawsuit on behalf of public housing residents forced to stay inside during Melbourne's 2020 lockdown.
In April 2021, the Victorian Legal Services Board cancelled Ms Teffaha's practising certificate, meaning she cannot engage in legal practice. On April 22, the ABC reported that the cancellation of Ms Teffaha's certificate put the Melbourne tower class action "in doubt".
AAP FactCheck has previously debunked a false claim that NSW lockdown rules only apply to people specifically named in public health orders.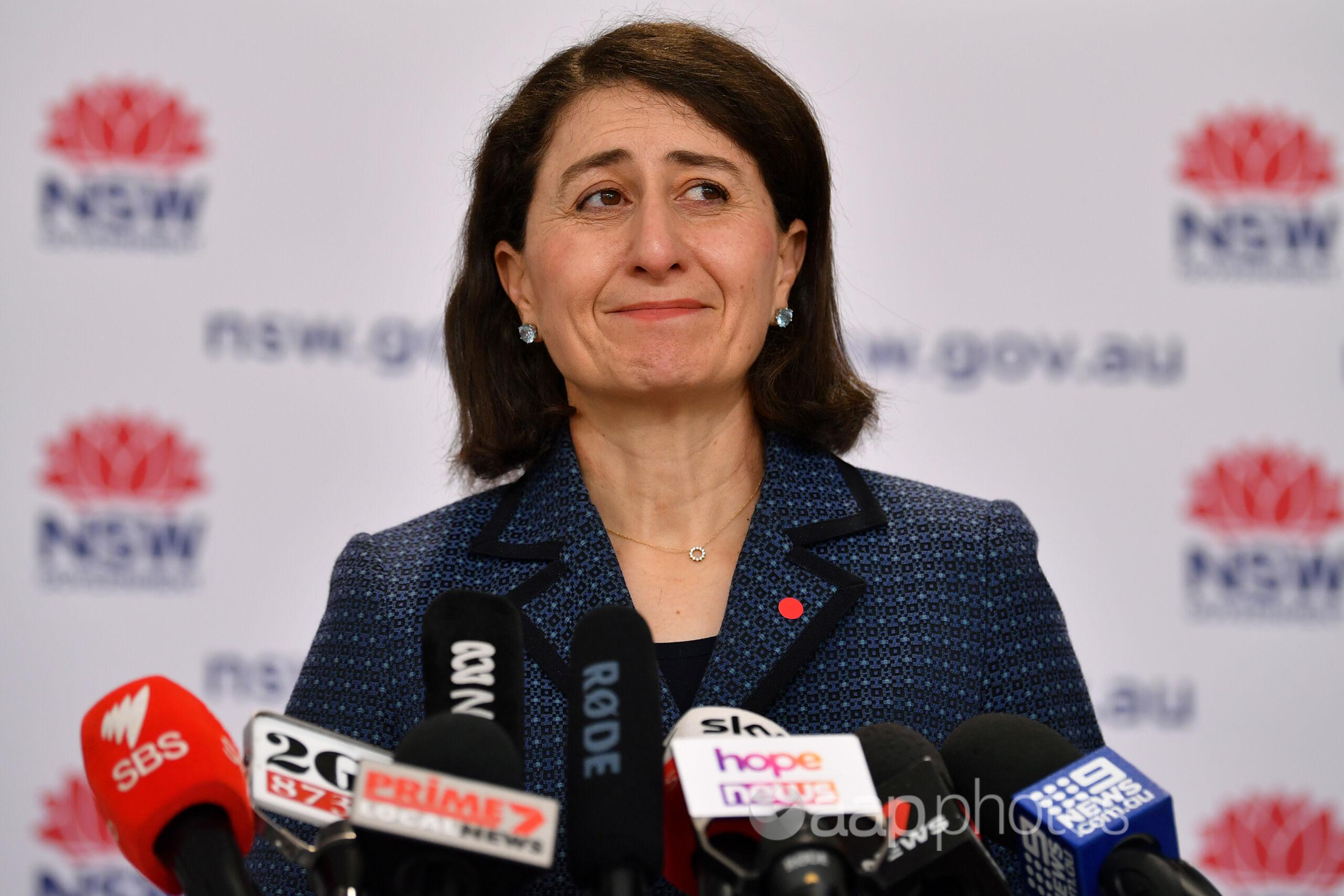 The Verdict
Legal experts told AAP FactCheck that the NSW health minister has broad powers to impose COVID-19 health orders under Section 7 of the Public Health Act without a state of emergency being declared.
The NSW health minister does not have the authority to impose public health orders in any areas of the state that are formally declared as being in a state of emergency. However, no state of emergency has been activated in NSW.
False – Content that has no basis in fact.
* AAP FactCheck is an accredited member of the International Fact-Checking Network. To keep up with our latest fact checks, follow us on Facebook and Twitter.
All information, text and images included on the AAP Websites is for personal use only and may not be re-written, copied, re-sold or re-distributed, framed, linked, shared onto social media or otherwise used whether for compensation of any kind or not, unless you have the prior written permission of AAP. For more information, please refer to our standard terms and conditions.