It's been claimed that a study proves COVID-19 mRNA vaccines cause five times more cases of myocarditis than COVID infection.
But the results of the scientific paper, which instead looks at the clinical outcomes of myocarditis associated with the mRNA vaccines versus COVID, have been misrepresented and the claim is false.
The paper's co-author and a medical research expert said the study cannot be used to compare the different causes of myocarditis as it does not look at the sizes of the groups that are being compared.
The claim is made in a Facebook post (screenshot here) which states: "A new paper published in BMJ shows: Covid (vaccine) causes 5x more myocarditis than Covid itself; for young people: the risk is 10x higher."
The post shares a screenshot of a February 5 tweet from Dr Eli David, in which he makes the same claim. He shares a link to the study in the Twitter thread.
The study, which can be downloaded in full as a PDF, looked into the clinical outcomes of myocarditis from COVID mRNA vaccines compared to myocarditis as a result of the virus itself and from other sources.
The study's conclusion was that patients suffering myocarditis associated with mRNA vaccines had better clinical outcomes within 90 days of admission to hospital than those with myocarditis from COVID, as well as those with conventional myocarditis.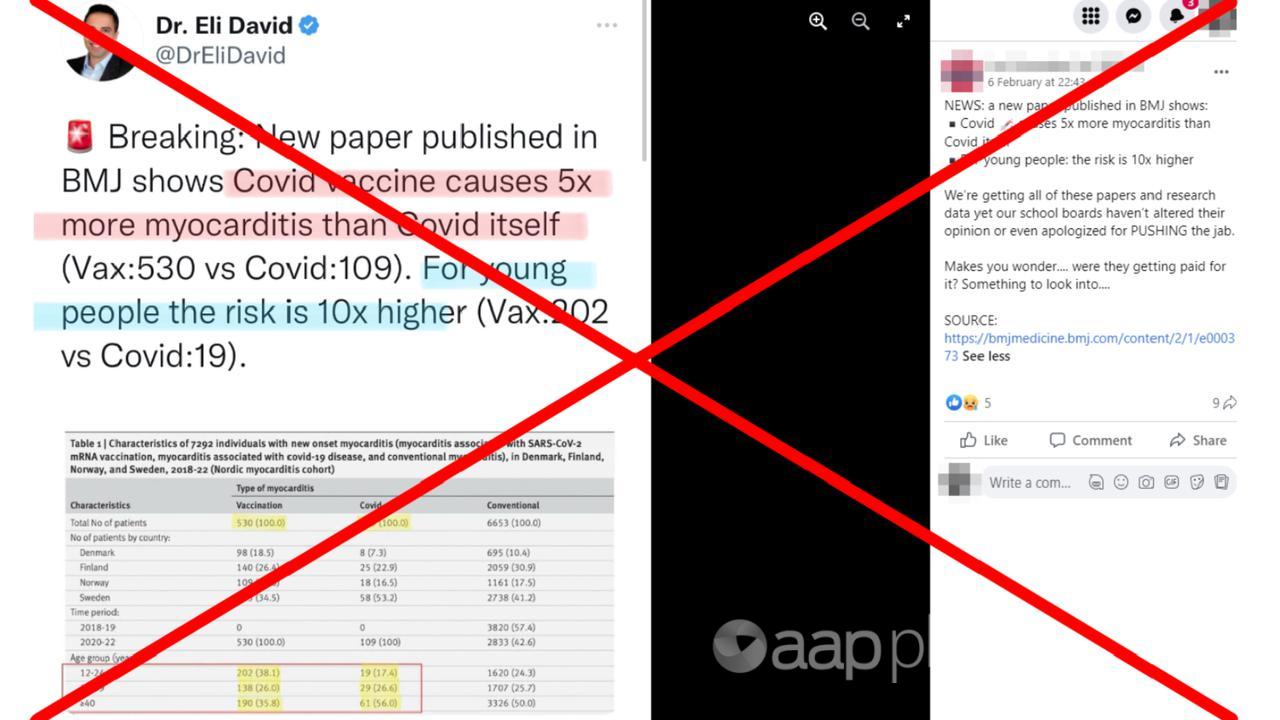 The study used a cohort of 7292 individuals aged over 12 with myocarditis as a main or secondary diagnosis, from a population of 23 million people in Denmark, Finland, Norway, and Sweden.
Table 1 on Page 4 of the PDF breaks down the number of patients in the study associated with the different types of myocarditis: 6653 with conventional myocarditis; 109 with myocarditis triggered by COVID; and 530 with myocarditis following vaccination.
This table is the source of the "five times" claim in the post.
It's also the source of an additional false claim that the risk is "10 times" higher for young people – made on the basis there were 202 cases of myocarditis following vaccination versus 19 from COVID (a ratio of 10-1) in the 12-24 age group.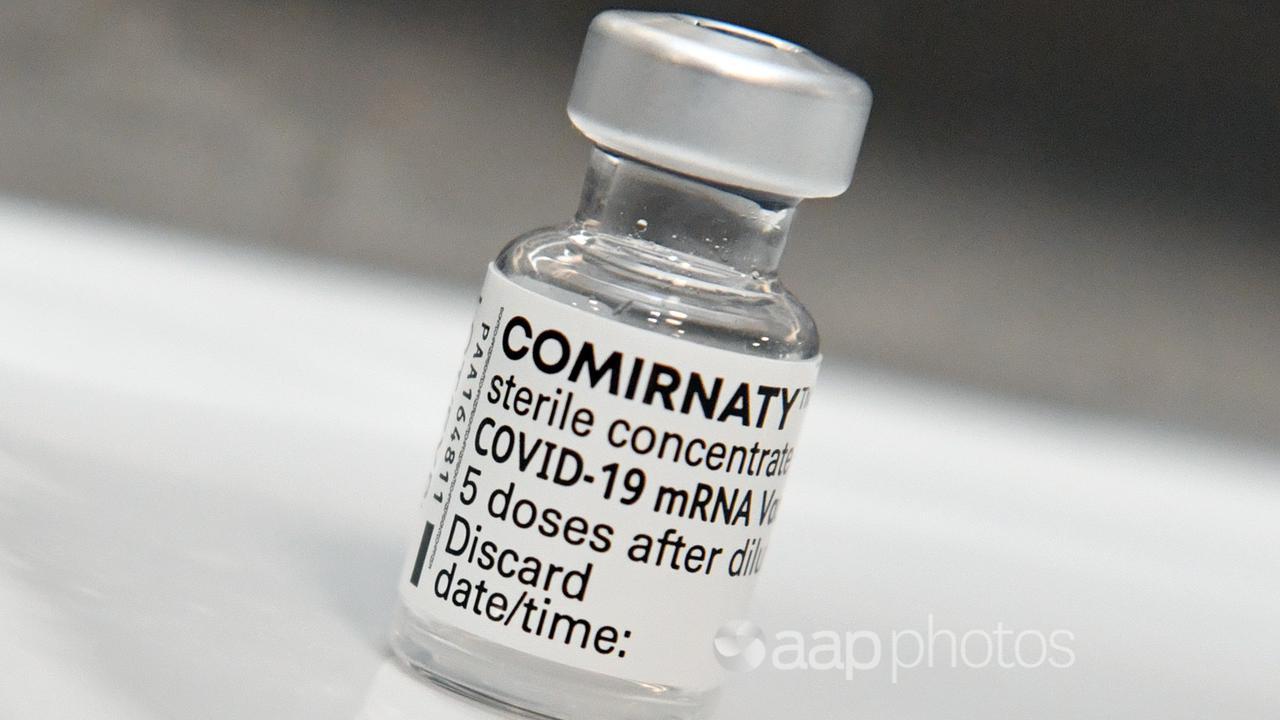 Study co-author Anders Hviid, professor of pharmacoepidemiology at Copenhagen's Statens Serum Institut, told AAP FactCheck the claim arises from a complete misreading of the data.
"In short, we do not compare the numbers of vax-associated myocarditis and c19-associated myocarditis in our study," Professor Hviid said in an email.
"To make a proper comparison you would need denominators of the number of vaccine doses administered and the number of infections. We do not provide those in our study. Our study is a prognostic study of myocarditis patients."
Prof Hviid added that the post misconstrues the ratio of myocarditis patients in the study as a comparison of causes of the heart disease.
"The ratio between vax- and c19-associated (myocarditis) is 530/109=4.9. However, this figure cannot be interpreted as (vaccine-myocarditis) risk being 5x that of (infection-myocarditis) risk. To compare risks, you need denominators of population at risk," he said.
"Our study does not compare these risks, and we do not provide the denominators."
The false claim has also been broken down in a Twitter thread by Sydney-based medical doctor and researcher Kyle Sheldrick.
Dr Sheldrick also told AAP FactCheck in an email that to start looking at excess risk you need to assess the sizes of the groups you are comparing.
To do this, he created a base for comparison by calculating "person years at risk".
From this base, the results were significantly different to those made in the claim, with far more cases of myocarditis, heart failure and death associated with COVID infection than the vaccine.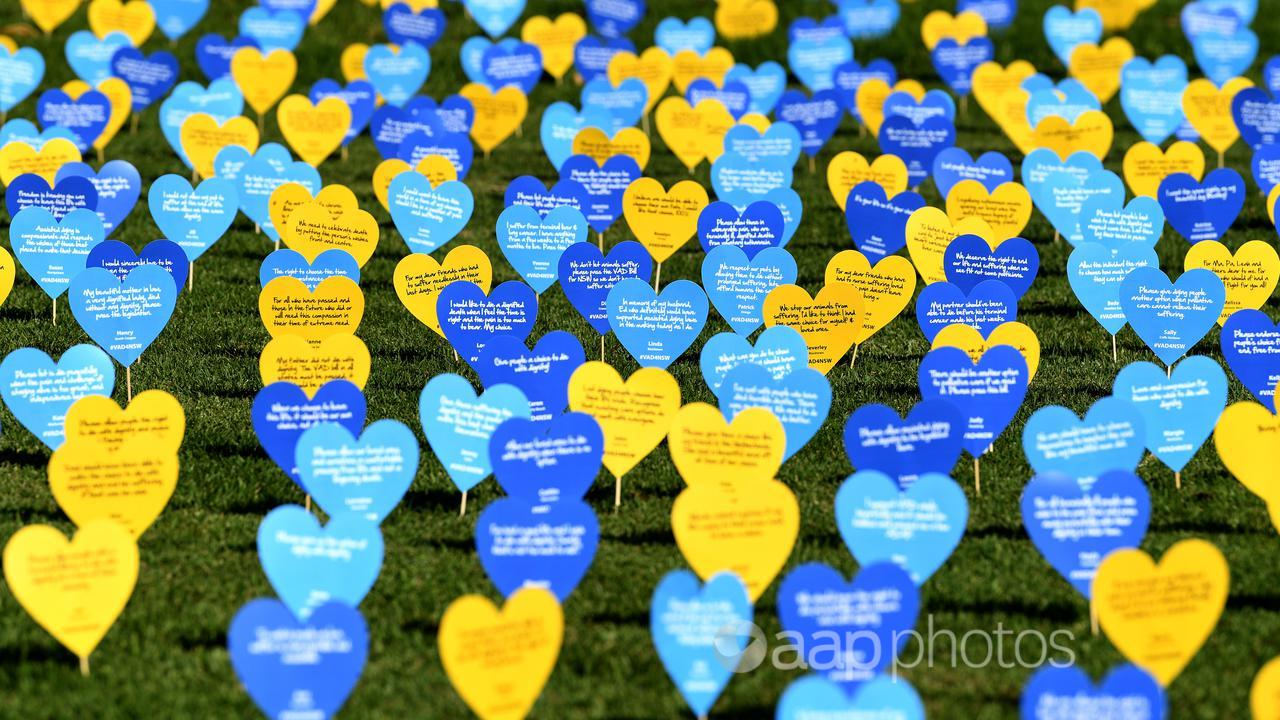 Summing up the problem with the claim, he said: "Because there were ~10 times as many vaccinations as diagnosed infections in those countries by the cut-off date you would expect to see far more cases of every single disease shortly after vaccination than after infection.
"If you just compared raw numbers for appendicitis, car crashes or broken legs you'd also see far more cases in the 'post vaccine group', just because there were far more people in that group.
"This is why it's important if you are going to try and judge the excess risk you have to at least try to account for how many person years were spent in each group, and what the baseline rate of cases would be, you can't just compare raw numbers."
The Verdict
The claim that a scientific paper shows COVID mRNA vaccines cause five times more cases of myocarditis than the virus itself is false.
A co-author and a medical research expert told AAP FactCheck the claim misrepresents both the study's purpose and its conclusions. The prognostic study cannot be used to address excess risk as it does not provide the sizes of the groups being compared.
The study actually found that myocarditis after vaccination was associated with a significantly lower risk of heart failure compared to myocarditis after COVID infection.
False – The claim is inaccurate.
* AAP FactCheck is an accredited member of the International Fact-Checking Network. To keep up with our latest fact checks, follow us on Facebook, Twitter and Instagram.
All information, text and images included on the AAP Websites is for personal use only and may not be re-written, copied, re-sold or re-distributed, framed, linked, shared onto social media or otherwise used whether for compensation of any kind or not, unless you have the prior written permission of AAP. For more information, please refer to our standard terms and conditions.