The Statement
A Facebook post claims Sweden employs a speed camera "lottery" system in which drivers who keep to the speed limit are entered into a draw to win cash prizes.
The claim features in a meme posted on September 1 to an Australian Facebook group, which includes the text: "There's a speed camera lottery in Stockholm, Sweden where drivers who drive at or under the speed limit are entered to win money. The prize fund comes from the fines paid by people who were speeding."
The same meme has been posted by various accounts since the beginning of September, with several examples generating thousands of shares (see here and here).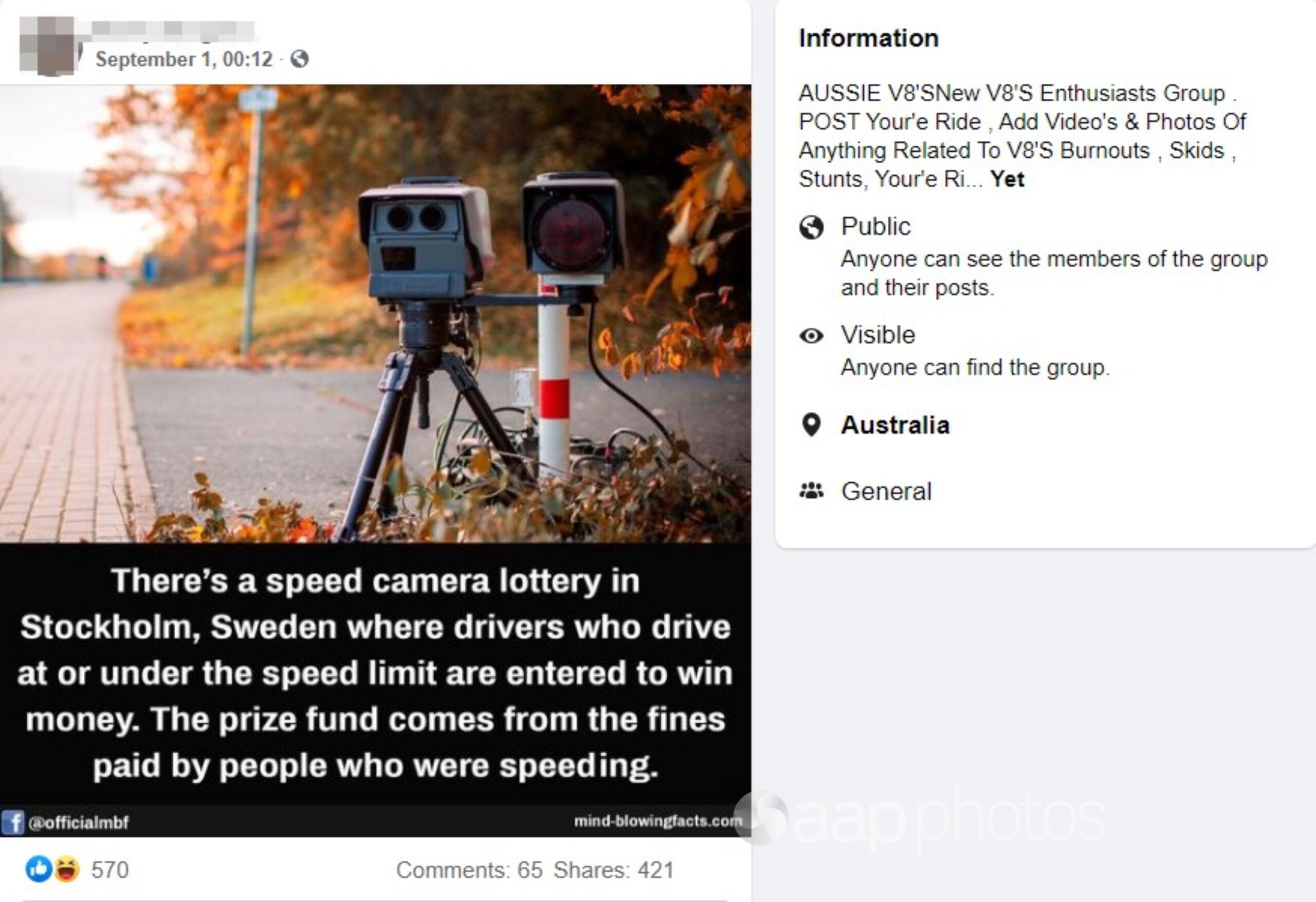 The Analysis
It's true that a "speed camera lottery" was trialled in Stockholm, with the concept later tested in other Swedish cities; however, the temporary road-safety experiment ended 10 years ago.
The trial was a collaboration between Swedish road safety organisation NTF and German car giant Volkswagen. The initiative followed a competition launched by VW to find "fun" ways to change driving behaviour.
VW's competition,The Fun Theory, was won by Kevin Richardson in January 2010. His idea was to ticket speeding drivers as per normal but also to reward motorists who drove at or under the speed limit. Those drivers would be entered into a lottery for cash prizes, financed by the revenue raised from speeding drivers.
In a YouTube video, Mr Richardson said his idea was to see if he "could get people to obey the speed limit for fun".
The initial experiment was held in Stockholm over three days at the end of September 2010, according to a news report, which named one Bengt Holmström as the winner of the major cash prize of 20,000 Swedish krona.
The head of NTF at the time of the initiative, Jan Sandberg, told AAP FactCheck that five people won cash prizes during the trial: as well as the major cash prize winner, four drivers won 10,000 krona each.
However, Mr Sandberg confirmed there were no programs like the speed camera lottery still running in Sweden.
"That's because the authorities and politicians didn't (go) further with the idea," he said in an email.
"The reason for the project was to combine also a positive touch to road safety. We have a saying that you should use both 'whip and carrot' to get the best result from people.
"For this project we got funding from Volkswagen in Sweden – the project was also a part of their campaign about positive thinking."
Over the initial three-day trial, almost 25,000 cars were caught on camera, according to the YouTube video. The average speed of cars travelling through the school zone was reduced from 32km/h before the trial to 25km/h during the experiment.
In May and June 2011, the lottery was tested in five more Swedish cities. Helsingborg, Kalmar, Karlstad, Gävle, and Umeå, according to Volkswagen.
Nevertheless, during the various trials the prize money was not levied from fines for speeding motorists as originally conceived, a spokesman for the NTF told AAP FactCheck via email.
Mr Richardson, who came up with the idea for the lottery, confirmed that the speed camera lottery was no longer running.
He said the experiment likely ended because of the cost of moving it to different locations to ensure that the novelty didn't wear off.
Mr Richardson said he was working in gaming at Nickelodeon when he came up with the idea.
"I thought, is there something I could apply gaming to that would actually help people," he told AAP FactCheck in a phone interview from Germany.
Mr Richardson learned about the Fun Theory contest at a time when he was concerned about speeding tickets in the US and the rate of children being hit by cars on their way to school.
"I've been contacted by governments all over the world (asking) how can we do this (speed camera lottery) too," he said.
A spokesman for Swedish transport agency Transportstyrelsen told AAP FactCheck in an email that he had never heard of the lottery and he had "high doubts" that it existed.
The competition's website, thefuntheory.com, now carries a message saying the domain has been purchased and is no longer active.
The Verdict
The post's information is partly correct. There was a speed camera lottery trialled in Stockholm, however it only ran briefly in Sweden in 2010 and 2011 before it was discontinued. The original concept involved prizes funded from speeding fines, but this aspect of the lottery idea was not incorporated into the trials.
Partly False – The content has some factual inaccuracies.
Updated September 16, 2021 14:05 AEDT: Clarifies analysis and verdict to reflect that prizes were not funded from speeding fines in the lottery trials.
* AAP FactCheck is an accredited member of the International Fact-Checking Network. To keep up with our latest fact checks, follow us on Facebook and Twitter.
All information, text and images included on the AAP Websites is for personal use only and may not be re-written, copied, re-sold or re-distributed, framed, linked, shared onto social media or otherwise used whether for compensation of any kind or not, unless you have the prior written permission of AAP. For more information, please refer to our standard terms and conditions.