A former Australian MP has fuelled misinformation regarding the January 6, 2021 US Capitol riots.
It has been claimed Jacob Chansley, the so-called QAnon Shaman, secured an early release from jail after footage aired on Fox News proved he committed no crime during the insurrection.
The claim is false. A lawyer for Chansley, whose distinctive attire made him a recognisable figure in the riots, told AAP FactCheck the video had nothing to do with him being moved into a halfway house to serve out his term.
George Christensen, a former Liberal National party MP, posted a photo of his face photoshopped onto Chansley's body on his Facebook page (screenshot here) on March 31, 2023.
He wrote on the post: "Jacob Chansley, aka the QAnon Shaman, has been released from jail 14 months early after video evidence released earlier this year that proved he committed no crime and that police escorted him to (sic) throughout the Capitol Building. In celebration, I'm donning my own buffalo horn hat."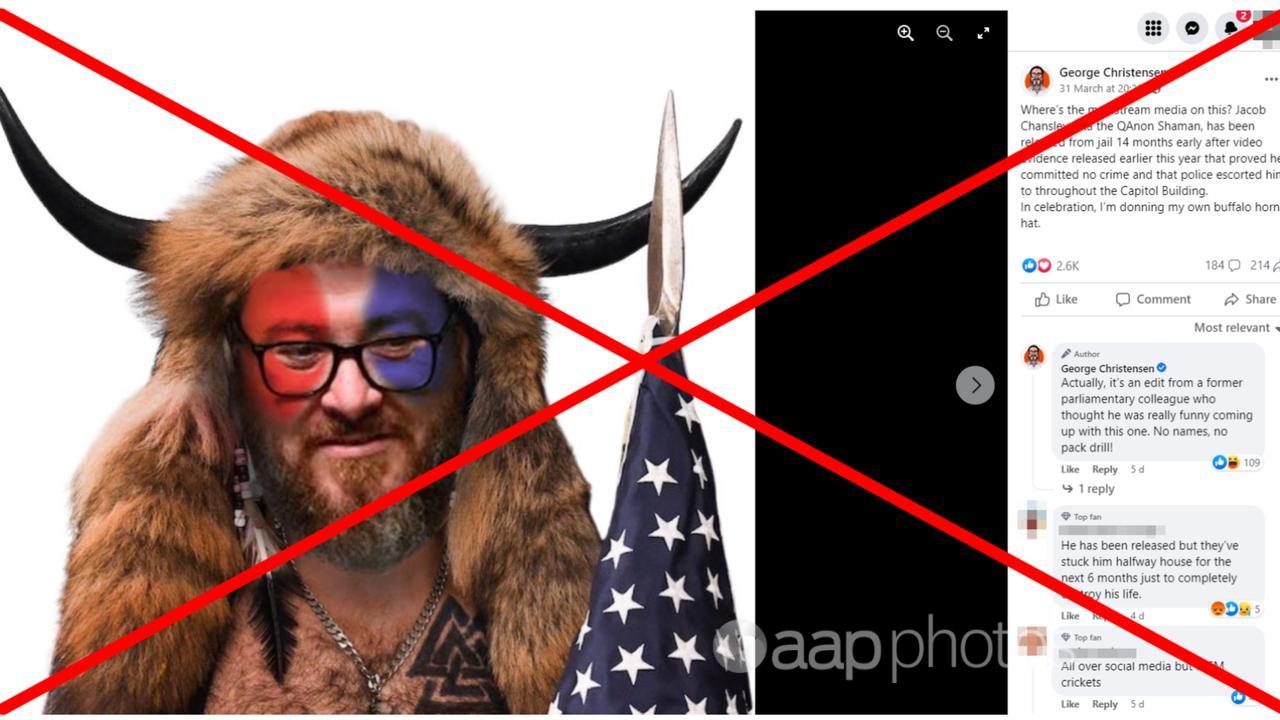 Chansley, who became infamous during the attempt to overturn the certification of US President Joe Biden's 2020 election win, was featured on Tucker Carlson Tonight on Fox News on March 7.
Carlson shared a video provided by US Speaker of the House Kevin McCarthy to which Carlson claimed "tells a very different story about what happened on January 6" and asserted the majority of protesters were "peaceful, ordinary and meek", ( video mark 1min 39sec).
He goes on to say: "The tapes show that Capitol Police never stopped Jacob Chansley. They helped him. They acted as his tour guides," while showing footage of Chansley walking in the Capitol with police just behind him (video mark 3min 45sec).
A widely shared tweet on March 7 includes footage from Carlson's show and claims Chansley was "led through the Capitol by police".
However, Carlson has been roundly criticised for his claims and statements about the Capitol riots, and for cherry-picking and taking footage out of context, including by Republican leaders and US Capitol Police.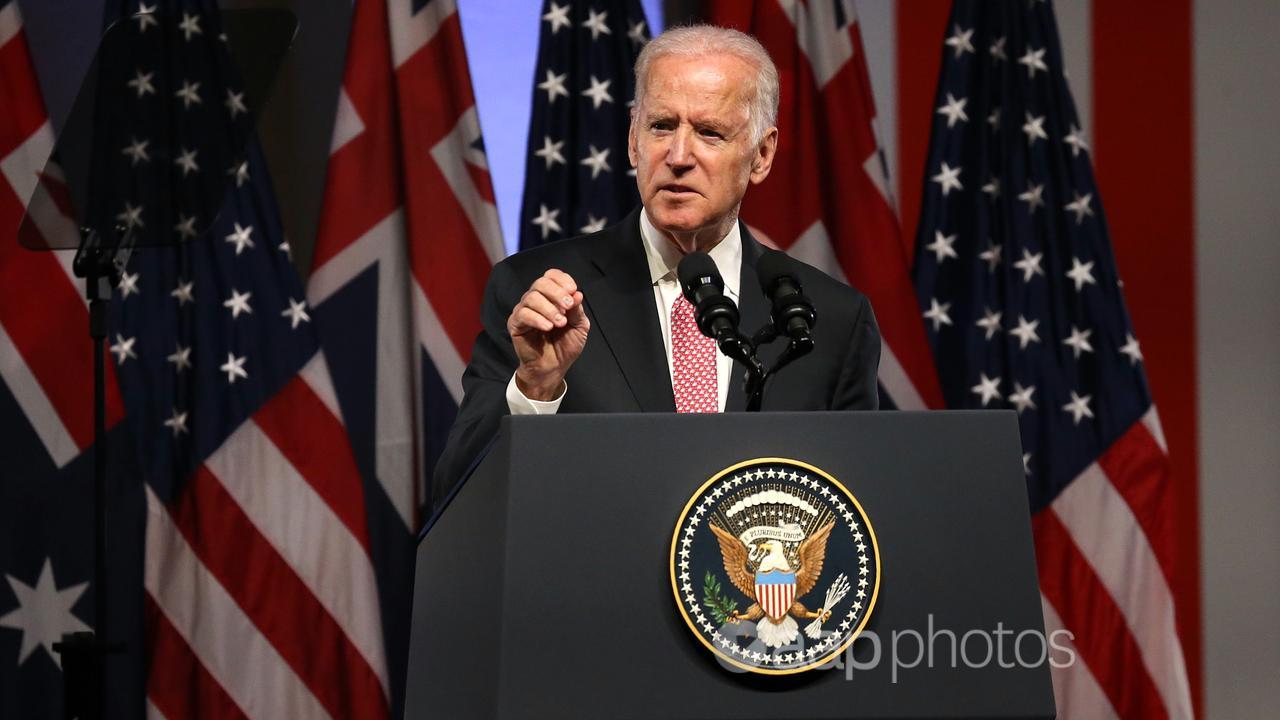 Chansley moved from prison in March to a "residential re-entry management" facility in Phoenix, Arizona. He was originally sentenced in November 2021 to 41 months in jail for his role in the riot.
But Albert Watkins, the lawyer who represented Chansley during his trial, told AAP FactCheck his release had nothing to do with the video seen on Carlson's show and the move was part of the existing court sentence and conditions.
"Mr Chansley's release was not a function of the release of video on Mr Carlson's show," Mr Watkins said in an email.
"It was a function of the plea agreement, sentencing order, programs completed by Mr Chansley while in custody, his model behavior and other established protocols which are part of the nuanced Bureau of Prisons' protocols."
In a September 2021 statement to the US Department of Justice, Chansley admitted his guilt. The statement notes "the defendant and others pushed past the police line" (Section III, Statement 7) and repeatedly refused police demands to leave the US Capitol.
The US Bureau of Prisons told Lead Stories that Chansley was transferred from federal prison on March 28 to a community confinement or halfway house, and his projected release from that program was May 25, 2023.
Similar claims have been debunked here, here and here.
Claims that Capitol Police were somehow complicit in the riots or "escorted" protesters including Chansley have been repeatedly debunked, as seen here, here, here, and here.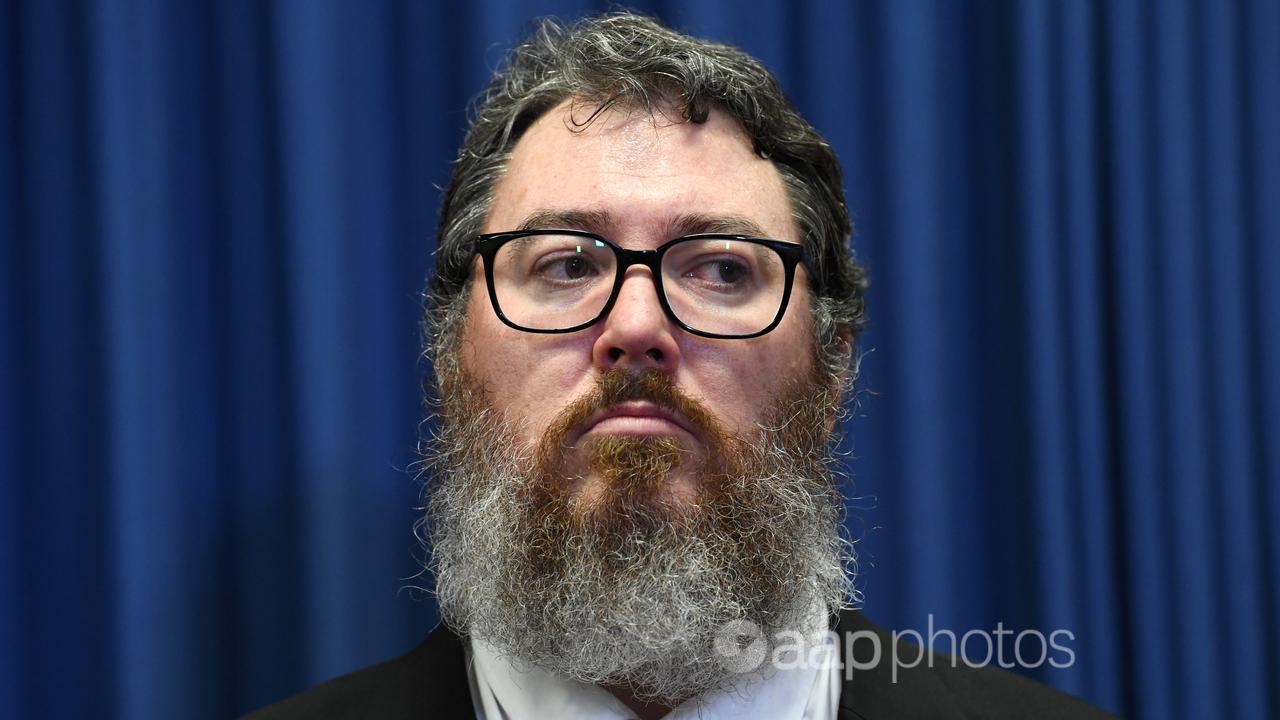 Mr Christensen, labelled by media as one of the former government's most divisive MPs, was the federal coalition member for the Queensland seat of Dawson from 2010 to 2022.
He announced his retirement from politics and quit the Liberal National party in April 2022, serving out his term as an independent, but changed his mind to contest a Senate position for Pauline Hanson's One Nation party in 2022. He was unsuccessful.
He has also appeared on notorious conspiracy theorist Alex Jones' InfoWars show, a move which then-prime minister Scott Morrison condemned.
AAP FactCheck has addressed other claims from Mr Christensen here and here.
The Verdict
The claim that the "QAnon Shaman" was released from jail early after new footage proved he committed no crime during the January 6 riots is false.
The lawyer who represented Jacob Chansley at trial told AAP FactCheck his release to a halfway house had nothing to do with the video aired on Fox News.
Instead is was a function of the plea agreement, sentencing order, programs completed by Chansley while in custody and his model behaviour.
False – The claim is inaccurate
AAP FactCheck is an accredited member of the International Fact-Checking Network. To keep up with our latest fact checks, follow us on Facebook, Twitter and Instagram.
All information, text and images included on the AAP Websites is for personal use only and may not be re-written, copied, re-sold or re-distributed, framed, linked, shared onto social media or otherwise used whether for compensation of any kind or not, unless you have the prior written permission of AAP. For more information, please refer to our standard terms and conditions.