The Statement
A Facebook post claims Australians who are not fully vaccinated for COVID-19 by the end of the year will be put into isolation camps.
The September 7 post from a New Zealand-based page includes a screenshot of a purported Instagram post from an account named "7newsvictoria". The text in the screenshot reads: "BREAKING NEWS – It's believed that all Australians who are not fully vaccinated by the end of this year, will be put into isolation camps. Victoria is planning to go ahead with this to prevent further snap lockdowns happening later in the year."
The same image was posted by several other social media accounts, including in the US.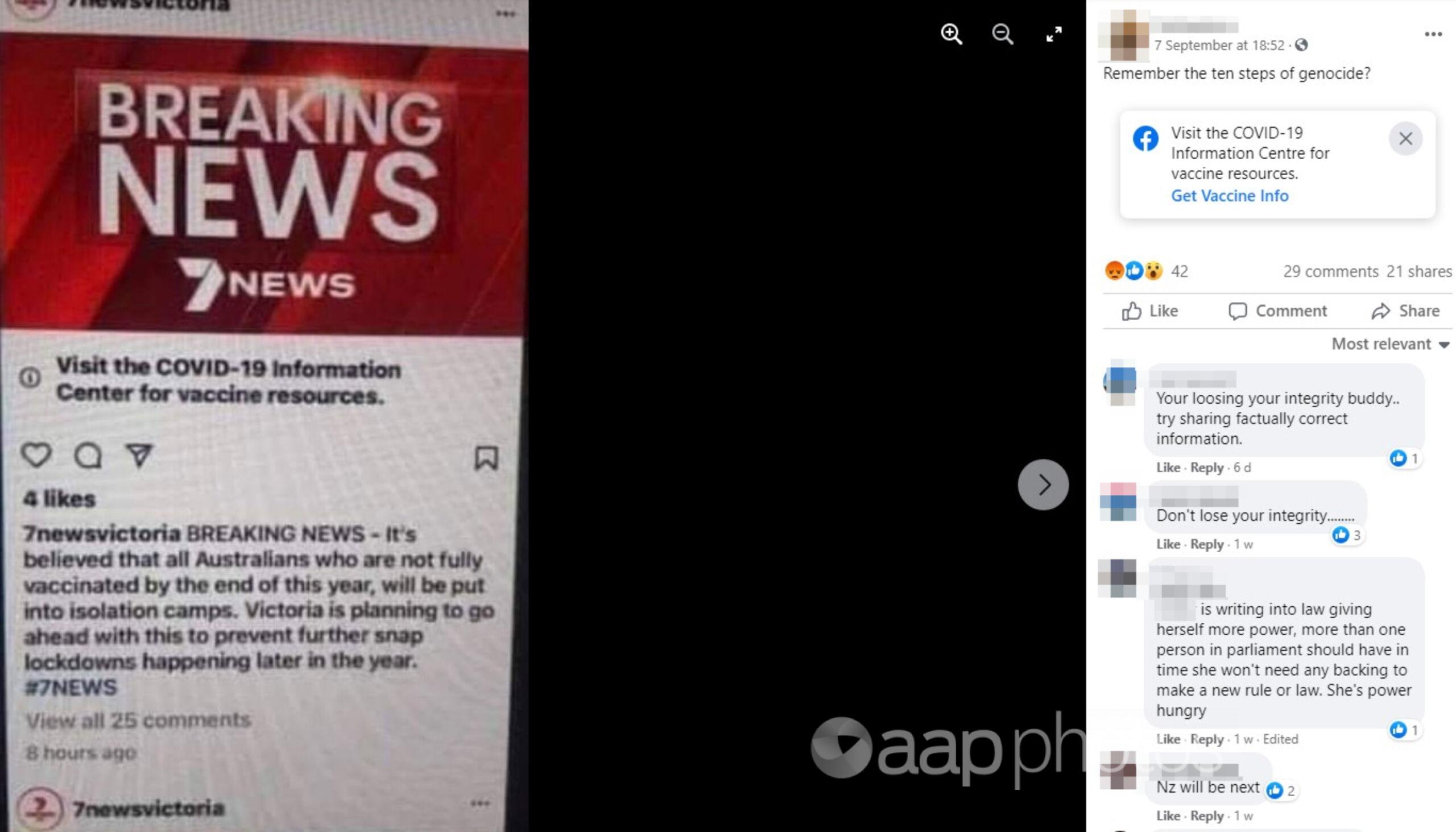 The Analysis
There are no plans to put unvaccinated Australians into isolation camps – and the screenshot used to circulate the claim is from a hoax social media account.
7NEWS has a number of city and state-based Instagram accounts, including 7NEWS Melbourne, 7NEWS Sydney and 7NEWS Queensland, however it does not have an account with the handle "7newsvictoria". No such user could be found on Instagram at the time of writing.
In an email to AAP FactCheck, a spokesman for the media company said: "7NEWS has never published this and the account is fake."
Similarly, a spokeswoman for the Australian Department of Health said the "post is false".
She told AAP FactCheck in an email that the government was collaborating with state and territory governments to design and build managed quarantine facilities "intended to support the quarantine of returning international travellers".
In future, vaccinated and unvaccinated travellers could face different quarantine requirements, but this wouldn't mean unvaccinated people living in the country would be put in camps.
"Decisions regarding quarantine requirements for vaccinated and unvaccinated travellers are continuing to be considered as Australia progresses through the National Plan to Transition Australia's COVID-19 Response (National Transition Plan)," the spokeswoman said.
As of September 17, travellers entering Australia were required to spend 14 days in a government-approved quarantine facility unless they had an exemption.
The quarantine facilities are managed by state and territory governments, and a number of states have plans to build quarantine facilities – which have sometimes been referred to as "camps". These facilities are for travellers arriving in the country, not unvaccinated residents as suggested in the post.
Victoria has planned to build a quarantine hub, dubbed the Centre for National Resilience, at a rural site on the northern outskirts of Melbourne. A summary of the project states the facility is for returning travellers to the state, not unvaccinated Australians. According to the Victorian government, the facility will open in early 2022.
Other states plan to or are considering building similar facilities, including Western Australia, Queensland and New South Wales. In the Northern Territory, travellers are quarantined at facilities at Alice Springs or outside Darwin.
However, vaccinated and unvaccinated travellers may face different restrictions in future.
South Australia has trialled home-based quarantine for fully-vaccinated domestic travellers, which may be expanded to vaccinated international travellers. Currently both vaccinated and unvaccinated international arrivals in South Australia are quarantined at hotels.
Vaccinated travellers may also face fewer restrictions based on the federal government's National Transition Plan. Under the plan, there will be "new reduced quarantine arrangements for vaccinated residents" once more than 70 per cent of the eligible population is fully vaccinated. Once the vaccination rate reaches 80 per cent there will be "reduced requirements for fully vaccinated inbound travellers".
The final phase of the plan would allow vaccinated travellers to enter without quarantine and allow "uncapped arrivals of non-vaccinated travellers subject to pre-flight and on arrival testing". It is not clear whether unvaccinated travellers would still be required to quarantine in the final phase.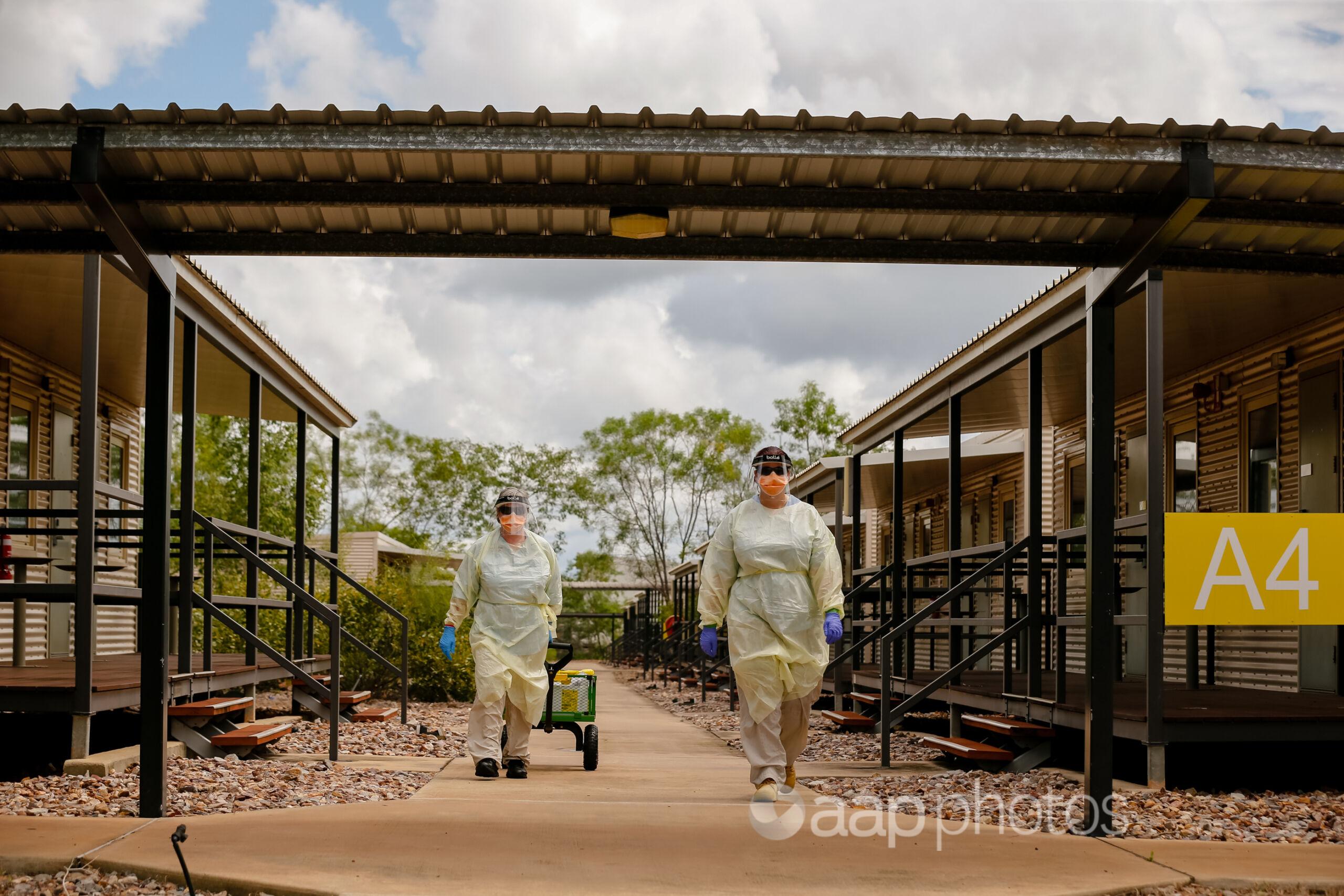 The Verdict
There are no plans to put all Australians who are not fully vaccinated into camps as the post claims. A spokesperson from 7News confirmed the post was from a fake social media account, while the Department of Health said the information was false.
Some states are developing purpose-built quarantine facilities, sometimes referred to as camps, however these are for returned travellers undergoing quarantine.
False – Content that has no basis in fact.
* AAP FactCheck is an accredited member of the International Fact-Checking Network. To keep up with our latest fact checks, follow us on Facebook, Twitter and Instagram.
All information, text and images included on the AAP Websites is for personal use only and may not be re-written, copied, re-sold or re-distributed, framed, linked, shared onto social media or otherwise used whether for compensation of any kind or not, unless you have the prior written permission of AAP. For more information, please refer to our standard terms and conditions.