Social media users are claiming Australian cities and towns will be renamed if the 'yes' vote succeeds in the Indigenous voice to parliament referendum.
This is false. Experts told AAP FactCheck the proposed body wouldn't have the power to rename locations, which is generally a state or territory government responsibility. Dual naming systems, allowing places to have non-Indigenous and Indigenous names already exist across the country.
Facebook users have been calling for people to "vote no" in the upcoming referendum to prevent the renaming of city, town and landmark in Australia (see examples here, here, here, here, here, here and here).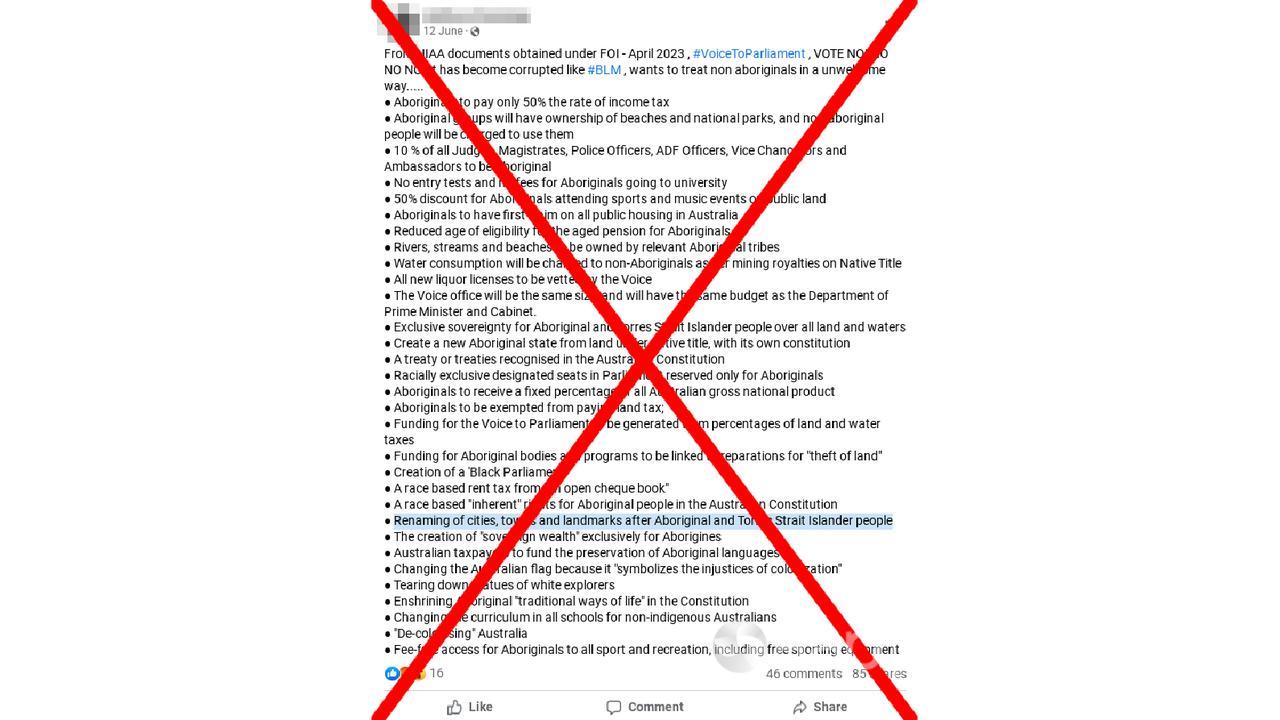 This post includes a map of the continent featuring Indigenous place names shown on the SBS news weather report and claims that the voice will rename Australia.
"If the yes "vote" is successful in the "voice" referendum every city, town and street sign is set to be renamed," another post warns.
This post links the proposed federal advisory body to the recent renaming of Fraser Island as K'gari by the Queensland government.
Many of the posts link the renaming claim to documents allegedly released by the National Indigenous Australians Agency under a Freedom of Information request in April 2023.
The NIAA did release documents in response to an FoI request, but that was in March, not April.
However, rather than the powers the proposed voice would have, the documents are minutes from 13 'regional dialogue' consultation events involving about 1200 Indigenous people that helped shape the 2017 Uluru Statement from the Heart. This in turn helped shape the voice proposal.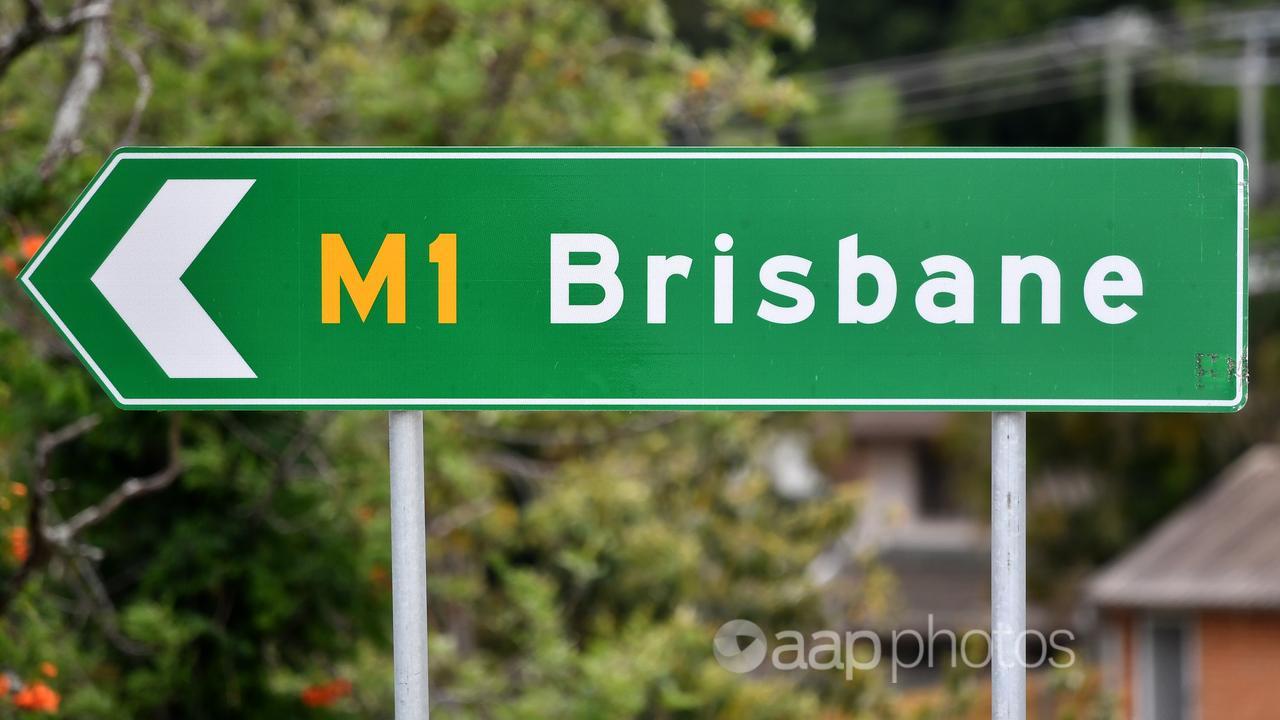 One participant spoke about the lack of acknowledgment of Aboriginal people in place names at the Cairns dialogue on March 24-26, 2017 (page 49).
Another individual suggested that Aboriginal names should be used for places across Australia at the Brisbane dialogue on April 21-23, 2017 (page 67).
Neither of those comments was made by government representatives, mentioned in the later Uluru Statement or adopted as part of the voice to parliament proposal.
AAP FactCheck has previously debunked claims about alleged powers the voice based on the documents here and here.
Associate Professor Harry Hobbs, a constitutional law expert at the University of Technology Sydney, says the proposed voice is an advisory body and will not have the power to rename places.
Dr Hobbs says it would be redundant to give it that power as dual naming systems allow Indigenous place names to be recorded alongside non-Indigenous names already in NSW, Victoria, Queensland, South Australia, Western Australia, Tasmania, Northern Territory and the ACT.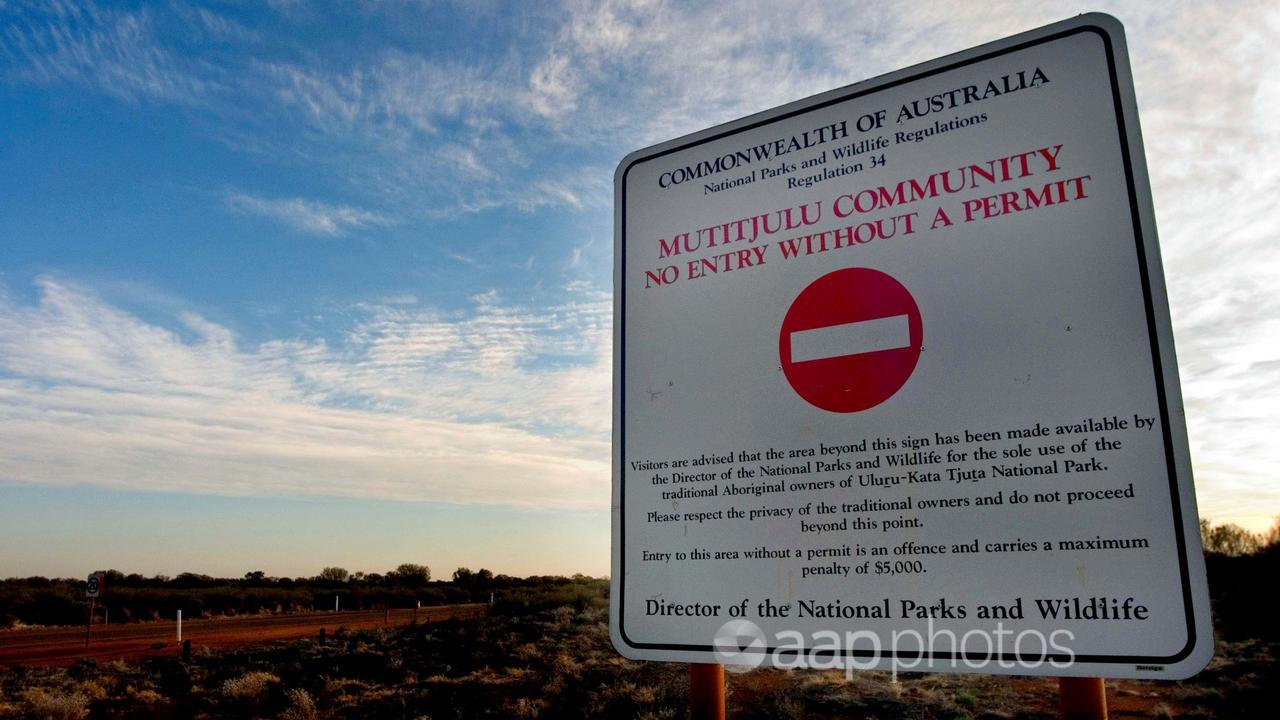 "Generally speaking, states and territories are responsible for place names rather than the Commonwealth…The voice would be able to make representations on matters relating to Aboriginal and Torres Strait Islander peoples," Dr Hobbs told AAP FactCheck in an email.
"Place names would fit within that definition. The voice might make a representation to the Commonwealth asking that the existing policy is amended in some way to facilitate increased use of dual naming… However, representations are just that, they are not a power to compel or require anyone to listen, to respond, or act."
Professor Gabrielle Appleby, a public law expert at the University of NSW says the naming of localities and cities is generally a matter for state and territory governments "unless the land is Commonwealth land".
Prof Appleby said while using First Nations names for places could be an area that the voice could advise on, that doesn't mean the body would advise on it.
"The voice does not have any unilateral power to rename cities or localities, it would be limited to making representations to the government, seeking these changes," she told AAP FactCheck.
Prof Appleby added that the federal government, rather than the voice, would make the decision on whether such policies would or could be pursued in co-operation with state, territory and local governments.
The Verdict
The claim that the Indigenous voice to parliament would rename all cities, towns and landmarks is false.
Experts told AAP FactCheck the proposed advisory body would be able to make representations but not enact laws or policies.
They also said place names are generally the responsibility of state and territory governments, not the Commonwealth, and dual naming systems recording non-Indigenous and Indigenous names already exist in all jurisdictions.
False – The claim is inaccurate.
* AAP FactCheck is an accredited member of the International Fact-Checking Network. To keep up with our latest fact checks, follow us on Facebook, Twitter and Instagram.
All information, text and images included on the AAP Websites is for personal use only and may not be re-written, copied, re-sold or re-distributed, framed, linked, shared onto social media or otherwise used whether for compensation of any kind or not, unless you have the prior written permission of AAP. For more information, please refer to our standard terms and conditions.