The Statement
The Australian bushfires have sparked posts on social media about the role arson has played in the current crisis. Several Facebook and Instagram posts, viewed thousands of times, claim more than 180 people have been arrested for starting fires.
One Facebook post from January 12, 2020 reads: "When you blame Australian fires on climate change, and then 183 people get arrested for starting fires". The text is accompanied by a picture of Swedish climate change activist Greta Thunberg.
The post has been shared more than 50 times and generated more than 50 comments and 30 reactions.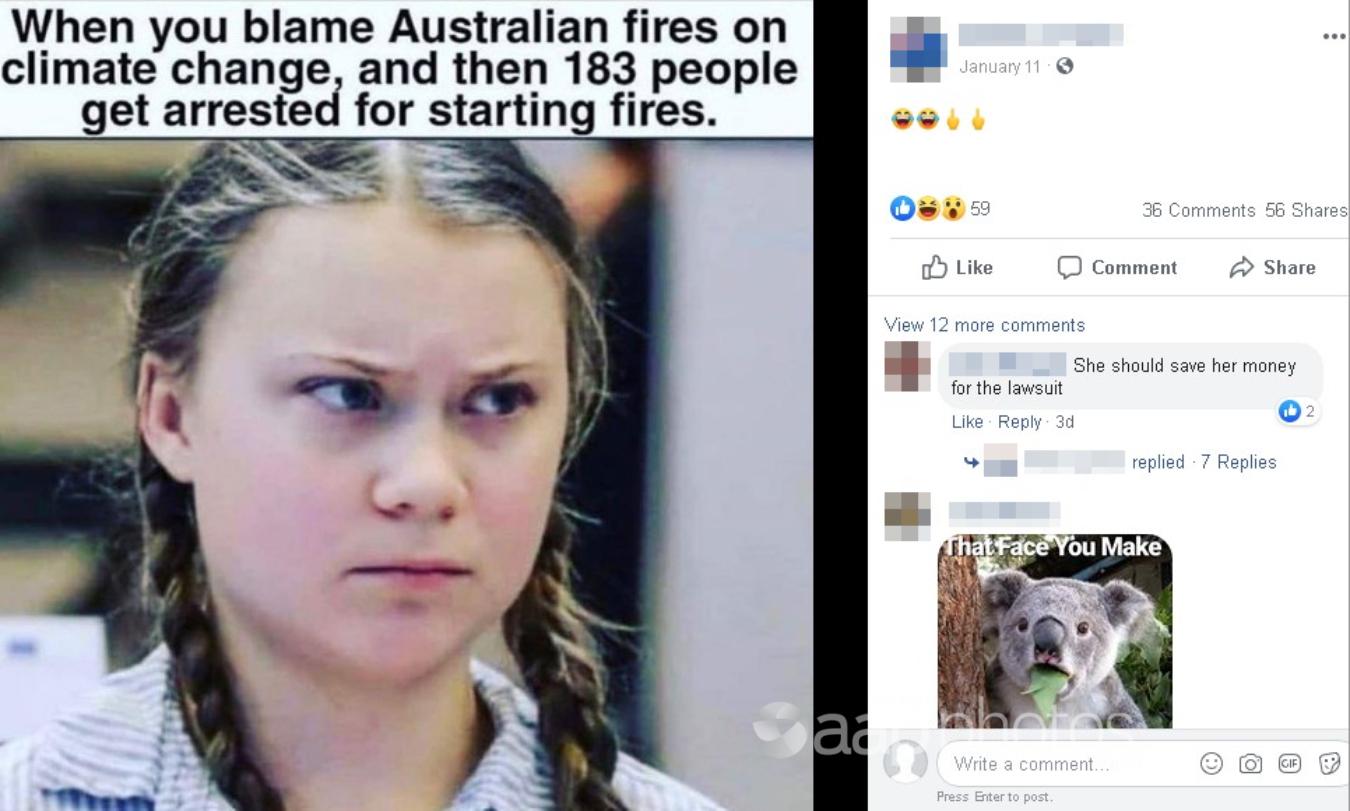 The Analysis
The figure of 183 arrests was reported in Australia by News Corp under a headline, 'Arson arrest toll soars' on January 7, 2020.
The story gained coverage overseas and a wider circulation when Donald Trump Jr tweeted: "Truly Disgusting that people would do this! God Bless Australia. More than 180 alleged arsonists have been arrested since the start of the bushfire season, with 29 blazes deliberately lit in the Shoalhaven region of southeast NSW in just three months".
The Australian subsequently updated its story to say the figure covered people arrested "since the start of 2019".
While the post doesn't provide a source for its figure, NSW Police issued a media release on January 6, 2020 that states since November 8, 2019, "legal action – which ranges from cautions through to criminal charges – has been taken against 183 people – including 40 juveniles – for 205 bushfire-related offences".
The police figures list some of the offences including 24 people charged with "deliberately-lit bushfires". They also said legal action had been taken against 53 people for "allegedly failing to comply with a total fire ban", and a further 47 people for "discarding a lit cigarette or match on land".
A media report relating to several of the offences outlined how a man had allegedly ignored a total fire ban to cook food in scrubland at Tarro, near Newcastle on January 5, while a second man had lit a fire in his Cooma backyard for the same purpose.
AAP FactCheck found the breakdown of figures provided by NSW Police to be clear evidence that the majority of people charged in NSW with fire-related offences had not deliberately lit a bushfire.
In South Australia, 10 people were charged with causing a bushfire intentionally between September 2019 and January 9, 2020. In Queensland, police action has been taken against 109 people for "offences relating to recklessly and/or deliberately setting fires" between September 10, 2019 and January 8, 2020.
In Tasmania and the ACT, a total of two people were charged with unlawfully setting a fire on a total fire ban day while in Western Australia, 12 people have been charged with deliberately lighting bushfires since November 25, 2019. In Victoria, data covering the current bushfire season won't be released until March.
The Verdict
Based on the evidence, AAP FactCheck found the claim "183 people get arrested for starting fires" to be false. NSW Police on January 6 stated 24 people had been charged over alleged deliberately-lit bushfires, lower than the number stated in the Facebook post.
Even taking into account all available data on arson charges across Australia, the total is lower than the unsourced figure cited in the post circulated during the current bushfires.
False – The primary claim of the content is factually inaccurate.
* AAP FactCheck is an accredited member of the International Fact-Checking Network. To keep up with our latest fact checks, follow us on Facebook and Twitter.
First published January 16, 2020, 18:18 AEDT
All information, text and images included on the AAP Websites is for personal use only and may not be re-written, copied, re-sold or re-distributed, framed, linked, shared onto social media or otherwise used whether for compensation of any kind or not, unless you have the prior written permission of AAP. For more information, please refer to our standard terms and conditions.