A Sydney cleric has claimed 40,000 Australian children go missing each year and are all victims of abuse.
This is false. National missing persons data shows the number is much lower and 99 per cent of Australians who go missing are safely found.
Bishop Mar Mari from Christ The Good Shepherd Church, a Christian Assyrian Orthodox Church in suburban Wakeley, makes the claim in a TikTok video posted to Facebook.
"There was an investigation done here in Australia: 40,000 children disappear here in Australia every year," the bishop says.
He goes on to suggest some of the country's most powerful people are involved in child abuse offences against the 40,000.
He also suggests the 40,000 are still at risk, adding: "If I get the chance I will rescue those children myself."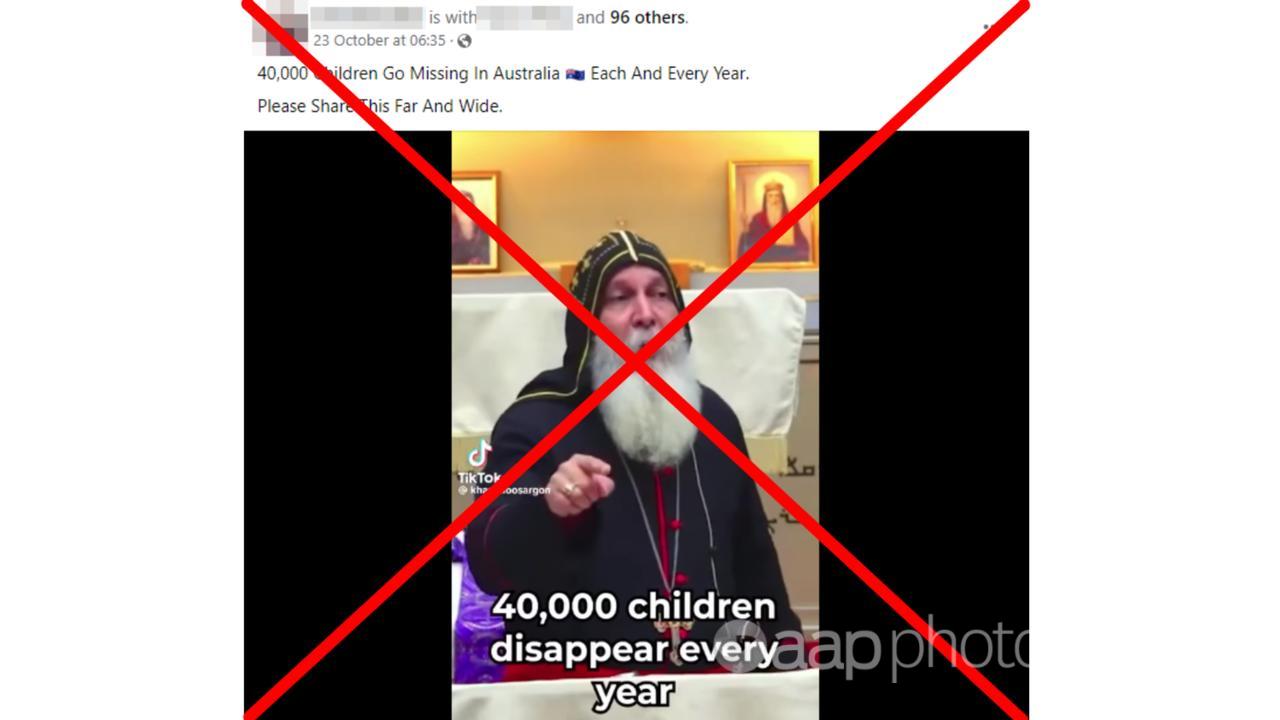 But the bishop's figure is an over-exaggeration and the vast majority of people reported missing – children and adults – are found alive and well within days.
An Australian Federal Police (AFP) representative pointed AAP FactCheck to statistics from its National Missing Persons Coordination Centre, which works with all the nation's police agencies.
It showed there were more than 55,000 total missing person reports to Australian police in 2022.
More than half (54 per cent) of the reports in 2022 related to those aged 13-17. That's roughly 29,700.
More than 99 per cent, or about 54,450, of all missing persons were safely found.
There are about 2500 long-term missing people in Australia, which means missing for three months or longer.
The AFP representative said it wasn't possible to isolate how many were children, because some had become adult age during the time they had been missing.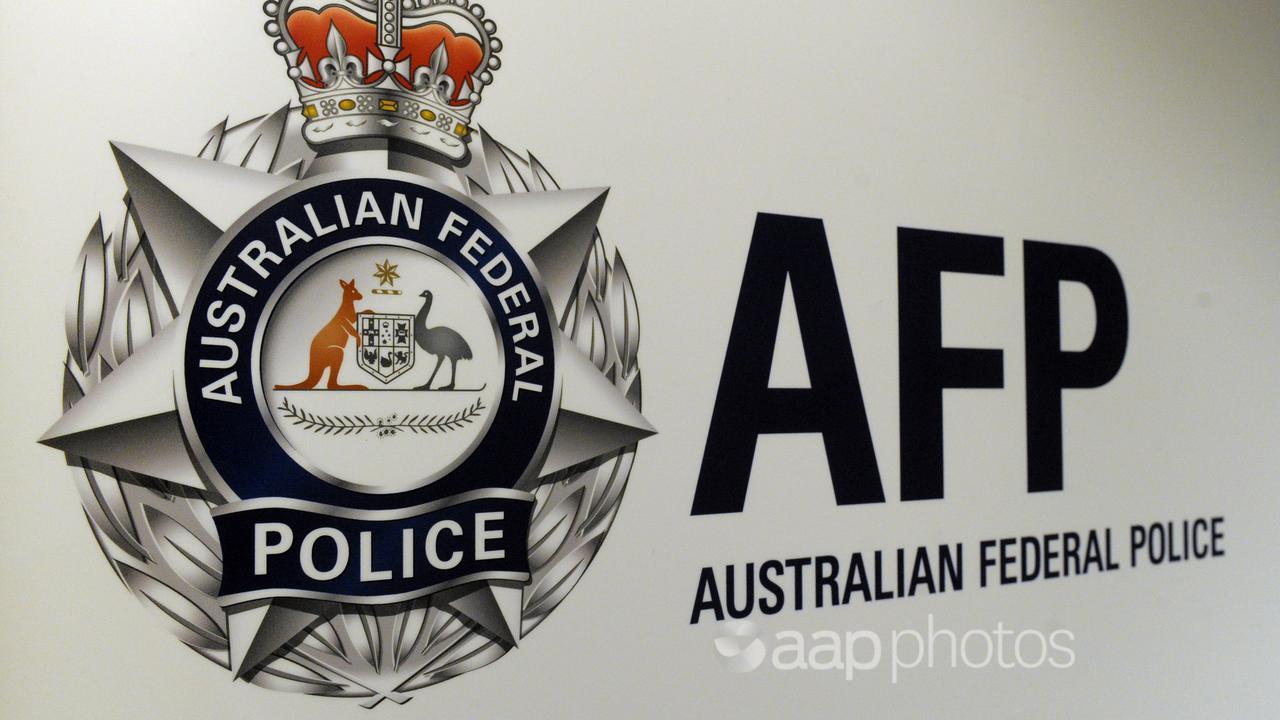 Not all missing children are victims of abuse, as claimed in the video.
The AFP's Missing Persons website explains the reasons people disappear are varied and can include anxiety and depression, misadventure, homelessness, dementia, domestic violence, becoming a victim of crime, and drug abuse.
Research the AFP released in March 2021 shows young people living in out-of-home care are at the highest risk of going missing.
Of all missing youth, 25.6 per cent of children aged under 12 and 18 per cent of those aged between 13 and 17 are Indigenous (page 62).
Some 34 per cent of youth who go missing from care are Indigenous.
A November 2021 report in The Conversation estimates 48 young people under 18 go missing every day in Australia – or about 17,520 annually.
Indigenous young people comprise about 20 per cent of missing children, while making up less than six per cent of the Australian population under 18.
The report argues missing Indigenous children do not get the same media attention as famous cases such as William Tyrrell in NSW and Cleo Smith in Western Australia receive.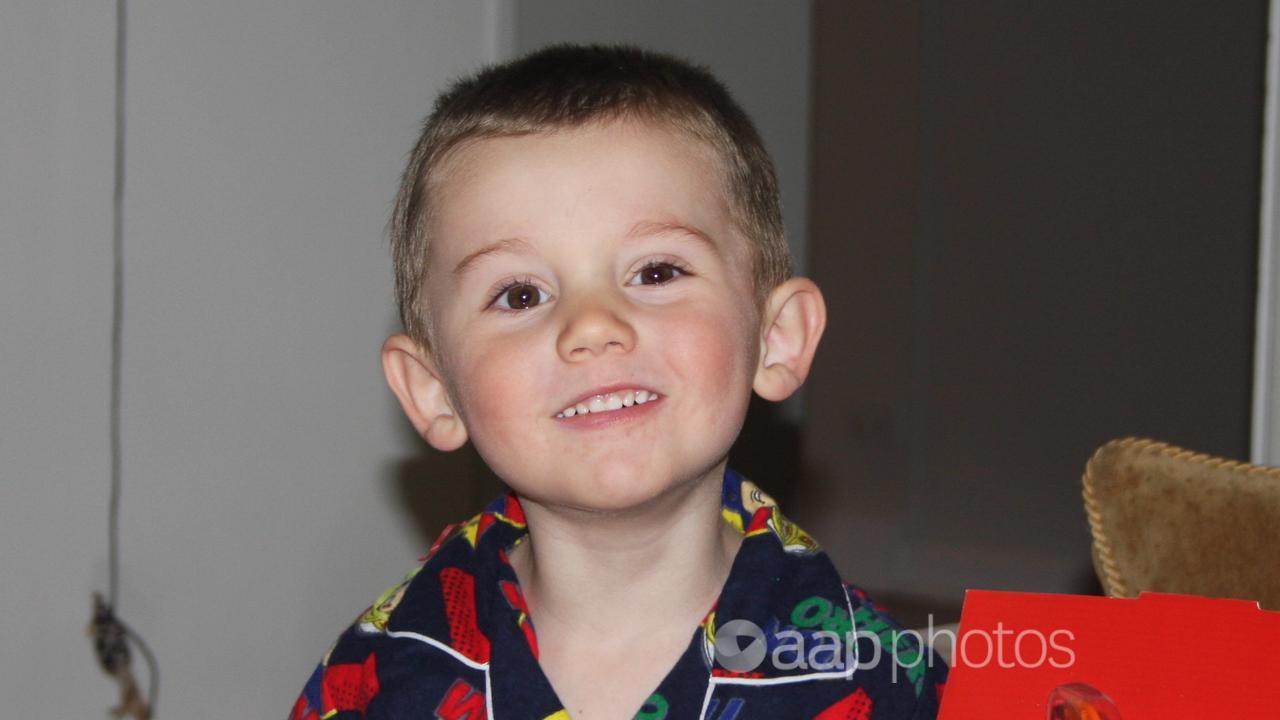 This 2016 report from the Australian Institute of Criminology states more than 305,000 people were reported missing between 2008 and 2015, an average of 38,159 each year.
Youths aged 13-17 years were most likely to go missing; half of all people reported missing between 2008 and 2015 were in this age group and less than 10 per cent were younger children.
More than 60 per cent of those who went missing returned or were found within 48 hours. Ninety-eight per cent were ultimately found, most alive.
The Verdict
The claim 40,000 Australian children "disappear" each year and are subjected to abuse is false.
In 2022 the figure was fewer than 30,000 and the majority returned safely soon after going missing.
The claim all missing children are abuse victims is also false, as there are myriad reasons why people go missing.
False — The claim is inaccurate.
AAP FactCheck is an accredited member of the International Fact-Checking Network. To keep up with our latest fact checks, follow us on Facebook, Twitter and Instagram.
All information, text and images included on the AAP Websites is for personal use only and may not be re-written, copied, re-sold or re-distributed, framed, linked, shared onto social media or otherwise used whether for compensation of any kind or not, unless you have the prior written permission of AAP. For more information, please refer to our standard terms and conditions.