The Statement
AAP FactCheck examined a link shared on Facebook on November 13, 2019 by Australian users featuring a purported offer of a free $75 Costco coupon in celebration of the company's anniversary.
The link by CONTOURCOUPON.WIN features an image of Costco Wholesale Voucher for $75 with text underneath which reads: "Costco has announced that everyone who shares this link will be sent a $75 Coupon for it's (sic) anniversary. TODAY ONLY".
The link, and a similar version, have been shared more than 170 times by users in Australia.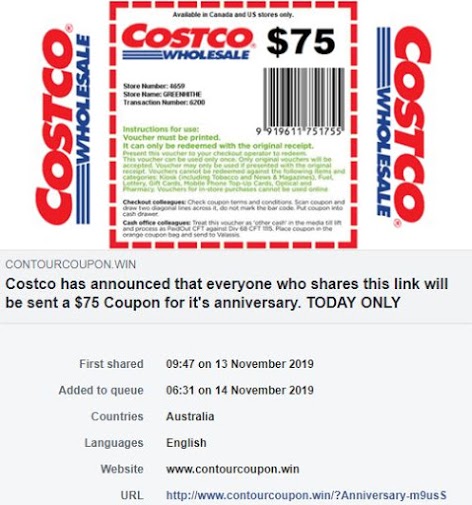 The Analysis
The initial Costco $75 coupon post began circulating on Facebook on November 12, according to a Business Insider Australia report.
The post urges Facebook users to share the link and they will receive a voucher in return.
In response Costco said on its Facebook page that the coupon offer was a scam. "Despite several posts out there, Costco is NOT giving away $75 coupons. While we love our fans and our members, this offer is a SCAM and in no way affiliated with Costco. Thanks to our fans for letting us know about this recurring hoax."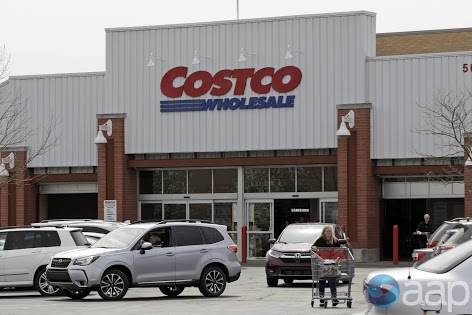 A Costco spokesperson told US media outlet ABC News that "Costco never sends coupon offers on social media". The company shares legitimate deals on its website and doesn't accept any coupons that are not issued by Costco, according to CNN Business. Evidence of this can be found on the wholesale retailer's Australian website under its coupons page.
The coupon post, which claimed to be only available in Canada and the US, was called out by Facebook groups in Australia. On November 13, the Costco Casula (Fan Page), in Sydney's southwest, posted the coupon image with the word 'Scam' written across it and warned: "If you see this, don't share it, it's a SCAM".
CNN Business and fact checker Snopes reported that Costco was the subject of a similar coupon ruse in November 2018 under the pretence it was the company's 50th anniversary.
Snopes explained that web pages such as the coupon offer "typically ask the unwary to click what appear to be Facebook "share" buttons and post comments to the scammer's site (which is really a ruse to dupe users into spreading the scam by sharing it with all of their Facebook friends)".
"Those who follow such instructions are then led into a set of pages prompting them to input a fair amount of personal information (including name, age, address, and phone numbers), complete a lengthy series of surveys, and finally sign up (and commit to paying) for at least two "Reward Offers" (e.g., Netflix subscriptions, credit report monitoring services, prepaid credit cards)."
The Verdict
Based on the evidence, AAP FactCheck found the Facebook post to be false. The Costco $75 voucher offer is not legitimate and has been described by the US wholesale company as a "scam".
False – The primary claims of the content are factually inaccurate.
First published November 14, 2019, 15:21 AEDT