Opposition Leader Peter Dutton has attacked Labor's immigration record, claiming 105,000 asylum seekers have entered Australia since Anthony Albanese's government was elected.
This is false. The 105,000 figure relates to the number of asylum seekers in Australia at the end of August 2023. Most were already in the country at the time of the May 2022 federal election.
The majority of asylum seekers currently residing in Australia arrived during the 2013-2022 coalition government.
Mr Dutton made the claim multiple times during an interview in Western Australia on October 4.
"Labor's presided over 105,000 asylum seekers over the course of the last 15 months – a record number in our country," he said.
"You've got 105,000 asylum seekers that have come in on (Albanese's) watch."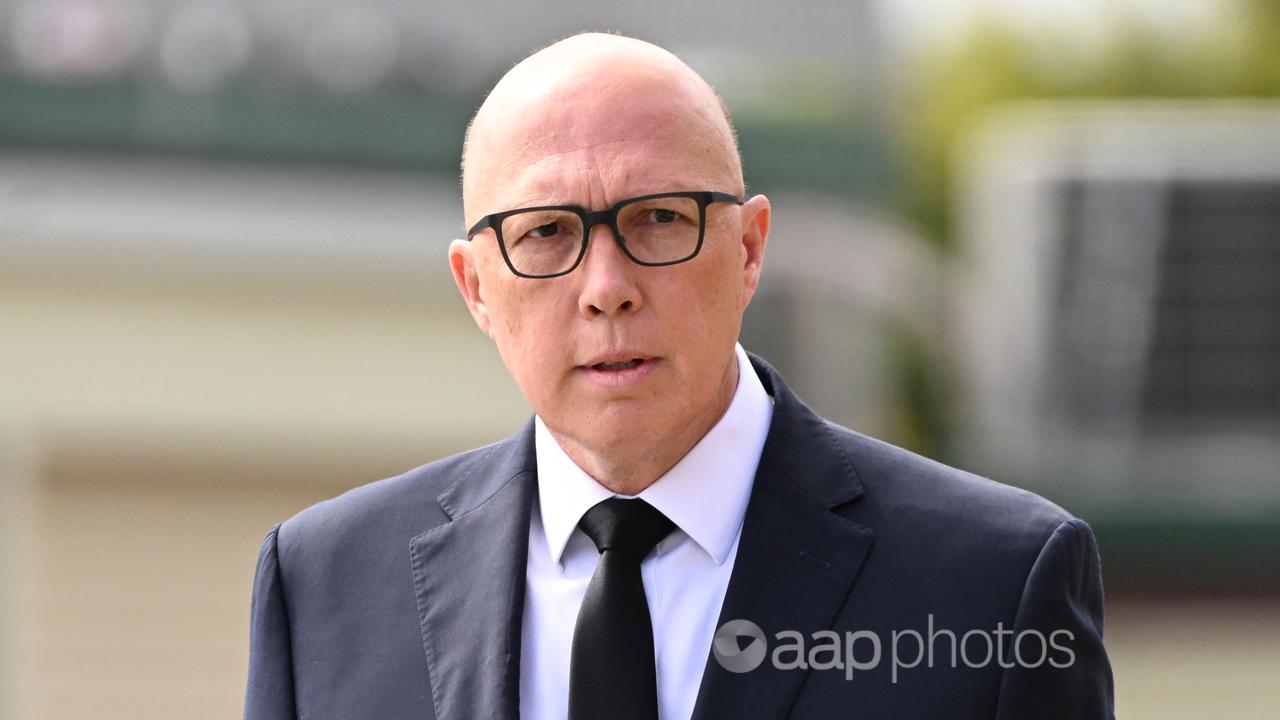 The opposition leader was answering questions on immigration following the release of the Nixon review, a Labor-commissioned inquiry into the alleged exploitation of Australia's visa system.
His comments about 105,000 asylum seekers coming to Australia under Labor were reported in the Sydney Morning Herald, Guardian Australia and the Australian Financial Review, though all three media outlets pointed out the inaccuracy of Mr Dutton's claim.
AAP FactCheck asked Mr Dutton's office for the basis of his claim but did not receive a response.
The Department of Home Affairs publishes detailed statistics on visa applications, immigration and asylum seeker claims.
The figure at the centre of the claim relates to applications for subclass 866 visas, otherwise known as permanent onshore protection visas.
The department describes the subclass 866 visa as being "for people who arrived in Australia on a valid visa and want to seek asylum".
The visa is only available to people already in Australia who cleared immigration when they first arrived.
Asylum seekers offered a subclass 866 visa can stay in Australia permanently as long as they meet other requirements, the department says.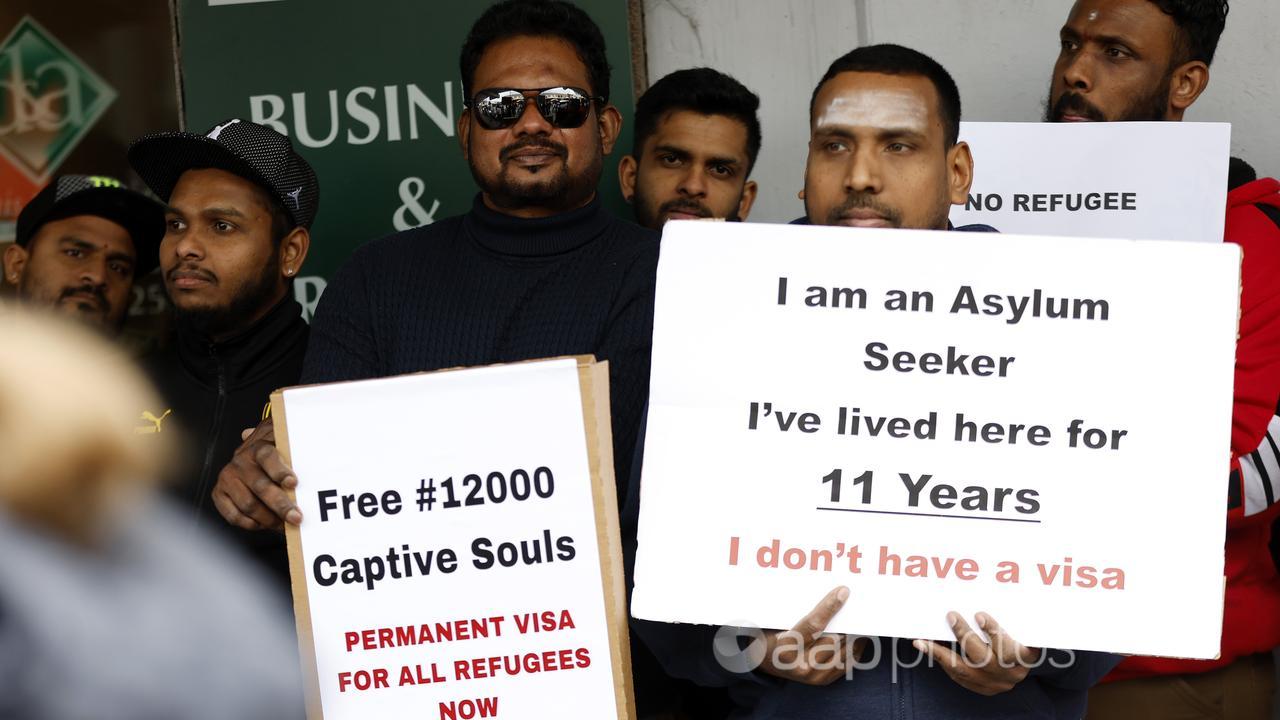 The Refugee Council of Australia says it takes an average of more than two years for an onshore protection visa application to reach an initial decision by the department.
Rejected applications can take 10 years or more to go through the full appeal and judicial review process, the council says.
Asylum can also be claimed by people who arrive by sea, which the department refers to as 'unauthorised maritime arrivals' (UMAs).
However, for the purposes of this fact-check, all figures refer only to subclass 866 onshore protection visas, which was the subject of Mr Dutton's claim.
The department publishes monthly statistics about subclass 866 visas as part of its humanitarian program dataset.
That data shows 29,246 people in Australia were waiting for a decision on their subclass 866 visa application in August 2023, the most recent figures available at the time of writing (page 4).
An additional 75,430 people had been refused a visa but remained in Australia and were "yet to be deported", the figures show (page 4).
Adding the two categories together makes a total of 104,676 asylum seekers either awaiting an outcome for their visa request or who already had their application refused.
By comparison, the data for May 2022, the month Labor was elected to government, shows 94,260 asylum seekers in Australia were either waiting for a visa decision or already had an application refused.
Therefore, the number of asylum seekers has increased by about 10,400 people under Labor, when compared to May 2022.
By those measures, it is clear Mr Dutton's claim is wrong as most asylum seekers were already in the country by the time Labor came to power.
However, Associate Professor Daniel Ghezelbash from UNSW Sydney's Kaldor Centre for International Refugee Law told AAP FactCheck it was not possible to say exactly when those asylum seekers entered the country.
"None of these people actually arrived as asylum seekers. All of them came through other visa pathways," Dr Ghezelbash said.
Dr Ghezelbash said because the visa was only open to people who had already passed through immigration, it was unusual for a protection claim to be lodged at an airport.
"It is far more likely they've spent time living in the community on another valid visa for some period of time. It can be anywhere from a few months to many years."
It was likely the vast majority of the 94,260 asylum seekers already in the country at the time of the May 2022 election entered Australia during the previous nine years of coalition government, Dr Ghezelbash said.
The data shows 23,882 new subclass 866 visa applications were lodged in the first 15 full months of the Labor government (June 2022 to August 2023 inclusive).
Therefore, 23,882 is the maximum possible number of current asylum seekers who entered Australia during that period.
However, it is impossible to say how many people who entered the country in the past 15 months will claim asylum at some point in the future.
AAP FactCheck's analysis of the data found an approval rate of around 13 per cent for subclass 866 visas.
This takes into account the total number of visa applications between September 2021 to August 2023 and the total number of approvals. However, it is not possible to determine whether the approvals relate to the visa applications for the same period.
New applications have averaged about 1300 each month over the same time period, though the quantity of monthly lodgements has increased significantly since the 2022 federal election.
Labor has responded to the Nixon review by pledging almost $160 million of additional resources to help speed up visa processing.
The Verdict
Peter Dutton's claim Labor has overseen 105,000 asylum seekers entering Australia is false.
The figure refers to the 104,676 asylum seekers in the country as of August 2023. It does not refer to newly arrived asylum seekers, as suggested by Mr Dutton.
Most of those 104,676 people were already in the country by the time Labor came to power in May 2022.
However, because onshore protection visas are only available to people who enter the country with a valid visa, it is impossible to say exactly how many asylum seekers came to Australia during any given period.
False - The claim is inaccurate.
AAP FactCheck is an accredited member of the International Fact-Checking Network. To keep up with our latest fact checks, follow us on Facebook, Twitter and Instagram.
All information, text and images included on the AAP Websites is for personal use only and may not be re-written, copied, re-sold or re-distributed, framed, linked, shared onto social media or otherwise used whether for compensation of any kind or not, unless you have the prior written permission of AAP. For more information, please refer to our standard terms and conditions.