Social media videos of explosions following a road crash claim to show what happens when two electric vehicles (EVs) collide.
This is false. A full video of the incident reveals the blasts are gas cylinders exploding following a truck crash in Russia more than a decade ago.
Several Facebook posts feature a one-minute clip of a series of fiery explosions following the crash, such as here. The post also states: "They want us to drive EVs, what happens when two collide."
The video appears to be mobile phone footage from a nearby motorist.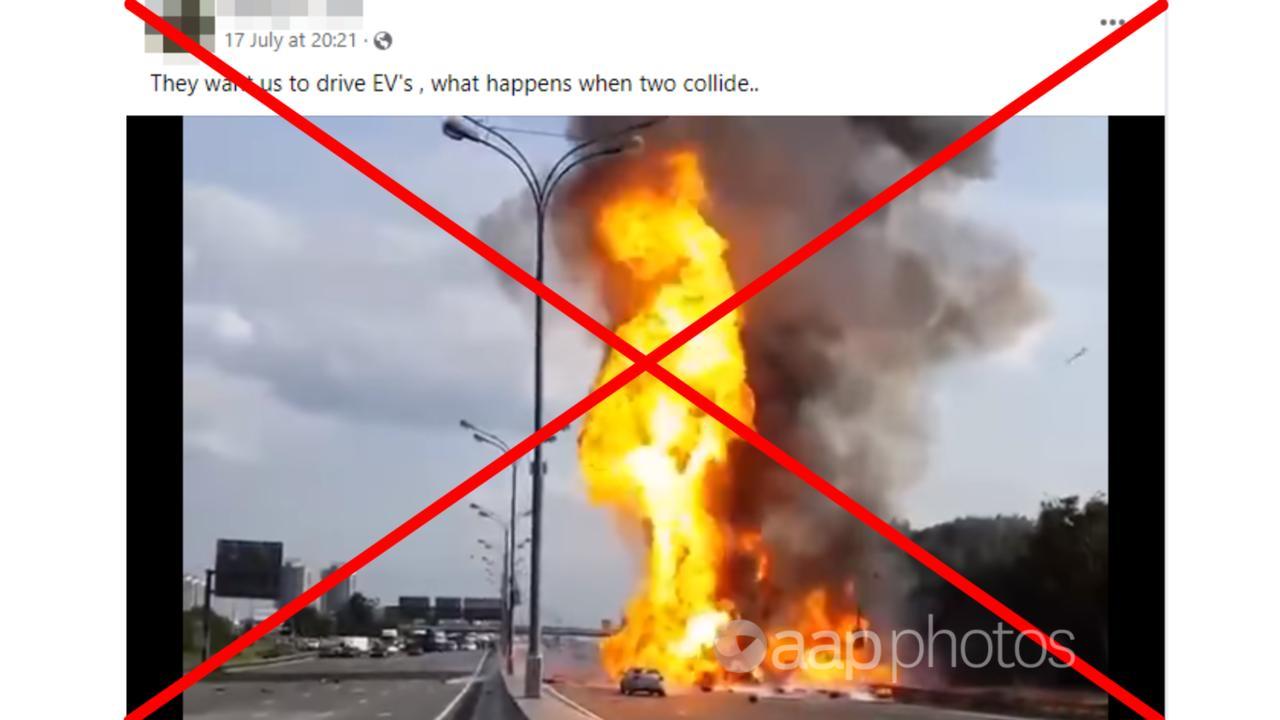 Other versions of the post – see here, here, here and here – also claim it shows the aftermath of two EVs colliding, with messages such as: "Makes a fossil fuel car seem exceptionally tame by comparison."
This isn't the first time misinformation about EVs and battery fires has been used to cast the vehicles in a poor light compared to conventional petrol vehicles.
AAP FactCheck has debunked similar claims here, here and here.
The latest claim is easily debunked by referencing longer videos of the incident and news stories about the crash.
A longer version (7mins 46sec) of the video posted to YouTube clearly shows a truck at the centre of the blaze, before the explosions begin and flames engulf the vehicle.
This video, which appears to be dashcam footage shot by a different motorist, shows the lead-up to the crash, the collision itself and the aftermath.
It also shows the date of the incident: July 13, 2013.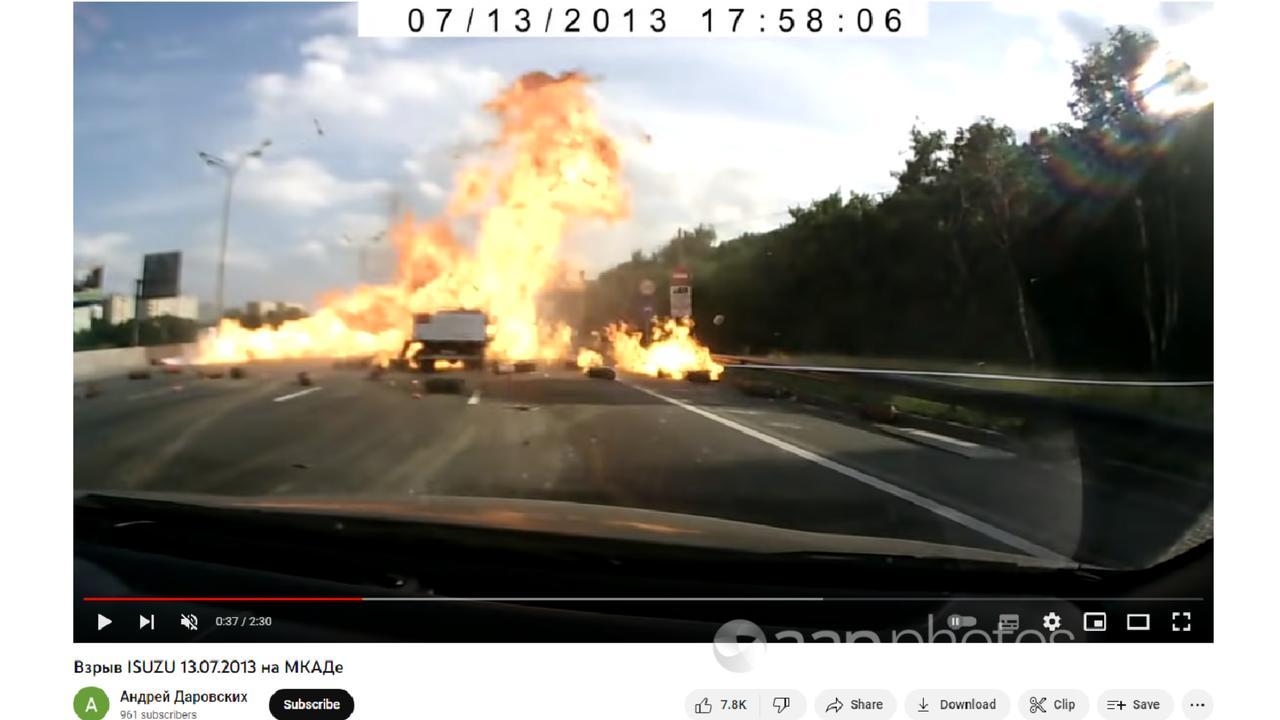 A truck, loaded with gas cylinders, is seen speeding past at the 24-second mark.
Seconds later, the truck hits a silver mini-bus and another truck and an explosion occurs immediately.
Garet Estensen, a London-based safety consultant who posted a compilation of the videos to YouTube, told AAP FactCheck it shows the aftermath of a crash involving a heavy goods vehicle (HVG) carrying liquefied petroleum gas (LPG) canisters.
He was shocked anyone could think it involved electric vehicles.
"This is (a) training video on LPG to demonstrate how these cylinders react in a fire," Mr Estensen said.
"The vehicle is a HGV carrying LPG cylinders – that is quite easy to see.
"Why someone would even think it's an electric car exploding absolutely beggars belief!"
News reports from the time, such as here, here and here, say the explosion occurred on the Moscow Ring Road and involved an Isuzu truck carrying 119 gas cylinders, which continued to explode for about an hour.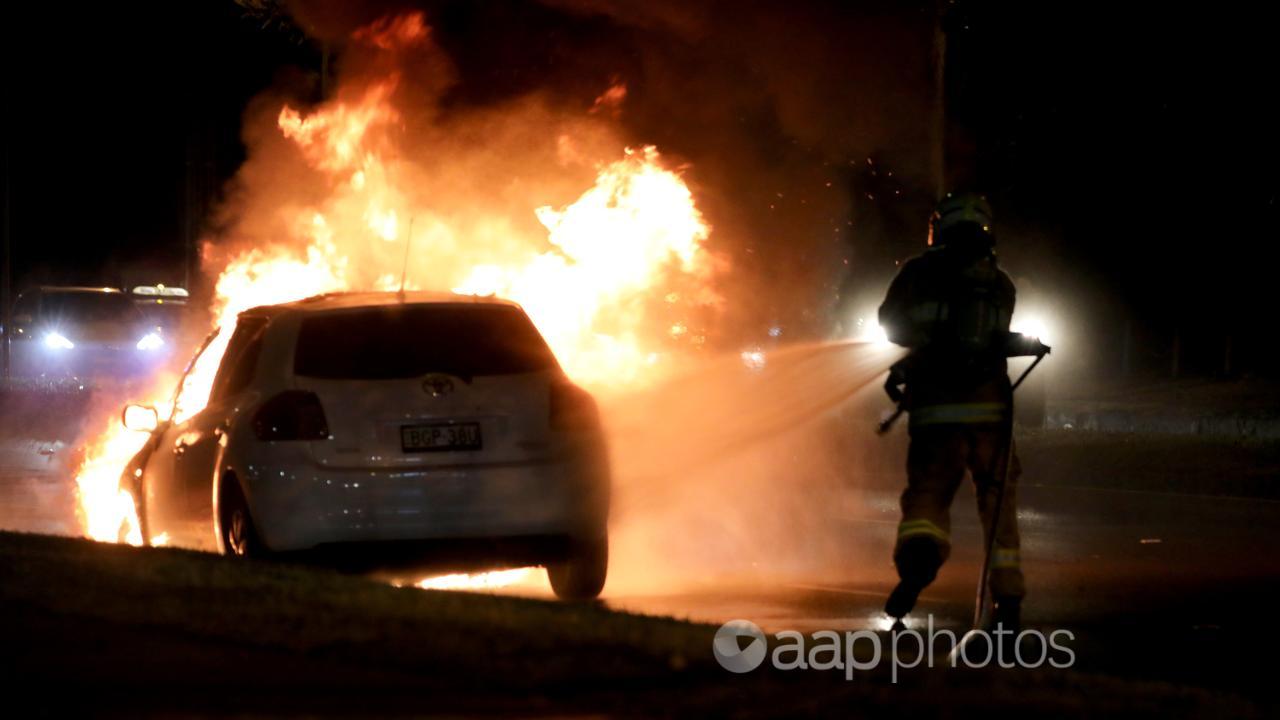 While the video doesn't involve electric vehicles, firefighters say EV fires can be problematic to contain due to their battery components.
United Firefighters Union of Australia secretary Greg McConville told AAP FactCheck it was difficult to say whether an EV collision could cause the types of explosions seen in the video.
"While the accident portrayed in the video is not an example of it, when the integrity of lithium batteries is compromised, the energy they store is released as heat, known as 'thermal runaway'," he said.
"This can cause fires which are extremely difficult to extinguish while releasing an extraordinary array of deadly toxic gases.
"A typical car fire would require less than 1400 litres of water to extinguish, but an EV battery fire in an electric vehicle may require between 2000 and 30,000 litres of water."
The Verdict
The claim a Facebook video shows the explosive aftermath of two electric vehicles colliding is false.
Videos showing more of the incident clearly reveal the crash involved a truck carrying gas cylinders, which are the cause of the explosions.
A firefighting expert also told AAP FactCheck the incident does not show an EV battery fire.
False — The claim is inaccurate.
AAP FactCheck is an accredited member of the International Fact-Checking Network. To keep up with our latest fact checks, follow us on Facebook, Twitter and Instagram.
All information, text and images included on the AAP Websites is for personal use only and may not be re-written, copied, re-sold or re-distributed, framed, linked, shared onto social media or otherwise used whether for compensation of any kind or not, unless you have the prior written permission of AAP. For more information, please refer to our standard terms and conditions.