Social media users are posting a photo they claim shows Victorian Premier Daniel Andrews in a nightclub with notorious Melbourne underworld figures Carl Williams and Andrew 'Benji' Veniamin in 1994.
The photo is fake. The image (screenshot here) has been digitally edited from a photo of a Gold Coast nightclub beauty contest in 1990. The original photo did not feature either Mr Andrews or Williams and Veniamin.
The fake image includes a caption suggesting it was published in September 1994 by Truth newspaper, an Australian tabloid no longer in circulation. However, Truth ceased publication in February 1994, seven months before the image was purportedly published.
The photoshopped image has been shared on social media since 2020, including here, here, here, here and here.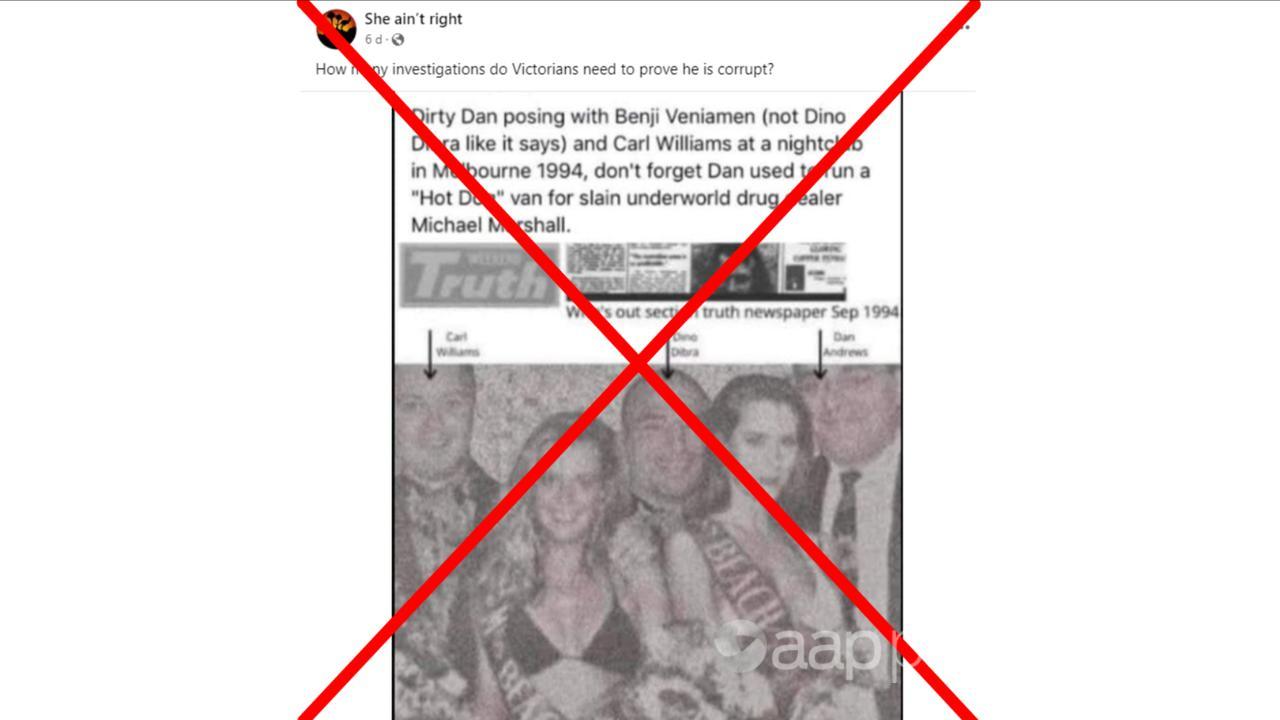 On January 4, 2023, the image was re-posted to a Facebook page with the caption: "How many investigations do Victorians need to prove he is corrupt?"
The fake image purports to show Williams, Veniamin and Mr Andrews posing with two women in bikinis.
Williams was a high-profile Melbourne gangster in the 1990s and early 2000s whose exploits became the subject of the original Underbelly TV series. He was sentenced to life imprisonment in 2007 for murder and was killed by a fellow inmate at Barwon Prison in 2010.
Veniamin, a close ally of Williams, was fatally shot in the backroom of a Melbourne pizza restaurant in 2004.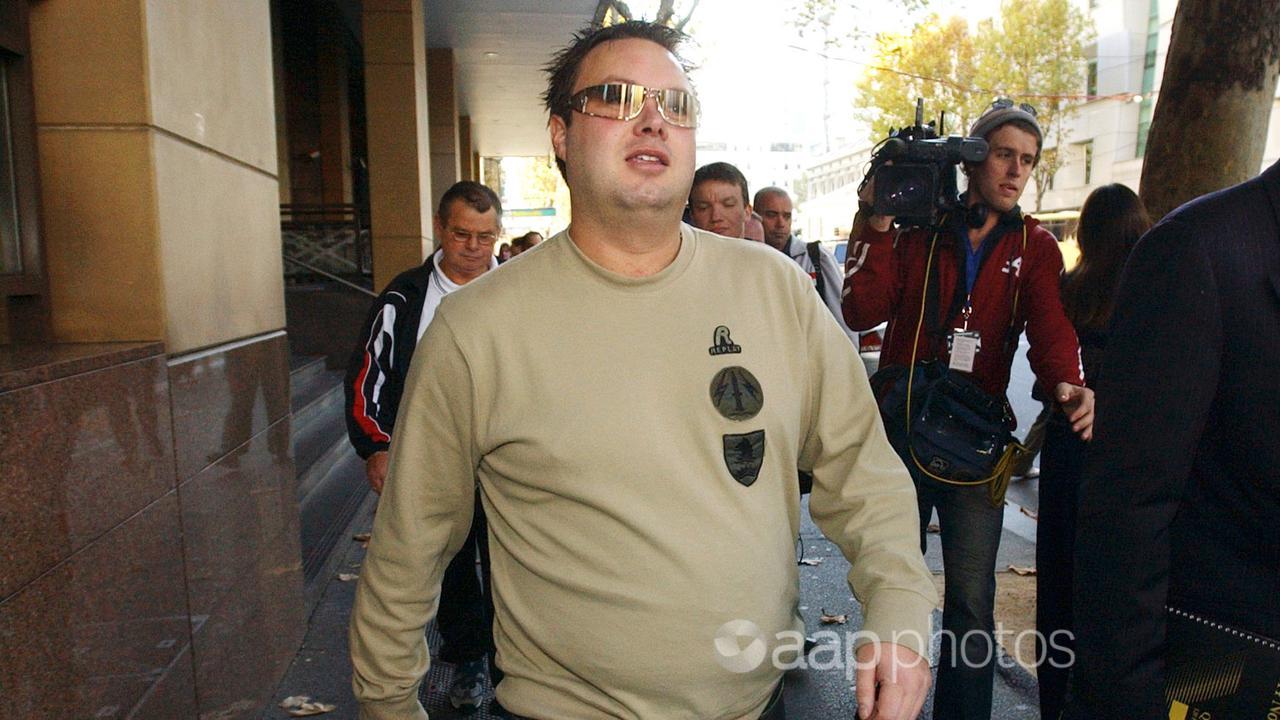 The original photo on which the manipulated image is based can be seen in this June 2020 ABC News article which explored the Gold Coast's evolving nightlife scene.
It was taken in 1990 at a Surfers Paradise nightclub called Beach Road, according to Gold Coast resident Barry O'Callaghan, who told AAP FactCheck he took the photograph.
In a phone call with AAP FactCheck, Mr O'Callaghan said he worked at the time for the Gold Coast Sun, a local newspaper no longer in production, and regularly supplied it with images of the coast's thriving nightlife.
The creator of the fake image appears to have digitally added Mr Andrews' face using this photo from 1994, posted to the premier's Facebook account in 2019.
Veniamin appears to have been added to the image by cropping his head from this photo of him and Williams, published in a Herald Sun article in 2019.
In February 2021, Mr O'Callaghan warned social media users about the fake image after seeing it circulating on Facebook.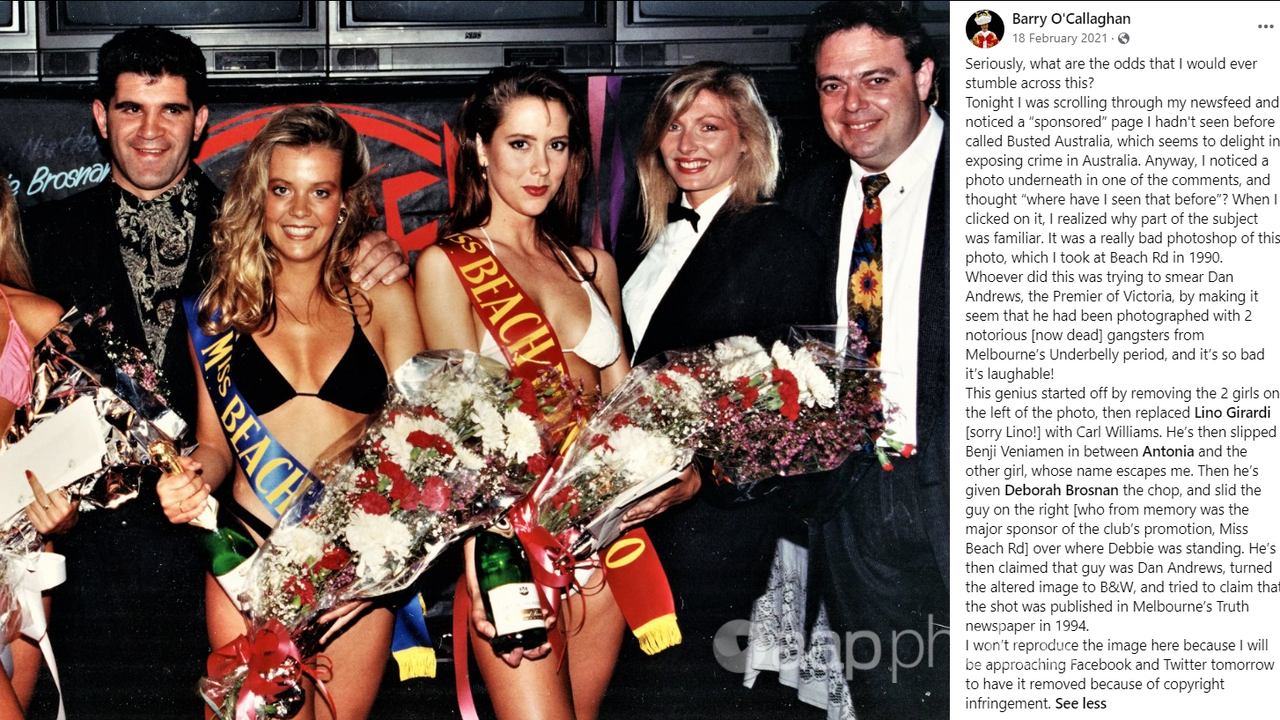 In a post on the History of Gold Coast Nightlife Facebook page, Mr O'Callaghan said: "Whoever did this was trying to smear Dan Andrews, the Premier of Victoria, by making it seem that he had been photographed with 2 notorious [now dead] gangsters … turned the altered image to B&W, and tried to claim that the shot was published in Melbourne's Truth newspaper in 1994."
In addition to the image being photoshopped, it could never have appeared in the September 1994 edition of Truth newspaper because that issue does not exist.
The "souvenir last issue" of Truth – not available online but held on microfilm at Victoria's state library and viewed by AAP FactCheck – was dated February 19, 1994.
Mr Andrews is a popular target for conspiracy theories and misinformation, with AAP FactCheck debunking numerous claims made about him – as seen here, here, here, here, here, here and here.
The Verdict
An image purporting to show Victorian Premier Daniel Andrews with gangland figures Carl Williams and Benji Veniamin has been faked by digitally altering a genuine photo taken at a Gold Coast nightclub in 1990. Neither Mr Andrews nor the two Melbourne underworld figures appeared in the original photo.
Additionally, the photo was purportedly published in a September 1994 edition of Truth newspaper, but the tabloid ceased publication in February 1994.
False – The claim is inaccurate.
* AAP FactCheck is an accredited member of the International Fact-Checking Network. To keep up with our latest fact checks, follow us on Facebook, Twitter and Instagram.
All information, text and images included on the AAP Websites is for personal use only and may not be re-written, copied, re-sold or re-distributed, framed, linked, shared onto social media or otherwise used whether for compensation of any kind or not, unless you have the prior written permission of AAP. For more information, please refer to our standard terms and conditions.