A Facebook video purports to show Israel's ground invasion in Gaza, including a raid on a mosque.
This is false. The footage is actually from the Iraq War almost 20 years ago.
The video (screenshot here), posted on November 7, is titled and captioned "israel vs palestine war updates live Israel Vs Gaza" and claims to be "Recorded live".
The content of the video is an eight-hour loop of about seven minutes of war footage.
The main clip, showing soldiers raiding a mosque with a prominent golden dome and minarets, is spliced between shorter montages of Middle East war footage.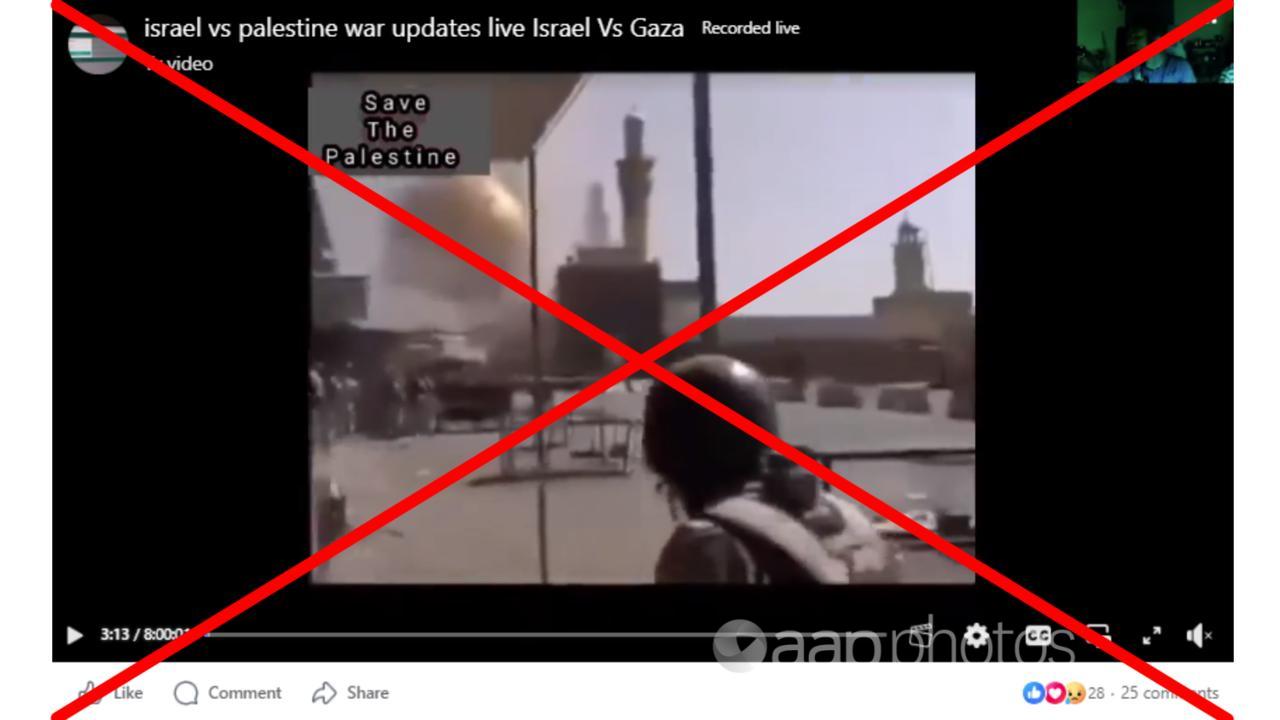 At multiple points in the video, soldiers can be heard speaking English with American accents.
A reverse image search of the video reveals the scene is not from Gaza or Israel.
It is from a raid of the Al-Askari Shrine during the Battle of Samarra in 2004.
The correctly labelled footage was posted on YouTube in 2020.
The offensive on Samarra, north of Baghdad, was waged by US and Iraqi government forces against Ba'ath Party militants, who took the city following the capture of their leader and former Iraqi dictator Saddam Hussein.
The Al-Askari Shrine – sometimes called the Golden Mosque – is known for its distinct golden dome, which can be seen at several points in the video.
The shrine is one of the most important Shi'ite holy sites. Due to its religious significance, the raid was led by Iraqi forces.
The footage has previously been falsely claimed to show an Israel Defence Forces raid on the Al-Aqsa Mosque in Jerusalem.
AAP FactCheck has debunked similar claims presenting unrelated footage as being part of the conflict in the Middle East, as seen here and here.
The Verdict
The claim a Facebook video shows Israel's ground offensive in Gaza, including a raid on a mosque, is false.
The footage is from the Iraq War, primarily of a raid on the Al-Askari Shrine in 2004.
False – The claim is inaccurate.
AAP FactCheck is an accredited member of the International Fact-Checking Network. To keep up with our latest fact checks, follow us on Facebook, Twitter and Instagram.
All information, text and images included on the AAP Websites is for personal use only and may not be re-written, copied, re-sold or re-distributed, framed, linked, shared onto social media or otherwise used whether for compensation of any kind or not, unless you have the prior written permission of AAP. For more information, please refer to our standard terms and conditions.