The Statement
AAP FactCheck examined a Facebook post from October 14, 2019 by an Australian user which purports to show two pictures of one end of the Great Wall of China taken 80 years apart.
The top picture is labelled "80 years ago" and the bottom image is titled "Today" with text that reads, "Those rising sea levels though" and features an eye roll emoji.
The post has generated more than 460 shares and more than 60 reactions and 10 comments.
The Analysis
The photos in the Facebook post are of the Old Dragon Head (Laolongtou in Chinese), a section of the Great Wall of China. This section at Qinhuangdao is considered to be the start of the wall – where it meets the sea about 300 kilometres east of Beijing – and is named for its resemblance to a dragon's head drinking from the ocean.
AAP FactCheck was unable to find the source of the original meme, but it was posted on October 21, 2019 to a reddit thread titled, The Right Can't Meme, where the poster mocked it, writing, "Tide comes in, tide goes out, can't explain that".
AAP FactCheck traced the top image back to a Flickr post from September 15, 2008, which is confirmed by the photo's metadata.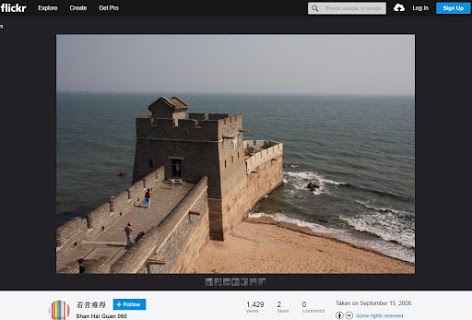 The photo, which was originally posted in colour, has appeared on a number of travel blog websites, magazine sites and social media since 2008.
One Facebook user commented that the top picture was a "greyscale" version of the colour image and with the words "80 years ago". Greyscale is a monochrome filter that can be applied to photos.
The bottom photo can be traced back to at least 2011, when it was posted on a Chinese travel blog site.
The Verdict
The post appears to question rising sea levels. Based on the evidence, AAP FactCheck found the top image was taken in 2008 not "80 years ago" as captioned in the Facebook post. The bottom photo can be traced back to at least 2011.
False – The primary claim of the content is factually inaccurate.
Updated March 1, 2021 12:28 AEDT: Removes erroneous reference to Atlas Obscura website
First published October 22, 2019, 15:01 AEST