The Statement
AAP FactCheck examined a Facebook post from May 14, 2019 by an Australian user that features an image of a person in a protective suit on a cherry picker next to a mobile phone tower with a palm tree in the background.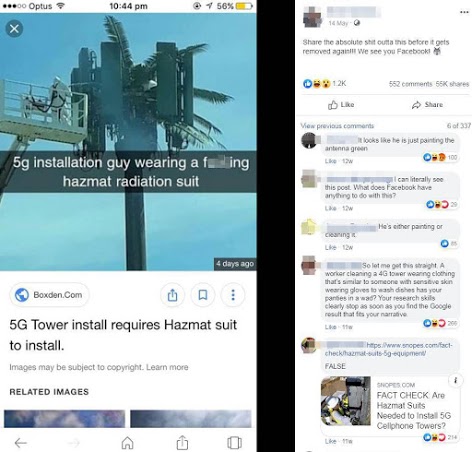 The image features a caption which reads: "5g installation guy wearing a f***ing hazmat radiation suit". Lower down on the image is a story headline which says: "5G Tower install requires Hazmat suit to install."
The post's caption reads: "Share the absolute s*** outta this before it gets removed again!!! We see you Facebook!"
The post has been shared more than 55,000 times and has attracted more than 1200 reactions and 550 comments.
The Analysis
The next wave of broadband technology is coming to Australia via the 5G network. The term 5G means "fifth generation" mobile network and it is expected "to offer about 10 times the bandwidth of the current 4G networks", according to consumer comparison and research website Canstar.
The new network will also allow more devices to connect at the same time and meet the large growth in data, Canstar reported in June 2019.
Major telcos such as Telstra, Optus and Vodafone are involved in the rollout, however there have been questions raised regarding health risks posed by 5G. These include linking 5G radiation to brain cancer, infertility, autism, heart tumours and Alzheimer's disease, according to media reports.
AAP FactCheck examined the Facebook post purporting to show a person wearing a "hazmat radiation suit" installing a 5G facility.
Dr Ken Karapidis, a spokesman for the Australian Radiation Protection and Nuclear Safety Agency (ARPANSA), the nation's primary authority on radiation protection and nuclear safety, told AAP FactCheck 5G installation workers are not required to wear hazmat radiation suits in Australia.
"Mobile phone facilities are normally powered down or turned off when telecommunications workers are working on them to ensure exposure is kept below the safety limit," he said. "The rollout of 5G will not cause harm to workers or members of the public as all exposure will be kept below the limit required under the safety standard. No special suit is required to be worn by the workers."
Dr Karapidis also rejected the assertion that the person in the image was a "5G installation guy".
"The mobile phone facility in the picture is not a 5G facility and the worker seems to be cleaning it, which is probably the reason why the worker is wearing a suit (i.e. to avoid getting wet)," he told AAP FactCheck via email.
An Optus spokesperson told AAP FactCheck that 5G mobile tower's maximum radiation levels for the general public's exposure were "typically three to five per cent of the safe levels set by ARPANSA".
The spokesperson said the industry relied independent scientific organisations like the World Health Organization, as well as Australian regulators the Australian Communications and Media Authority and ARPANSA, to establish rules regarding the safety of mobile transmissions.
"Electromagnetic energy levels must comply with strict independent regulations. We regularly report and are subject to independent testing," the spokesperson told AAP FactCheck.
If ACMA finds that a carrier has failed to meet their licence conditions, they could be subject to court proceedings and face significant penalties, the spokesperson said.
A Telstra spokesman told AAP FactCheck that WHO and ARPANSA advised the company there was no "substantiated scientific evidence that radio frequency technologies that operate within national and international safety standards cause health effects".
He said 5G wireless networks are designed to be very efficient and require low levels of network and device power, which means low levels of electromagnetic emissions (EME) on 5G.
The spokesman said Telstra had conducted extensive EME testing on the 5G network and found the levels to be similar to 3G, 4G and wi-fi and well below the EME safety limits.
"We take our responsibilities regarding the health and safety of our customers and the community very seriously," he told AAP FactCheck. "We know some people are genuinely concerned about the possible health effects from EME and we are committed to addressing those concerns responsibly."
Telstra's spokesman also agreed with ARPANSA's Dr Karapidis that the worker in the image appeared to be using a pressure washer and wearing a disposable coverall suit. This was supported by Scott Krouse, the director of US-based National Association of Tower Erector's Wireless Industry Network (NATE WIN) in a report by US fact checking unit Snopes from May, 2019.
Snopes reported the likely origin of the image was from a post (scroll to third image) on the Instagram page "theorgonizedearth" on May 6, 2019 .
Mr Krouse also told Snopes that behind the mobile tower appeared to be a monopole or "monopalm" that was "disguised to look like a palm tree". Nello, a US-based engineer and designer of monopalms, say they are "designed to blend into the surrounding landscape" and wireless carriers use them due to difficulty in urban areas with securing zoning approvals.
The Verdict
Based on the evidence, AAP FactCheck found the Facebook post to be false. The post's assertion that a purported 5G installation worker would need to wear hazmat radiation suits was not true, according to the Australian Radiation Protection and Nuclear Safety Agency.
False – The primary claim of the content is factually inaccurate.
* AAP FactCheck is accredited by the Poynter Institute's International Fact-Checking Network, which promotes best practice through a stringent and transparent Code of Principles. https://aap.com.au/