A Facebook post questioning the first nation status of New Zealand's Maori people does so by pointing to the claimed presence of 5000-year-old Egyptian hieroglyphs in Australia.
The post claims that "if this has happened in Australia there's no reason not to believe that there were inhabitants in NZ long before the Maori."
But experts in Egyptology, archaeology and history have debunked the Australian hieroglyphs as fake, saying they were produced by "a person or persons with no Egyptological training".
The October 4 Facebook post (screenshot here) links to an article on the Mysteries Unsolved website about the supposedly 5000-year-old Egyptian hieroglyphs in the Brisbane Water National Park near Gosford on the NSW Central Coast.
"Did ancient Egyptians explore and settle in Australia thousands of years before Captain Cook?" the article says, adding that "their existence clearly shows that once upon a time there was a culture that possessed detailed knowledge of Egyptian Hieroglyphs – and may have even spoken the Egyptian tongue – that thrived here long before European settlers arrived in New South Wales, Queensland and Western Australia".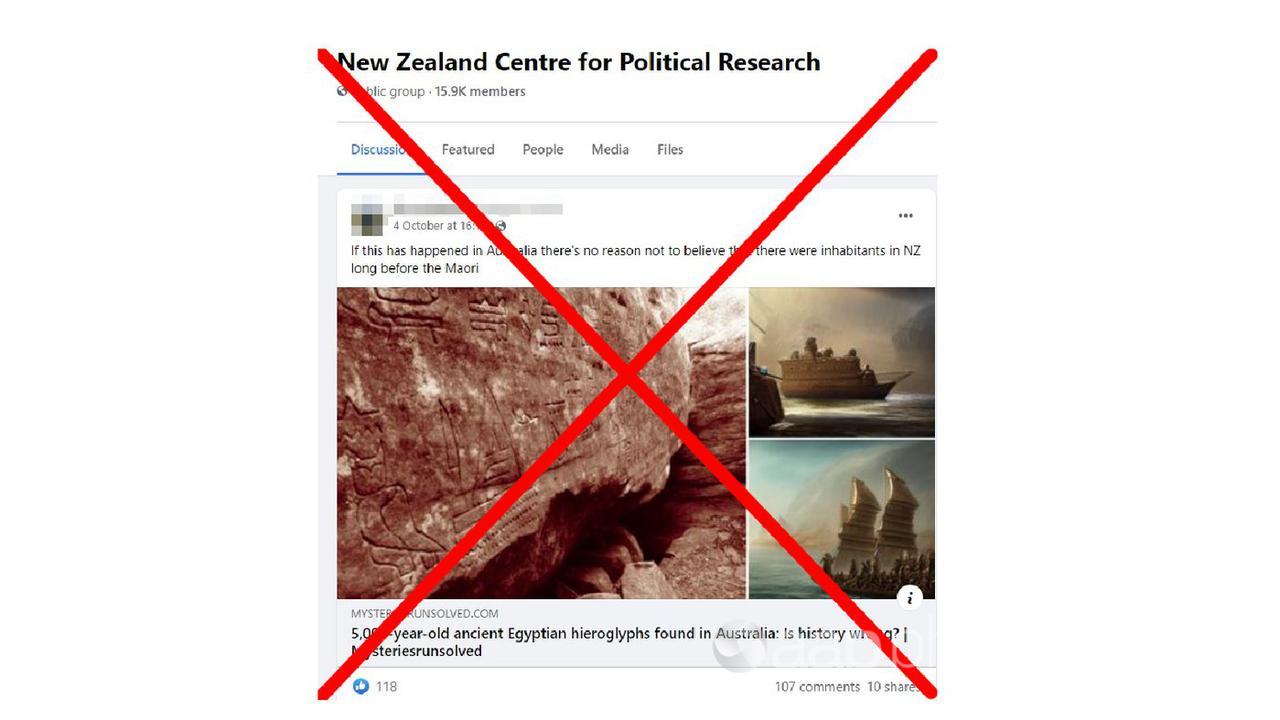 But the hieroglyphs have been dismissed as a hoax as far back as 2010, in the book Encyclopedia of Dubious Archaeology: From Atlantis to the Walam Olum. On pages 119-121, author Kenneth L. Feder spells out why the archaeological fraud at Gosford is a transparent fake and poorly done.
He says they were first noticed in 1975 by a local surveyor, Alan Dash, who had been visiting the region since 1968 but had never seen them before.
"Dash further reports that, after his first encounter with the hieroglyphs in 1975, for the next five years, each time he visited the area new glyphs had appeared," Feder writes.
"During a visit in 1984, Dash actually discovered the culprit (or perhaps he was one of several) inscribing hieroglyphs into the rock face. Though within the boundaries of an Australian national park and blatantly illegal, the perpetrator was not arrested, as he appeared to be mentally ill."
Feder adds: "Then there are the entirely un-Egyptian hieroglyphic carvings that include bells, a dog's bone and, it pains me to report, what look suspiciously like flying saucers" (page 121).
The glyphs were also declared fake in this 2012 ABC News report featuring Macquarie University's renowned Egyptologist Associate Professor Boyo Ockinga. The report notes there are now almost 300 engravings on two sandstone walls.
Dr Ockinga told the ABC the engravings were likely made in the 1920s, during widespread interest in ancient Egypt following the discovery of the tomb of Tutankhamun in 1922.
In 2021, the Australian Geographic also declared the glyphs fake and noted that despite overwhelming evidence of an elaborate hoax, the site continued to attract curious visitors.
Dr Camilla Di Biase-Dyson, a lecturer in Egyptology at Macquarie University, has used photos of the Gosford hieroglyphs to teach her first-year students how to spot fakes.
She said a single semester of training in Egyptian hieroglyphs was sufficient to spot fakes, such as those at Gosford, with speed and accuracy.
"Even before getting to the hieroglyphs themselves, the condition of the rock shows that the inscriptions are quite fresh, they are not covered by much lichen," Dr Di Biase-Dyson told AAP FactCheck in an email. "They are thus not very old."
She added: "The orientation of the hieroglyphs is unpredictable and unsymmetrical, unheard of in real Egyptian texts. The sizing and placement of the hieroglyphs is likewise quite haphazard, also not usual in originals.
"Real Egyptian signs are executed without skill or finesse and can be hard to recognise.
"There are a number of pseudo-signs. This is thus without a doubt a fake, which is moreover produced by a person or persons with no Egyptological training."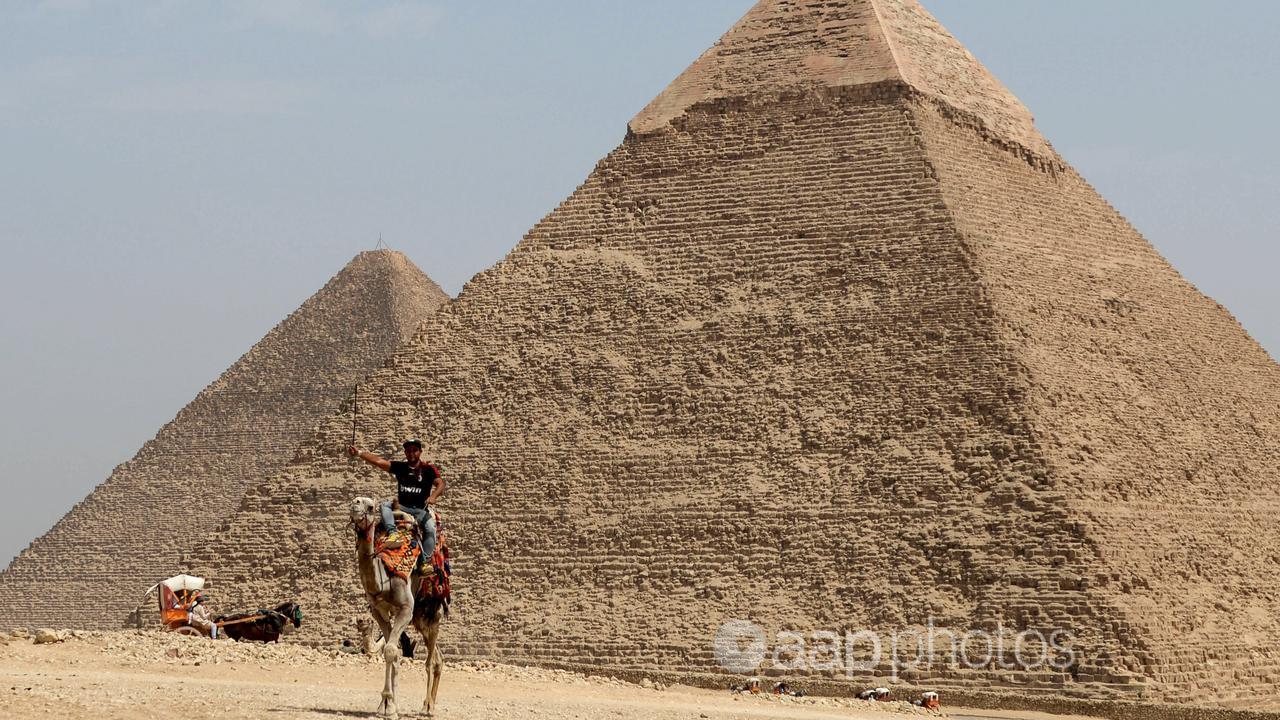 Dr Ockinga reaffirmed his 2012 comments, telling AAP FactCheck in an email: "I haven't changed my mind regarding their origin.
"They are not ancient Egyptian. They don't make any sense but are a random selection of signs and words. As I mentioned before, they combine the name of Khufu, a pharaoh of the 4th Dynasty ca 2500 BCE, with hieroglyphic signs that aren't in use until the Ptolemaic era, some 2200 years later. Expedition inscriptions from ancient Egypt are well attested and the Gosford hieroglyphs are nothing like these.
"Apart from the very serious problems with the inscriptions themselves, if ancient Egyptians had somehow managed to reach Australia, they are far more likely to have landed in Western Australia, not in the east. One would also expect them on the coast somewhere, not where they are, far from the coast. It is all far too implausible."
The Verdict
The claim that Australia is home to 5000-year-old Egyptian hieroglyphs is false. Experts in Egyptology and archaeology say the purported hieroglyphs near Gosford are fake. The experts also confirmed to AAP FactCheck they do not support a theory that Egyptians explored the east coast of Australia 5000 years ago.
False – The claim is inaccurate.
* AAP FactCheck is an accredited member of the International Fact-Checking Network. To keep up with our latest fact checks, follow us on Facebook, Twitter and Instagram.
All information, text and images included on the AAP Websites is for personal use only and may not be re-written, copied, re-sold or re-distributed, framed, linked, shared onto social media or otherwise used whether for compensation of any kind or not, unless you have the prior written permission of AAP. For more information, please refer to our standard terms and conditions.