A leaflet circulating on Facebook claims the UK government will pay compensation to any citizen whose health has declined since receiving a COVID vaccine if they were not made fully aware of the health risks.
The claim is false and the leaflet is fake. It uses a stock image and UK government logos to spread misinformation.
A scheme does exist in the UK to give people rendered disabled as a result of vaccination against almost 20 diseases a payment of 120,000 British pounds (about $226,500 or $NZ245,000).
However, the UK government says it is not a compensation program for COVID vaccines and the leaflet is not an official document.
An image of the leaflet (archived here) was shared by a New Zealand Facebook user in May 2023, with accompanying text: "Time for the same to happen in NZ."
AAP FactCheck also found other posts specifically targetting New Zealand Facebook users, example here.
The leaflet shows a man gripping his chest during an apparent heart attack. Reverse image searches show it has been taken from a freely available stock photo.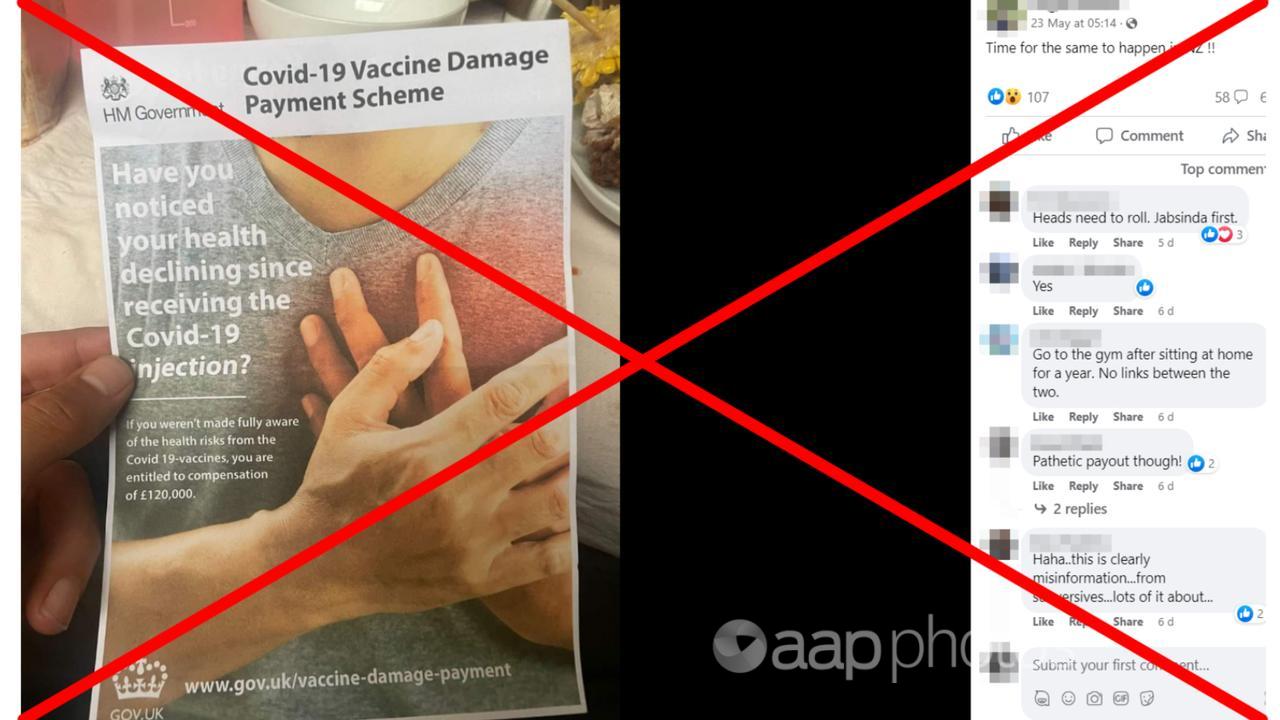 It has the official "HM Government" logos of the UK government at the top and bottom, and is headed "Covid-19 Vaccine Damage Payment Scheme".
Text on the leaflet states: "Have you noticed your health declining since receiving the Covid-19 injection? If you weren't made fully aware of the health risks from the Covid-19 vaccines, you are entitled to compensation of £120,000."
The web address at the bottom – www.gov.uk/vaccine-damage-payment – is an overview of the UK's Vaccine Damage Payment Scheme, which does not specifically mention COVID-19.
The website states: "If you're severely disabled as a result of a vaccination against certain diseases, you could get a one-off tax-free payment of £120,000. This is called a Vaccine Damage Payment."
Severe disability is defined as being at least 60 per cent disabled.
The overview also states the payment is not a compensation scheme, which means claimants can still take legal action to claim compensation even if they get a payment.
The UK Department of Health and Social Care says the leaflet is fake.
"No that's not a real government advert," a department representative told AAP FactCheck.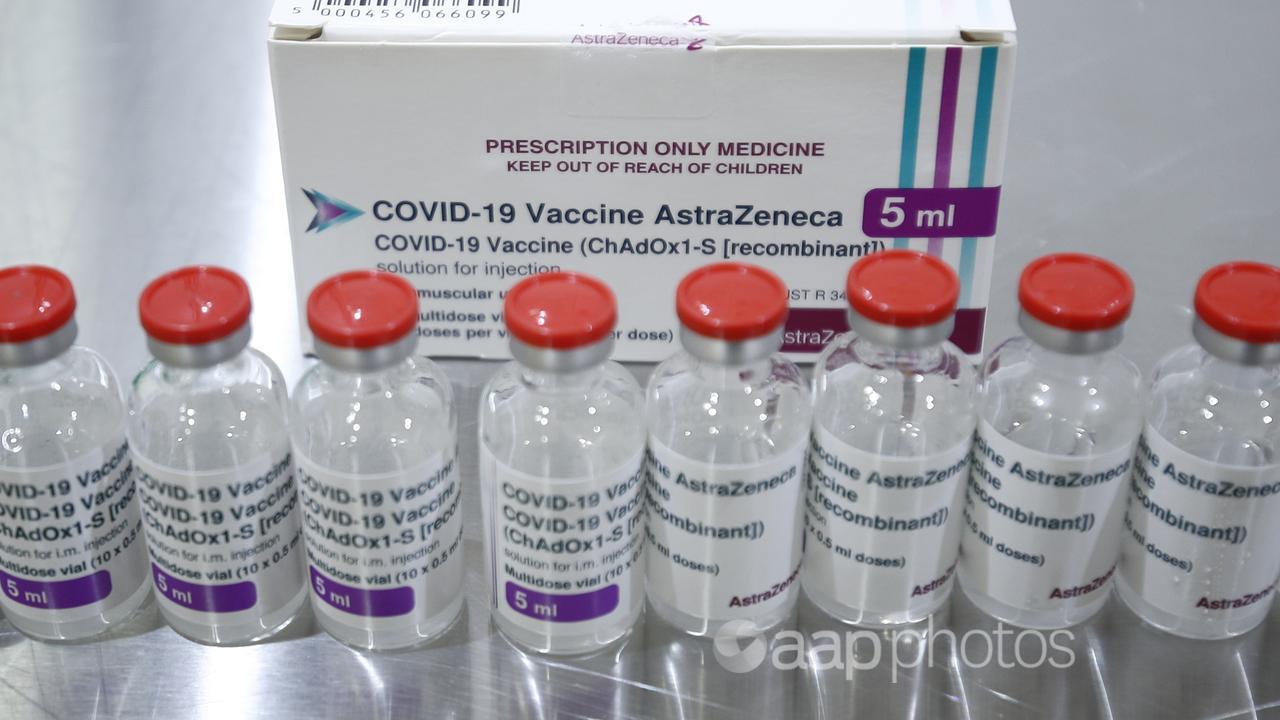 Vaccines related to around 20 diseases, including COVID, are included in the actual government scheme.
Nowhere in the government information does it say the payment is compensation or for people not informed of the COVID-19 vaccines' health risks.
A representative from the UK's National Health Service Business Services Authority, which holds the data on the scheme's payouts, told AAP FactCheck 4914 claims related to COVID had been received.
Of those, 78 claimants had been notified they were entitled to a payment. They could not provide figures on the total number of claims relating to all vaccines.
There is no equivalent scheme in New Zealand, but the Accident Compensation Corporation handles COVID vaccine injury claims. Data related to claims is publicly available.
The data covers claims lodged between February 2021, when NZ began COVID vaccinations, and August 2022. It relates to the Pfizer-BioNTech, AstraZeneca and Novavax vaccines.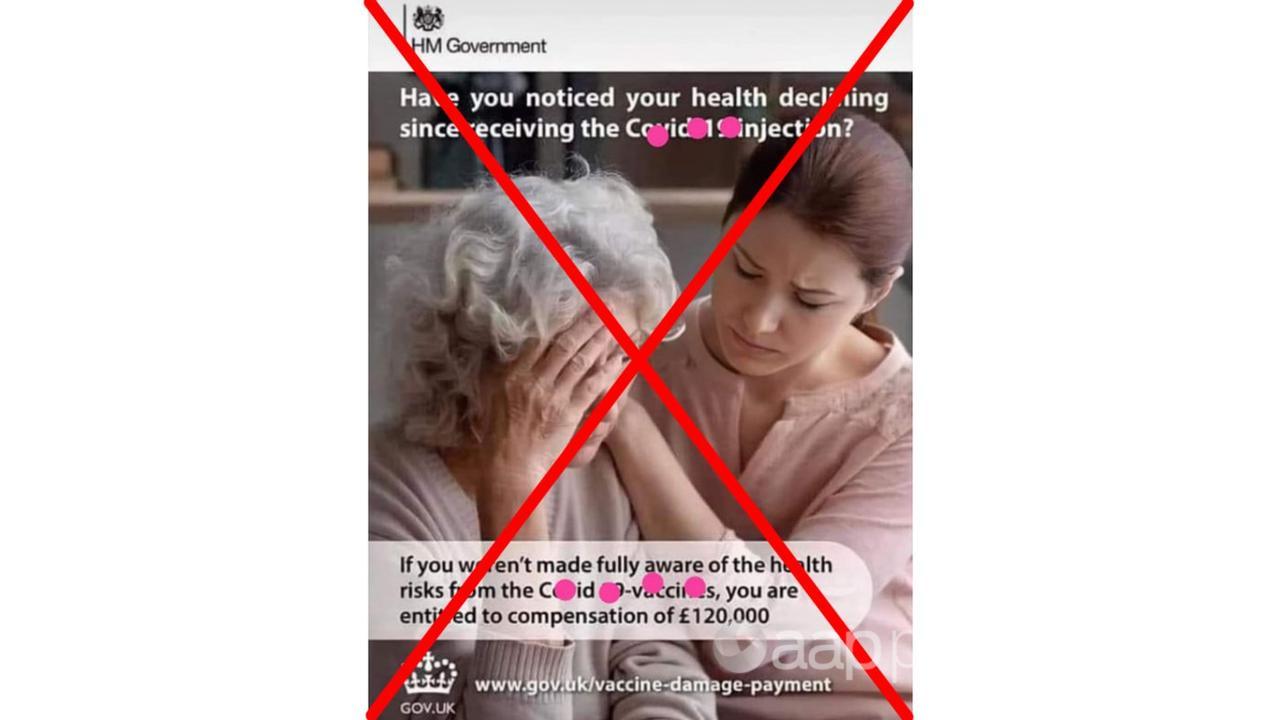 The ACC received 3095 claims for injuries relating to COVID vaccination during the period and 1234 claims were accepted, 1673 were declined and 188 were yet to be decided.
Total payments made by August 2022 on the 1234 accepted claims was $NZ2,495,921. Of those, 281 resulted in payments of more than $NZ500, and 219 accepted claims had yet to receive a payment.
Injuries recorded for accepted COVID vaccination claims included allergic reaction (195), sprain (140), cardiac injury (126), contusion (124), adverse drug reaction (98), and anaphylactic reaction (85).
A similar fake leaflet has been shared on social media since May 2022. The background picture is different but the words are the same.
Several fact-checks have debunked the leaflet's claims, as seen here, here and here.
The Verdict
A leaflet shared on Facebook claiming the UK offers compensation to anyone injured by a COVID vaccination is fake.
The UK Health Department told AAP FactCheck the leaflet is not an official government document and its messaging is false.
The UK Vaccine Damage Payment referenced in the leaflet covers various vaccines, is not a compensation scheme and is only available to those who have been left at least 60 per cent disabled.
False — The claim is inaccurate.
AAP FactCheck is an accredited member of the International Fact-Checking Network. To keep up with our latest fact checks, follow us on Facebook, Twitter and Instagram.
All information, text and images included on the AAP Websites is for personal use only and may not be re-written, copied, re-sold or re-distributed, framed, linked, shared onto social media or otherwise used whether for compensation of any kind or not, unless you have the prior written permission of AAP. For more information, please refer to our standard terms and conditions.